Hog Penny Bermuda
Great Bermudan & British Cuisine
$$, Pub with British &  Bermudian cuisine 
Just a few steps off the Front Street in the City of Hamilton, the Hog Penny Bermuda is a great, old-fashioned pub serving British and Bermudian food.  
This is one of the oldest pubs in the island opened in 1957. 
With its dark wood finishing in British decor, bentwood chairs, and antique mirrors, Hog Penny Bermuda gives a nostalgic feeling of London Pubs. There's live, toe-tapping music most nights in summer and less frequently in winter. 
Some of our favorite items at Hog Penny Bermuda include the Fish Chowder with a shot of Goslings Black Rum, mussels steamed in a broth of leeks, shallots, sun-dried tomatoes, white whine and cream. I would certainly not miss out on the dark Samuel Smith beer or the British ale from the tap.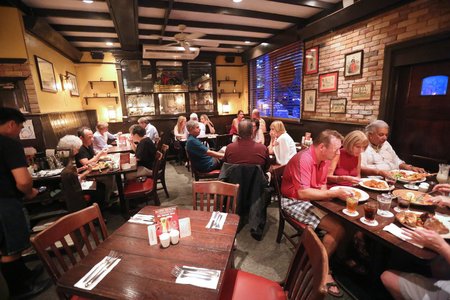 If you are planning for lunch in Hog Penny, a great choice can be the pub specials including Yorkshire pudding, shepherd's pie or tuna salad. Chicken and lamb preparations are very nice. Fish & Chips and steak-and-kidney pie are some of the all-time favorites here. You can also choose from an impressive burger selection. 
There is no lunch served at Hog Penny on Sundays. Dinner menu at Hog Penny Bermuda is more elaborate. We would typically go for a whole lobster, a fresh fish of the day like Bermuda yellow-fin tuna, and excellent Angus beef prepared really well. 
If you are strictly looking for seafood dinner, Barracuda Grill, a restaurant upstairs in the same building, in my view is a better choice. Hog Penny is essentially a pub and is one of the best in the island in its own category. 
With its cheerful and lively environment, we have always found the service at Hog Penny Bermuda to be very good. There's nightly entertainment from 9:30pm to 1am. 
Lunch main courses typically range from 12$ to 21$, and dinner main courses from 16$ to 29$. 
They accept credit cards. Reservations recommended. 
Update January 2013: Fresh draft beer locally brewed by the Dockyard Brewing Company is now available at Hog Penny. You won't have to go all the way to the Frog & Onion Pub in the dockyard to get the freshly brewed local beer. They are now available in Hamilton both in Hog Penny and Pickled Onion. Several different types of beers are served. 
Open Hours 
Lunch daily 11:30am - 3pm 
Dinner daily 5:30pm - 10pm 
Pub daily 11:30am - 1am 
Location and Contact 
5 Burnaby Hill, city of Hamilton, Pembroke Parish. 
Phone: 441/292-2534 
Bus route: #1, 2, 10, 11 
Related Articles 
2) Check out
Top Cheap Restaurants
to know about the inexpensive dining choices in Bermuda that serve great dishes and are quite popular in the island. 
Visitors' Reviews & Comments 
Review and share your experience.