Bermuda Parish Map
While this page looks quite simple, it can really get you to the treasures that we have uncovered after years of exploration and research in Bermuda. If you have come to this page to get a blown up detailed map of a parish (i.e. a district) of Bermuda, just click on the appropriate parish location in the map. If however you are trying to explore a parish and wanting to know what it offers in terms of the main attractions, activities, restaurants, transports, shopping and even accommodations, then go down to the table below and click on a parish link.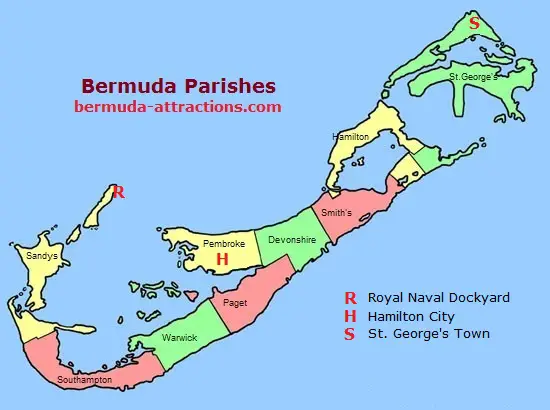 Click on a parish above to see its detailed blown up MAP
Bermuda has 9 parishes. They are like districts or counties. Explore the Bermuda parishes through the links below and find out the hotels, restaurants, beaches, attractions, recreational activities, buses and ferries for a parish, and lot more information. 
Bermuda Parishes 

 

Click on a link below to get full information about a parish 

 

 

 

 

 

 

 

 

 

Note: 

 

Hamilton City

, the capital of Bermuda is NOT in Hamilton Parish. It is in Pembroke Parish instead. This confuses many. See the map above. 

 

Town of St. George

is not same as St. George's Parish. It is the main town in the parish, which too strangely has the same name. St. George's Town is a designated UNESCO world heritage site. 

 

 
Related Articles 
1) Check out
Bermuda Map
for all the maps that you will ever need in Bermuda. 
2) Check out
Bermuda's Parishes
to know about the historical background of the parishes and how they were formed. 
Explored a Bermuda parish?