Bermuda Airport Arrival
Bermuda Airport
, now renamed as L.F Wade International airport is located at Kindley Field, St. George's Parish. This is at the eastern end of the island. 
As you land, the sight of turquoise blue water of the Atlantic will set your mood and the pulse rate for rest of your stay here in the island. I was awestruck with the view from the plane when I came to Bermuda first time by air. 
As you can see in the map below, the Airport is located along the water edge of St David's Island which is part of St. George's parish. But before you get to start absorbing all the wonderful experience this island can offer, you need to ensure that you have a smooth landing. I'm not talking about the aircraft's landing :-) I haven't heard of aircraft not having landed properly at Bermuda airport. I mean ensuring that you are ready to go through all the airport formalities, have a smooth entry into the island and reach your hotel quickly ... so that you can press the START button to enjoy Bermuda without any hassle.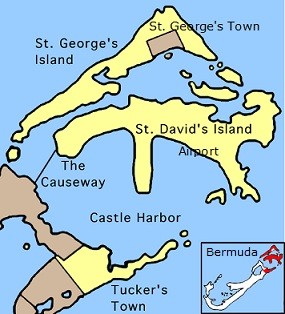 For that, here are my recommended steps: 
Step-1: Get your documents ready 
While in the flight, you should have received the following documents. If not, then collect those before reaching the immigration desk and fill them up. 
<!lisnum>1. <!/lisnum>Bermuda Immigration Passenger Forms - one for each adult and child  
<!lisnum>2. <!/lisnum>A Bermuda Customs Declaration Form - one for each family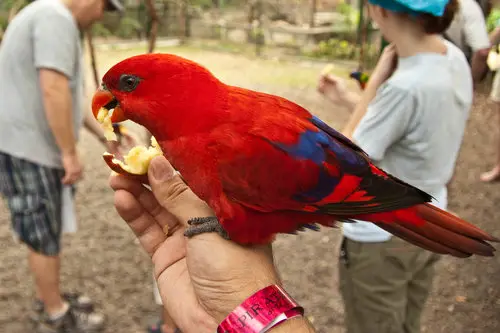 Remember, you are allowed to bring in (per passenger) the following items free of duty while coming to Bermuda: 
1. Alcoholic beverages not exceeding one liter of spirits and one liter of wine;  
2. Tobacco not exceeding 200 cigarettes, 50 cigars and 0.5 kilograms of tobacco; 
3. No limit on books, newspapers and magazines. 
4. Personal belongings like clothes, cameras, laptops etc. 
Any item above the allowance limit will attract duty on arrival and the duty can be very heavy. For example in case of spirit, for every additional liter you will end up paying $24.15 as duty, and for cigarettes - $35.00 per carton (of 200).  
Check out
Bermuda Customs
for details about dutiable goods, restrictions and the basic regulations. 
Once you reach the immigration desks, you will need to present your passport, roundtrip airline tickets, and the above documents (filled up) which you would have received on your flight. At the Bermuda immigration desk, you will receive a colored Customs card. 
Update December 2012: For the first time, duty free shops have been opened at the Airport Arrivals section in Bermuda. It is located between the immigration and baggage claim areas. Bermuda now joins with over 50 countries including UK that allows duty free shopping at the airport arrival. You can now buy wine, spirits and tobaccos here at duty free prices on arrival. However this is subject to the limit of duty free allowances I mentioned in the earlier section, beyond which you will need to pay applicable duty on your purchase. 
Duty Free Shops at Bermuda Airport Arrivals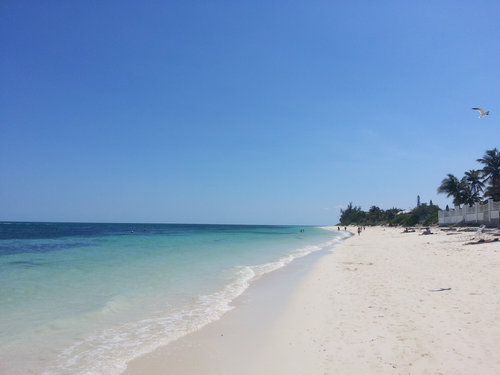 Step-2: Collect your luggage and proceed for Customs clearance 
Now it's time to go and collect your luggage. A Customs officer will now take your colored Customs card. They will examine your bags and may ask you to go through the Customs Hall for a baggage check before you exit. 
I strongly recommend that you read the website of Transportation Security Administration (http://www.tsa.gov/travelers/index.shtm) to know what you can or can not carry as per customs law. 
Step-3: Transportation to your hotel 
There are no car rentals available in Bermuda. Don't be shocked. This is a blessings in disguise. Find out why:
Bermuda Car Rentals
There are also a number of taxi services available from the airport. This is probably the most convenient. If you are staying in Hamilton City (which is in central Bermuda), the drive should take about 30 minutes. 
However, if you are staying at the western end (like in Sandys parish or Southampton), it will take about an hour to reach.  
Related Articles