Bermuda Gombeys Dance & Music
Bermuda music is quite rich with the traditional folk. Within this folk, the Gombey dance and music is the most popular one in the island compared to the other forms. 
Bermuda Gombey dance is the mixture of British, West African and indigenous new-world cultures. 
Gombey is quite similar to the dance traditions like Bahamian Goombay. It actually refers to a specific type of drums of African origin.  
Some also relate Gombay to a Bantu word standing for "rhythm".  
Gombey dance is also quite similar to Mummers that are a kind of seasonal folk play performed by troupes of actors during Afro-Caribbean styles of celebrations. 
Bermuda Gombey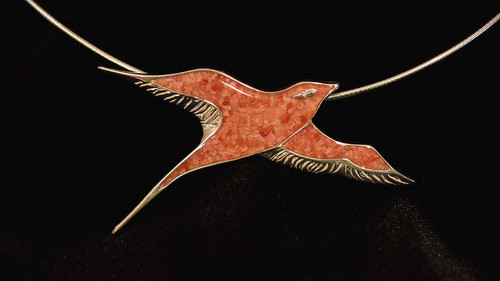 During the colonial times of
Slavery in Bermuda
, Afro-Caribbeans who were slaves in the island introduced many Caribbean traditions that influenced Bermuda's version of Gombeys. 
Today the snare drum generally used in pairs are part of the modern Bermudian Gombeys in addition to kettle drums and fife. Usually male dancers perform Gombeys in groups of 10-30 in masquerade costumes with bright colors and odd angles. The costume designs often reflect the plumage of tropical birds. The energetic dance gradually picks up and grows faster with time and becomes a great spectacle. 
Bermuda Gombey Dance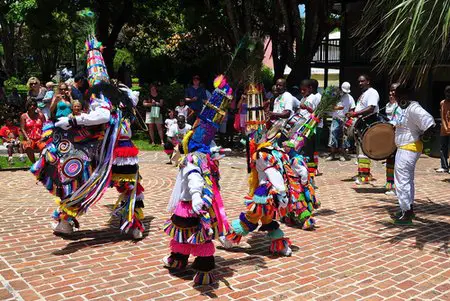 While Gombey is now an integral part of folk art traditions of Bermuda, it was not accepted in the society in the earlier days the way it is today. After the slave revolt in 1761, there was in fact a legislature made in Bermuda banning Gombey. 
The authorities feared that some could easily hide their faces behind the colorful masks and commit crimes. Such restrictions continued until mid 1800s. 
However, over time people understood the depth and richness of the art and slowly started to accept it. Today Gombey performers represent the island and even perform overseas. 
While there are few audio recordings of Gombeys available like the album Strictly Gombey Music by Pickle Spencer Gombey Group offering some great collections, the experience of Gombey is never complete only with its audio sound. 
The rhythmic dance and the colorful costumes are all integral part of Gombey. 
How to see Gombey Dancing in Bermuda? 
Originally the Gombey Dance was meant to be performed only on Boxing Day (December 26th) and New Year's Day when the slaves were given free time. Now it has become a popular act in many festive celebrations. During
Harbor Nights
(held on every Wednesday at Hamilton City during summer) and
Market Nights
(held every Tuesday at St. George during summer), Gombey dancing plays a prominent role.  
The Gombey dance is also quite popular during the Christmas season and is also performed during many events like the
Bermuda Day Parade
, Boxing Day, New Year's Day, and also during soccer and cricket matches. 
Bermuda Gombey Festival
is held annually in the month of September which is aimed towards giving an exposure to all about this important folk art. All the Gombey Troupes of Bermuda along with stilt walkers perform during the festival showing the skills they have acquired over the years. 
It is a tradition of the islanders to toss cash & coins at the feet of the Gombey dancers. The rhythm of Bermuda Gombey dancing is energetic and grows gradually swifter depending on how wild and energetic the spectators can become. 
Unfortunately there is no place in Bermuda where Gombey is performed everyday or regularly, as this is not a full time profession in the island. They are performed in special occasions as I mentioned above and sometimes in the hotels. 
Update 2012: This year Gombey dance show has been introduced on every Saturday at the
Queen Elizabeth Park
(formerly Par-La-Ville Park) in Hamilton City. It starts on May 5, 2012 and will continue up to October 27, 2012. It starts at 12 noon. 
Related Articles 
1) Check out
Bermuda Music and Dance
to know about music and dances that are now part of the island's cultural tradition. 
Visitors' Reviews and Stories 
Roger Freisenbruch 
The word Gombey is derived from the word Zombie, a ghost or spirit who rises from its grave to join in a dance and song jamboree with other spirits. Gombey origin is Haiti and bagpipe music originating in Scotland. ... Thanks for making my birthplace alive.