Harbour Nights in Hamilton Bermuda
Harbor night celebration takes place on every Wednesday during high season (May through September) on Front Street of Hamilton Bermuda.  
So what is Harbor Nights? Basically, Bermuda at its best. The front street in Hamilton gets closed to all vehicles after sunset. 
The shops and the restaurants remain open till late at night. And the street comes alive with sparkling lights and music. 
Large number of vendors wearing colorful dresses sell various kinds of local arts and crafts. Many of them will be the local artists themselves who are generally willing to chat with you and explain their artwork. 
There will also be a number of food sellers selling different kinds of food - both Bermudian and ethnic. And then comes the
Gombey dancers
with their lively music and rhythmic drumming. They are huge crowd pullers.  
Harbor Nights at Hamilton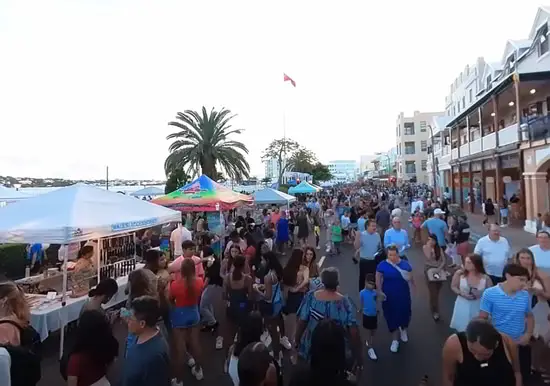 It's a great experience even if you just take a stroll along Front Street and enjoy the ambience of the Harbor nights. People mix freely and talk to each other. This is a great family event and gives a wonderful insight into Bermudian culture. 
If you plan to take your dinner at a Front Street restaurant on Harbor Night, make reservations and come early. Take one of the open balcony seats facing the road. We just love it. Check out
Restaurants in Hamilton
and find your choice of restaurant on Front Street. 
So Harbor Nights at Hamilton Bermuda essentially features: 
1) On-street celebrations from 7 to 10 p.m.  
2) Shops are generally open until 9:00 p.m.  
3) You get to see Bermuda's local Arts and Crafts  
4) Live Music and Entertainment 
5) Food Court  
6) Lots of activities for Children in the Children's Court, including fun castles in all sizes, the ever-popular train, face painting, tattoos and hair braiding.  
7) You can see the Bermuda Regiment band, which marches down Front Street in full regimental apparel with pipes and drums. 
Update April 2013: Harbor Nights is scheduled to start on Wednesday May 1, 2013 and will run until Wednesday August 28, 2013. This year the route or the area for the event has been expanded. Apart from Front Street, it will also include Reid and Queen Streets. Vendors will set up stalls on all these three streets which will be made pedestrian only zone after sunset. Another addition is entertainment programs along the route that are culturally focussed. 
Update April 2012: This is the  20th anniversary of Harbor Nights in Bermuda and the organizers plan to hold the event this year for 20 consecutive weeks starting from April 25th and plan to make it larger than ever. So the last Harbor Night this year takes place on September 9, 2012as per schedule unless the organizers extend it based (which has happened in the past). 
How to reach Harbor Nights venue & get back 
From the dockyard (Kings Wharf), you can take the ferry to Hamilton at 6pm or 7pm (takes about 20 minutes). While returning, the last direct (Blue Route) ferry from Hamilton to Dockyard is at 9:30pm. But often additional ferries are provided on Wednesdays for Harbor Nights. You can get the additional ferry timings from the Visitors Information Center at Kings Wharf. You can also get buses from the Central Bus Terminal at Hamilton (near City Hall) to get back to Dockyard (takes about an hour). The last bus (#8) for dockyard leaves Hamilton at 10:45pm. 
From St George, you can take a bus (#10, 11) to reach Hamilton in about an hour. You will get a bus back to St George well after the event is over. Ample taxis are also available. 
Related Articles 
1) Check out
Bermuda Events
for all the main events & festivals in Bermuda 
Visitors' Reviews & Comments 
Anne Hetherington 
Our small company is bringing its staff to Bermuda this month to celebrate our 20th anniversary, which coincides with Harbour Nights 20th - cool, right? I've been to Bermuda many times, but never when Harbour Nights were happening. I'd like our crew to see the Gombey Dancers and enjoy the street party, but I have a few questions. Do you know around what point in the evening the dancers start? Also, wondering what kind of street food there is - trying to determine whether we can make a meal of it, or whether we should plan on a restaurant meal sometime around the proceedings (preferably without missing the dancers). I would appreciate any input you can provide to help with our planning to make the most out of the night. 
P.S.:  I really appreciate your site - very informative and all-encompassing. You have helped me a lot over the years, including with planning this extra-special visit.  
Raj (bermuda-attractions.com) 
Hi Anne, the food sold by the vendors on the street during harbor nights are mostly finger food. But there are restaurants right in the vicinity. So if you are to choose a place to eat while watching the activities, it's best to try one of these restaurants:
Pickled Onion
,
Barracuda Grill
,
Hog Penny
or
Flanagans
. You can actually see the Gombey dancers from the Flanagans balcony. You can however hear them from the other places as well. The dancers normally come around 8pm but they also close it out, so the times vary. 
Amy 
Hi! Firstly, thank you for having such an informative site! I just wanted to find out if you knew of any listed ferry schedule for the Harbor Nights or had any additional information. I know your site mentions additional ferries, but the official transportation site does not mention any extended schedule. I just want to make sure that when we make our visit, we can plan on having nighttime transportation from the Dockyard to Hamilton, since we're very much looking forward to seeing the local celebration! Otherwise we have to re-plan our itinerary which would be unfortunate. Thanks! 
Raj (bermuda-attractions.com) 
Hi Amy, there is no published schedule for the additional ferry. Dockyard to Hamilton should not be a problem, the last regular Blue Route ferry leaves dockyard at 9pm and reaches Hamilton at 9:20pm. Harbor Night ends at 10pm, so going any later will be of no use anyway. While returning, additional ferries are helpful, the timings for which are usually made available at the Visitors Info Center and the Ferry Terminals (including at the dockyard). The worst case option is to return by a taxi. So I don't see any need to re-plan your itinerary. Regards,