Bermuda Ferry Services
Bermuda ferry service (known as Sea Express) is operated by Bermuda Government's Department of Marine & Ports Services. This is a public ferry service operating a number of ferries over several routes. 
The ferries are mostly air-conditioned high speed catamarans. The boats are modern and comfortable, with a capacity of 200 or more passengers. 
The main hub of ferry service is the Hamilton ferry terminal located at the Front Street harbor in Hamilton City. This from where all the ferry routes originate, connect various places in the island and return. 
Ferry Service is a formidable part of Bermuda's Public Transport System. Although you may not be able to reach out to every corner of the island by ferry, in many cases a ferry service would be much more convenient and faster than the
Bus Service
. So if you are planning to visit Bermuda and get around the island using public transports, you should use a combination of Bus and Ferry Services in the island. 
Bermuda Ferry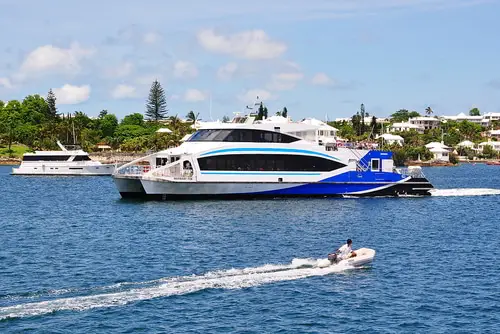 While you can by tickets or tokens to ride ferries, one of the best ways to get around the island on public transports is to buy a Transport Pass. The pass is a convenient and economical option, and gives you unlimited access (hop on & off) to both buses and ferries as long as it's valid, which could be a day or several days depending on what you buy.  
You can buy your passes or tickets at any of the ferry terminals and other designated places. Check out
Bermuda Bus & Ferry Passes, Tickets & Tokens
to know about all the places where you can get them, fares and other information. 
Bermuda Ferry Routes 
A route does not necessarily connect just two points, and may go through several legs of journey connecting several points before returning to Hamilton. 
For the tourists, the best way to understand the Bermuda public ferry routes is by first knowing the location of the main three places in the island. Hamilton Ferry Terminal, which is the central hub and origin of all ferry routes is located centrally. The Kings wharf (or the Royal Naval Dockyard) is located at the western tip of the island and St. George's Town is located at the eastern end of the island (not shown in the map below). 
Bermuda Ferry Routes 
Between the Dockyard and Hamilton City, there is a direct ferry (Blue Route) and it can be a lot faster than the bus or any other transport in Bermuda. The direct ferry between Hamilton and the dockyard takes only about 20 minutes compared to about an hour by bus. However sometimes the same Blue Route may also service couple of other places like Cavello Bay and Watford bridge (as you can see in the picture). 
But there is no direct ferry between Hamilton City and St. George's Town. The Orange Route which usually operates during summer between April to November, connects the two places via the Dockyard. 
So if you are planning to take a ferry from Hamilton City for St. George, you will first need to go to the west end (at Kings Wharf Dockyard) and then to St. George at the eastern end. 
Same route is followed for the reverse journey as well. The entire one way journey will take over an hour including the wait time at the dockyard. The bus from Hamilton to St George on the other hand also takes about an hour. However from the dockyard, the Orange ferry route gives a direct access to St. George. 
As you can see in the map above, there are four ferry lines or routes that connect various points in Bermuda. They are identified by their respective colors (Blue, Pink, Green and Orange). Find out all about Bermuda ferry routes below. 
All the ferry routes start from Hamilton City, go to various ferry docks and come back. 
BLUE ROUTE:
Hamilton to Royal Naval Dockyard and back. This direct ferry between Dockyard and Hamilton takes about 20 minutes one way. Scooters and motor bikes can embark in Hamilton and Dockyard only. The service is reduced on Saturdays, Sundays and
Public Holidays
. 
ORANGE ROUTE: The route goes from Hamilton to Dockyard at the west (about 20 minutes) and then from Dockyard to east-end St. George (35 minutes) along the northern shoreline. So if you are going all the way from Hamilton to St. George (or getting back), you will need to disembark at Dockyard. This means paying separately for each leg of the journey unless you have a day pass. This ferry line operates during the summer season only (i.e. usually second week of April to first week of November). The service is only from Monday to Friday (no service on the weekends). It offers a great scenic cruise along the north-shore with magnificent views. Motor bikes and scooters are not allowed on this route. 
GREEN ROUTE:
This is essentially a commuters route. The usual route starts from Hamilton to Rockaway Ferry Stop at Southampton parish (30 minutes) and back. However sometimes the ferry goes to
Watford bridge
and Cavello Bay and returns to Hamilton. Scooters and motor bikes can embark at Hamilton and Rockaway. No service on Saturday & Sunday. 
PINK ROUTE:
This is a short ferry service from Hamilton city to several small docks in
Warwick
and
Paget
parishes. The points covered from Hamilton City are Lower Ferry, Hodson's Ferry, Salt Kettle, Darrell's Wharf and Belmont Ferry Stop. Scooters and motor bikes are not allowed in this route. The service is reduced on Saturdays, Sundays and
Public Holidays
. 
There are high-speed catamarans that service the longer routes (i.e. Blue, Orange & Green routes). The catamarans can carry scooters, motor cycles, bicycles etc at an additional cost of $4 (not in all routes). Purchase your
Tickets, Tokens or Passes
in advance. 
NOTE: There is actually a direct ferry between St George and Hamilton which leaves St George in the morning and comes back in the evening. This is normally used by the workers and office goers who come to Hamilton City for work and go back in the evening. 
Handicap (Wheelchair) Access in Ferries 
While most ferries are wheelchair accessible (lower deck only), unfortunately not all ferry points or docks have proper ramps for wheelchairs. Only three ferry terminals are currently wheelchair accessible, and they are Hamilton, Dockyard (Kings Wharf area) and Rockaway in Southampton. 
Bermuda Ferry Schedules 
Bermuda Government publishes a Summer Schedule and a Winter Schedule for the ferry services. The Summer Schedule is usually for the period between Mid April to first week of November. The Winter Schedule is for the remaining period of November second week to Mid April. The schedules however go through minor changes every year. 
During the summer schedule, the ferry service is much more frequent than the winter schedule. Just to give you an idea, during summer time the Blue Route ferry service will operate for about 25 rounds on a week day between Hamilton and Dockyard compared to only about 8 times during winter time. Also the day's coverage is longer during summer time, which for example means you will be able to return late from Hamilton back to the Dockyard by a ferry during summer. 
Also note that on Saturdays, Sundays and Public Holidays, the ferry service gets reduced. 
The link below will take you to the SeaExpress Ferry Services page maintained by Department of Marine & Ports Services. In that page you will find a link to the Ferry Schedule giving you exact timings of the ferries for various routes:
Bermuda Ferry Schedule
. 
Hamilton Ferry Terminal 
Located at the western end of Front Street next to Bank of Bermuda building. 
Open Hours: 
Monday - Friday: 6:30am - 7:30pm 
Saturday: 8:30am - 6pm 
Sunday & Holidays: 9:30am - 2:30pm 
Contact 441/295-4506 for further information on Bermuda ferry services. 
Related Articles 
Visitors' Reviews & Comments 
John Friesen (March 2013) 
Hi, we will be in Bermuda on April 9th, 10th, and 11th, and am wondering if this is the winter schedule or summer schedule? We are on a cruise ship, and want to purchase a 3 day pass. Can we do this on line, or do we have to wait till we get to Bermuda? Thanks 
Raj (bermuda-attractions.com, March 2013) 
Hi, Summer ferry schedule starts from 8th April in 2013. So it'll be summer schedule for you which is not yet published. You can't purchase the passes online. They are sold only in Bermuda. 
Joan Ferretti (January 2013) 
Is the ferry wheelchair accessible? Is there a restroom aboard? 
Raj (bermuda-attractions.com, January 2013) 
Hi, the lower decks of the fast ferries (catamarans) are wheel chair accessible. However only the Hamilton Ferry Terminal has proper wheel chair access to the ferries, the other ferry docks have risks associated while boarding on a wheel chair. So, essentially you can board from Hamilton, take a round in the harbor and get back to Hamilton. Ferries have restrooms/ bathrooms. The main ferry terminals like Hamilton, Dockyard and St. George also have washrooms. Regards, 
Mary Anne Edwards (September 2012) 
Hello, Do the ferries and buses run 24 hours a day seven days a week? We are arriving by cruise ship at King's Wharf. We want to go to the Hog Penny in Hamilton for dinner at 7:00. We would like to go both ways by ferry. Is that possible? Thank you for you help. Best regards, 
Raj (bermuda-attractions.com, September 2012) 
Hi Mary, Ferries operate all through the week but less frequently on the week ends. However they ply for certain hours between morning to evening. The current summer ferry schedule is valid from April 16 to November 4, after which the winter schedule starts and the ferries become far less frequent. Presently the last ferry from Hamilton to dockyard is at 8:30pm, and the last one from dockyard to Hamilton is at 9pm. 
Update April 2013: The recent summer ferry schedule has last ferry from Hamilton to dockyard at 9:30pm (Blue Route) and starts back from dockyard at 10pm during the week days. On Saturday, Sundays and public holidays, operation ceases much earlier. 
Jim Steff (June 2012) 
Hi there, my wife, son and I are docking at Kings Wharf on the NCL Dawn on Sunday, June 17th. We would like to go to Saint George that same day. From the information that I have read it is not clear that there is Ferry Service that day. Is that right? If there is no Ferry service do you have a suggestion for the best way to get to Saint George on Sunday. thanks, Jim 
Raj (bermuda-attractions.com) 
Hi Jim, The Ferry (Orange Route) that connects Dockyard (Kings Wharf) with St. George operates from Monday to Friday. So on a weekend, your best option is to take a ferry to Hamilton City (Blue Route which takes 20 minutes) and then take a bus (#1, 3, 10 or 11, about 1 hour). Note: bus routes #10, 11 to St. George are shorter. Also note that the ferry services on weekends are limited. The last ferry from Hamilton for dockyard leaves at 
6pm on Sunday. So check out the timings at a ferry stop before planning your day.