Bermuda Bus
Schedule & Information
Bermuda bus service provides a convenient and comfortable mode of public transport within the island. More than half the visitors to the island use the Bermuda bus services. 
The Bermuda bus routes are divided in 14 zones of about 2 miles each. The bus fare depends on how many zones you are traveling.  
For paying bus fares in cash, you will need to tender the exact fare in coins. Notes are not accepted. We rather prefer Bermuda Transportation Passes or coin tokens that are lot more convenient to use. 
A weekly pass is good for unlimited use for seven days. You can also get a 1day, 2day, 3day or 4day pass. The
good news
is, the passes and tokens also work for
Bermuda Ferries
and you make good savings as well. 
Bermuda Bus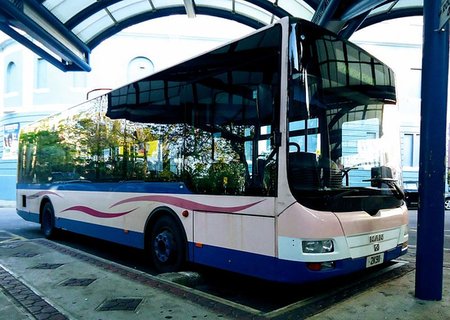 Bermuda bus fares & how to get tickets, passes, tokens 
The transportation passes are the most economical option of getting around the island if you plan to use the public transports several times a day. However, for only one-time point to point travel between one place to the other, cash or a token would be cheaper. There are several places including the Visitors Information Centers from where you can get the passes, tickets or tokens. Check out
Bermuda Tickets & Passes
to know about fares and all the places where you get the passes, tickets and tokens in Bermuda. 
Bermuda Bus Routes 
There are 11 bus routes in Bermuda. All buses start from the central bus terminal at Hamilton City (except for route #6), reach out to various destinations within the island and come back. The Hamilton Bus Terminal is located at Washington Street, next to the
City Hall
. 
Check out
Bermuda Bus Routes
to know about all the bus routes in Bermuda, the routes that are better for specific destinations, zones of travel, route color codes and more. 
Bermuda Bus Schedule 
The link below provides an hour by hour detailed schedules and timings for all the bus routes in Bermuda. As you click the link, you will see both Eastern and Western route maps. There will be small color bars with bus route numbers. You will need to click on a bar to see the schedule for that route. 
Here is the link:
Bermuda Bus Schedules
(
Note
: This is a link to a Government of Bermuda site which is sometimes quite slow. Be patient for the route maps to appear). 
Bermuda Bus Stops 
Bermuda bus stops have poles that are either blue or pink in color. Some bus stops in Bermuda may just be a pole on the road. So look for the pole rather than the shade of a typical bus stop. 
If the pole is pink, the bus you will get is returning to Hamilton City. If the pole is blue, the bus is going out of Hamilton to some other place. The buses have the destinations displayed in front of them so that you know where the bus is going. In order to stop a bus, you need to stand by the pole so that the bus driver can clearly see you. 
Check out
Bermuda Bus Stops
for many popular destinations in Bermuda that are served by one or more bus routes and find out which buses to take. 
Tips for using Bermuda Buses 
While the bus service in Bermuda is quite frequent during the normal hours of weekdays, the service gets slower (i.e. time between buses towards a destination increases) towards late evenings, Sundays and public holidays. During the rush hours (i.e. essentially the office hours), the buses get quite crowded. So try to avoid using public buses during such hours. The best time to use buses would be between 9:30am to 3pm, and again after 6pm. 
Here are some more tips for you to know when the bus service can be easier to avail and more time saving than the ferry service. Sometimes the ferry can be far more effective. 
Between the dockyard at the west end and Hamilton city, the ferry can be a lot faster than the bus. A direct ferry between Hamilton and dockyard will take about 20 minutes compared to about an hour by a bus. And the ferry service between these two places are also quite frequent. 
Bus ride from Dockyard to St. George (west end to east end of the island) takes about two hours with a transfer at Hamilton as there is no direct bus. Whereas a direct ferry from dockyard to St. George takes only 35 minutes. However this ferry service is limited and operates only between April to November. 
If you are in Hamilton City and like to go to St. George at the east, bus is a better option. There is no direct ferry between Hamilton City and St. George. You will need to take a ferry to the dockyard and then a connection to St. George. The whole ferry journey will take more than an hour including the wait time at the dockyard. On the other hand, a bus ride from Hamilton to St George takes just about an hour and the service is more frequent. 
Bermuda Minibus Service 
Apart from the regular public buses, there are also minibus services that are available at some Parishes of Bermuda. These mini buses carry 8-15 passengers and provide shared services on specific routes. They take you to places where the regular public buses usually do not go. While the minibus ticket fares are a bit costlier than regular buses, they are far more economical than taxis. Fares are for one way journeys only.  
From the cruise ship dockyard, while bus #7 is the best public transport for the south shore beaches, half the cruise ship passengers including the staff try to ride the buses, and you can well imagine the kind of rush you may need to face. It can be a good idea either to share a taxi or ride a mini bus from the dockyard. They all are within a dollar or two per person in difference. Taxi's are allowed up to 6 people and the mini buses up to 15. More over the taxi and mini bus drivers most times don't mind pulling over so you can take a few pictures. 
Here are the main minibus services in Bermuda: 
St. George's Minibus Service & Routes: They serve the St. George's area only. The minibuses leave from Kings Square and reach out to places like Tobacco bay, St. Catherine's Fort, Bermuda Institute of Ocean Sciences located at Ferry Reach, St. David's Island including St. David's Lighthouse etc. Call 441/297-8492 or 297-8199 for more information about their services on specific days and routes. 
West End Minibus: This service operates at the western side of the island between Dockyard and Horseshoe Bay in Southampton. Phone: 441/295-5298. 
Affordable Ride: Offers mini buses for groups up to 15. Service includes transportation to and from cruise ship dockyard, airport, beaches etc and the per person rates are government regulated. They also offer rides around the island (minimum two hours of booking required). 
Email: affordable-ride@hotmail.com, Phone: 441/732-0433 
Suburban Transit Minibus: Operates in the central parishes like Pembroke, Paget and Devonshire. Phone: 441/293-1244 
Bermuda Bus Courtesy 
Buses are the best places to meet local Bermudians. When you board a bus in Bermuda, it's a general courtesy to greet the bus driver by wishing him 'Good Morning' or 'Good afternoon'. You will see that Bermudians always do so and even to the fellow passengers. The bus drivers in Bermuda are generally quite friendly. Unless it's a rush hour and the road is full of traffic, a bus driver will usually call out the bus stop if you ask him to do so when you board. 
Buses stop only on request or when there is someone waiting at the bus stop. To stop a bus, you will need to press a buzzer available in the bus. On your request, the driver will be happy to announce your destination stop on arrival. Eating and drinking are not allowed in a bus. You can not also carry heavy luggage in a bus. 
For Lost and Found in Bermuda buses, call 441/292-3851. 
Related Articles 
Visitors' Reviews & Comments 
Kelly (February 2013) 
I am visiting again but this time I will have two small children with meand will need a double stroller for our day trips. How easy is it to travel the island on bus with a double stroller? we are worried about not being able to bring it and having to carry two small children for most of the day. Thanks 
Raj (bermuda-attractions.com, February 2013) 
Please note that strollers, suitcases, golf clubs or any kind of heavy luggage are not permitted in Bermuda buses. Regards, 
David Cameron 
Do the Bermuda buses take U.S quarters for bus fare? 
Raj (bermuda-attractions.com) 
Hi David, The answer is NO. This is the only case where you will need to pay exact fare using Bermuda currency unless you have a pass, ticket or a token. In all other payment situations in the island, both U.S and Bermudian currencies can be used seamlessly and interchangeably. But not in case of Bermuda's public buses. Also note that there is no longer $1 bill or bank note in Bermuda, it is now a golden coin. If you are paying the bus fare in cash, it needs to be paid in exact change, and not in bills or bank notes. 
Susannah 
As a first time visitor to your beautiful island I suggest that you post route numbers and timetables at all your bus shelters. Then visitors can feel confident in using the service. This will also take congestion off the roads as more people that take the bus the better for everyone. Back in the UK, timetables and routes are displayed at all stops and you can also get text messages sent telling you when the next bus is due and if it is going to be late! Best wishes to the bus service! 
Leander Collier 
There are no zone marking that one can verify how many zones they have traveled.  Most bus drivers really don't know. This is confusing not only to Bermudians, it is EXTREMELY confusing to the visitors. 
Robin  MacPherson 
I love the buses, but we used to be able to get them at the airport. That was a huge convenience. Now if we arrive on a weekend there is no place to get the passes. Please make them available for the tourists when they arrive at the airport.  
Thank you. (Oct 18, 2011)