Bermuda Bus Routes & Destinations
Bermuda bus routes all originate from the central bus terminal at Hamilton City which is the capital and the main commercial hub of the island. All buses therefore start from the Central Bus Terminal at Hamilton City, reach out to different destinations within the island and then return to Hamilton City. The only exception is bus route #6 which operates between St. George's Town and St. David's Island at the eastern end. Some of the routes go towards the western parishes, while some towards eastern parishes. There are 11 bus routes in Bermuda and they are spread across 14 bus zones of approximately two miles each. The bus fares vary depending on the number of zones you travel. 
The maps of bus routes that I have shown below should help you understand which important locations are covered by which routes.  
Western & Central Bus Routes 
If you are traveling between Hamilton City and the western parishes like
Warwick
,
Southampton
, or the
Sandy's
Dockyard, you should look at the map below showing the Western Bus Routes of Bermuda. The central route (#4) covers a part of Pembroke parish including the Spanish point. 
Western Bus Routes of Bermuda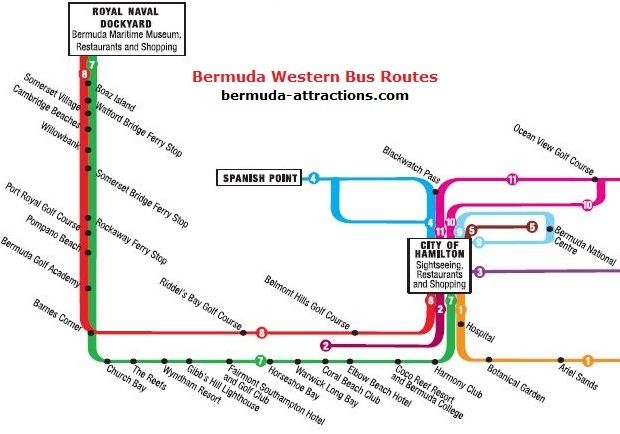 As you can see in the map above, there are essentially two main bus routes (#7 and 8) that start from Hamilton City and go all the way up to the Dockyard at the western tip of Bermuda. Route #7 goes along the south shore (by South Road) and you get a wonderful view of the south shore beaches. Route #8 takes the Middle Road and you get nice views of the parish landscapes. Both these routes finally merge at Barnes Corner located near the western end of Southampton. It takes approximately 1 hour of travel between Hamilton City and the dockyard by bus. 
However, note that some buses on these two routes (depending on the timings) do not go up to the dockyard and rather stop at Barne's Corner (see the route map above, where the two routes #7 & 8 meet). There will be a board in front of the bus indicating the final destination, so you shouldn't have any problems. There is another short bus route in the western area, route #2. It starts from Hamilton city and ends at the Ord Road at Warwick parish. If you are coming from Hamilton City, route #2 as well as #7 can be taken for Elbow beach at Paget. 
There is another short route (#4) which originates at Hamilton Bus Terminal, goes up to Spanish point in Pembroke and returns. Some services of this route takes the North Shore Road and others go via St John's Road. 
Eastern Bus Routes 
Eastern Bus Routes of Bermuda 
As you can see in the route map above, bus routes #1, 3, 10 and 11 all go from Hamilton City right up to St. George's. The only difference is that bus routes 1 & 3 go through the lower part (Smith's parish) while 10 & 11 go through the upper part of Bermuda (Hamilton Parish). If you are heading directly for St. George's, then 10 & 11 will be a lot faster. It takes roughly an hour to travel between Hamilton City and St. George's by bus. 
Also note that there is another bus route #6 which operates between St. George's Town and St. David's. This is the only bus route that does not go to Hamilton City. It serves St Davids including the St Davids Light House. Some services also serve the Clear Water Beach in St Davids. 
Bermuda bus routes for popular destinations 
 

Parish/Location 

 

Pembroke 

St. George's 

Hamilton Parish 

Sandy's Dockyard 

St. George's 

Sandy's Dockyard 

St. George's 

St. George's 

Hamilton Parish 

Paget Parish 

St David's 

Hamilton Parish 

Sandy's Parish 

Paget Parish 

Southampton 

Sandy's Parish 

St George's 

Southampton 

Hamilton Parish 

Sandy's parish 

Southampton 

Paget Parish 

St. George's 

St. George's 

Paget parish 

St. George's 

St. George's 

St. George's 

Sandy's Parish 

Smith's Parish 

Hamilton Parish 

Southampton 

St. George's 

St. George's 

Smith's Parish 

Warwick Parish 

Warwick Parish 

Paget parish

Bus Routes 

 

#4 

#1, 3, 10, 11 

#10, 11 

#7, 8 

#1, 3, 10, 11 

#7, 8 

#1, 3, 10, 11 

#10, 11 

#1, 3, 10, 11 

#1, 2, 7 

#6 

#1, 3, 10, 11 

#7, 8 

#2, 7 

#7, 8 

#7, 8 

#3 

#7, 8 

#1, 3, 10, 11 

#7 

#7 

#1, 2, 7 

#1, 3, 10, 11 

#1, 3, 10, 11 

#2, 7, 8 

#1, 3, 10, 11 

#1, 3, 10, 11 

#1, 3, 10, 11 

#7, 8 

#1, 3 

#1, 3, 10, 11 

#7 

#1, 3, 10, 1 

#1, 3, 10, 1 

#1 

#7 

#8 

#2, 7, 8
Related Articles