Bermuda Cathedral
Located in the heart of Hamilton City, Bermuda Cathedral, also known as the Cathedral of the Most Holy Trinity is an Anglican church.  
The present structure of the church that earlier went through several constructions and renovations, has been designed by the Scottish architect William Hay of Edinburgh based on neo Gothic or Victorian architecture. 
While the main body of the church is made of Bermuda limestone, many of the carved stones around the windows, arches, gables and cornices are Caen stones imported from Normandy, France. 
You can see magnificent tinted glass windows, arches, warrior chapel and carved altar screens. Perhaps the most dramatic area in the church is the wall behind the alter, where there are sculptures depicting Christ and many saints. The saints are the ones after who the various churches in Bermuda have been named like St. Paul, St. George, St. Andrew etc. 
Bermuda Cathedral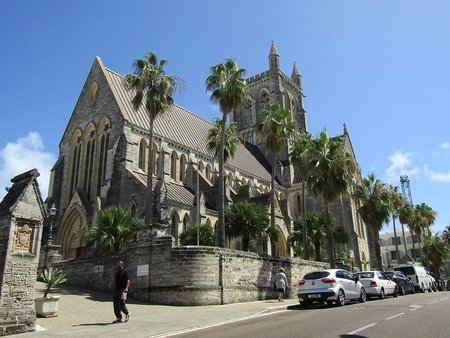 The first cornerstone for the church was laid in 1844. However, the construction got delayed for various reasons. An arsonist destroyed the church in 1884 by lighting it with fire. It caused the construction to start all over again. Finally work started in 1886, completed in 1905 and consecrated in 1911. 
There are daily services held in the church and visitors are welcome. 
If you can, climb the 155 stairs and reach the top of 143-foot high tower. There are couple of spacious landings to take breaks. The panoramic view of Hamilton city and the nearby parishes are spectacular from here. If you look towards north, you will see Bermuda's North Shore. To the west you will see the
City Hall
, the
Great Sound
water area and even the
Royal Naval Dockyard
at a distance towards west. 
Towards east you will see the King Edward VII Memorial Hospital. And to the south of the Cathedral is Hamilton City's
Front Street
. 
Location and Contacts 
Church Street, Hamilton City, Bermuda. Phone: 441/ 292 4033. 
Open Hours 
Admission to the Cathedral is free. It's open from 8a.m to 5p.m daily. However there is a $3 admission fee for getting on top of the tower. The tower is open from Monday through Friday between 10a.m to 3:30pm. 
Related Articles 
1) Check out
Bermuda Churches
to know about the other great churches in Bermuda. 
Visitors' Reviews & Comments 
Review and share your experience.