A Sunday in St George Bermuda
You will often hear tourists talking about avoiding a Sunday in Bermuda because most of the attractions, shops and tour operators remain closed.  
But if you are the type looking also for some tranquility and serenity in the island and its original laid back flavor, Sunday is the day and St. George is the place.  
This old town with its quiet narrow lanes and old historic houses provides a refreshing Sunday morning set up. 
So how should you plan your Sunday at St. George? Here is what we do every time we are in Bermuda on a Sunday. Firstly, we ensure that we are put up at St. George as we wake up lazily on a Sunday morning. If we are docked at the western end or staying in a hotel in Hamilton, we would unhesitatingly take a ferry to
St George's Town
. 
From Kings Square town center, walk leisurely up to the
St. Peter's Church
. The church is located on Duke of York Street, which is the main road in St. George. There is a Sunday service at 11:15 am. This oldest Anglican church in the western hemisphere provides a divine experience as you join the Sunday service. You will be pleasantly surprised to see there are other tourists like you attending the service along with many locals. 
Sunday is the Brunch day all over Bermuda. Bermudians take it really easy on this day. They usually skip their regular breakfast and go for Brunch, an in-betweeen meal that combines breakfast and lunch together. So follow the islanders footsteps and try out brunch.  
For something light like fishcakes and some coffee or tea, try out the Temptations (31 York Street, Phone: 441-297-1368).  
If you want to go for full scale brunch like the way many Bermudians do, some of the great restaurant with full service and having excellent harbor view are: 
Wahoo's Bistro
: Located at 36 Water Street, the restaurant has an open terrace and a patio overlooking the St. George's Harbor. 
Polaris
: This newly refurbished restaurant at the old Carriage House comes with great promises at very reasonable prices. Although the view from inside is limited, from the patio outside, the water view is spectacular (Somers Wharf, 22 Water Street). 
After brunch, take a stroll around the
Olde Town Market
which is held on Water Street only on Sundays. It is like a mix of country fair and flea market where many local vendors set up stalls and sell homemade products. This is a great opportunity to meet up with the locals and observe how they go about shopping for their regular household needs. 
Olde Stown Market at St. George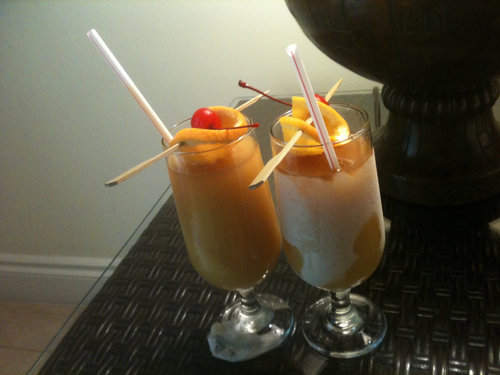 If you are staying in an apartment with cooking facilities, this is an ideal place to pick up fresh farm products and fish of the day. You can also sample many homemade products like jams & jelly, Bermuda honey and more. 
Related Articles 
1) Check out
St George's Town
to know about the historical Town of St. George, its attractions, activities, restaurants, hotels and more. 
2) Check out
St. George's Parish
to know about the parish where the town of St. George is located and all its attractions and activities. 
Visitors' Reviews & Comments 
Review and share your experience.