Horseshoe Bay Beach
Our no.1 favorite beach in Bermuda
We have traveled extensively and been to many beaches all over the world, but Horseshoe Bay Beach in Southampton Bermuda clearly stands out from the rest. It's really special! 
With a curved stretch of sand against the backdrop of blue waters of the Atlantic, this beautiful pink sandy beach forms shape of a horseshoe. 
Horseshoe bay beach was rated as a favorite Valentine's day getaway for couples by the American daily USA Today. In our books, this beach is in the list of top ten of the world's best beaches.  
I took the photo below during our first visit to Bermuda. You can see the beach quite empty. It was a morning time in early March. The cruise ships hadn't still started coming in and the beach was just a piece of paradise.  
Horseshoe Bay Beach Bermuda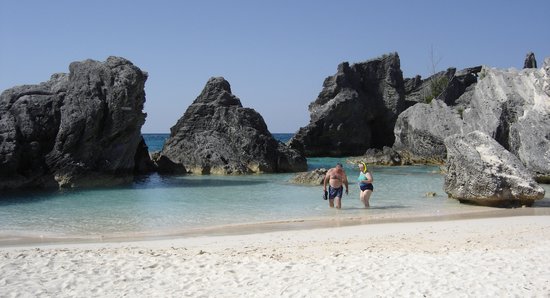 But during the summer season when the cruise ships start offloading thousands of visitors, this beach can get very crowded, as almost everyone has this in the list of 'must go' places. See below what happens to the beach during the high season. 
Horseshoe Bay Beach Bermuda in high season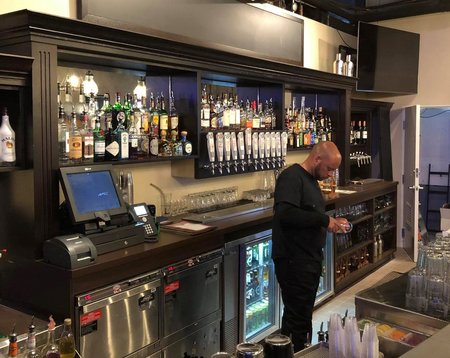 We usually spend long hours of our vacation in this beautiful beach. During the summer time, early morning is the best time if you want to avoid swimmers and sunbathers. 
The main beach is about quarter of a mile but stretches to the east for about four miles. The sand here is pale pink in color and water clear blue. There are limestone rocks that surround the beach along its boundary line. 
Horseshoe Bay can also provide great snorkeling experience if you are willing to go a little offshore towards the rocks. You will see variety of colorful fish like parrot fish, angel fish, wrasse, sergeant majors, snappers and more. However the ocean can swell quite high at times. So try snorkeling here only if you are a good swimmer. Life guards are on duty during the high season. 
Sometimes we would rent beach chairs and spend hours relaxing and enjoying the turquoise waters and watching the waves pounding on the shores. Even during peak summer we found that the pink sand, which is quite soft in the Horseshoe bay beach, does not become too hot. 
A local told us that the sand here has tiny bits of corals and shell dusts in it that keep the heat away. By the way, it's the same corals and shell dust that create a pink hue and makes the sand look pink in color. 
Horseshoe Bay beach also offers a lovely walking trail to the
South Shore Beaches
. Whenever the beach got crowded, we would take the trail though the park that leads to beautiful secluded coves. Some of our favorite coves include
Port Royal Cove
to the west,
Peel Rock cove
and
Wafer Rocks beach
to the east. 
Port Royal Cove is also locally known as the Baby Beach. This is ideal for children to swim. My son loves snorkeling in the shallow water here. There are reefs around this. One of his main attractions is to hand feed the parrot and angelfish. The place is really picturesque and a photographer's paradise (see the first picture above). 
We also found a large wading pool close by surrounded by cliffs that provide lots of shades. Kids can walk along the shallow waters and have great fun here. 
To the east the trail passes below the cliff and through dunes. You can also walk along the beach towards east to see the other great pink beaches. However you will then need to wade around some rock formations & water areas on the way. 
There is a beach café at Horseshoe Bay called the
Horseshoe bay beach café
. The burgers are quite nice. It also sells hotdogs, chicken, fish, soda, water and juices. Right opposite to the entrance of the beach on South Road, there is a nice Italian restaurant
Tio Pepe
. You can plan to take your lunch there. They also offer take away lunch packs. 
There are changing facilities and showers available at the beach. You will also get different types of beach gears and snorkeling equipment here. There is a small shop selling T-shirts, towels etc. 
Horseshoe Bay Beach Cafe (being re-developed) 
Every year in August, there is a
Sand Sculpture Competition
held in the Horseshoe Bay beach. This is organized by the Architects Association. We were once lucky to see it in September. 
On Good Friday, an annual
Bermuda Kite Festival
is held at the Horseshoe Bay Beach where thousands with families and children gather and participate in kite competition. Locals and visitors come with lots of colorful kites of all shapes and sizes, and there are prizes given out for various categories. 
UPDATE Jan 2011: There are plans for renovation and upgrades of the facilities at the horseshoe Bay Beach. Read:
Horseshoe Facility Upgrades
UPDATE July 2012: A Wi-Fi hotspot has been recently installed at the Horseshoe Bay Beach area. So you can now have high speed internet connection on your phone, tablet etc while at the beach. When you access the wi-fi, it will require a user-id ad password to login. You can buy the wi-fi service online with your credit card or from the concession at the beach. There are rates available for 1-hour, 3-hours, 24-hours, 1-week and 1-month. 
Update February 2013: TripAdvisor readers have voted Horseshoe Bay Beach as the 8th most beautiful beach in the world and the 3rd best in the whole of Caribbean. 
How To Reach Horseshoe Bay Beach 
The Horseshoe bay beach is located in Bermuda's
Southampton Parish
. It is on the Horseshoe Road, off South Road and on Bus route #7 (that runs between the Dockyard and Hamilton City along the South Shore Beaches). From the dockyard, it takes about 35 minutes to reach the beach by bus. From the bus stop, you will need to walk downhill for about 400 yards and then through compact sand to get to the beach. 
While the downhill walk may not be difficult, but for some the way back up can be tiring. There is a shuttle service (known as 'To the Top') run by Dean Ming. For $2, the 15-passenger shuttle can bring you back up to the main road near the public bus stop. Children under 10 ride free. The shuttle is available from 11am onwards. 
Related Articles 
Visitors' Reviews/Comments 
Louisa 
My husband & I just returned from a cruise on the
Norwegian Dawn
. We are both very much Beach People. We visited Horseshoe Bay Beach & I have to say it's the closest thing to HEAVEN! We can't wait to go back again! 
Harold Davis 
I have a pre cancerous condition of the skin and cannot be in the sun period, however, I still want to visit Horseshoe Beach while I am there in Sept of this year. My question is, can I rent umbrellas or are there cabanas to rent? Thank you so much for your help!!!! 
Reply (Raj) 
There is a concession that rents beach chairs and umbrellas at the Horseshoe Bay Beach. It closes down by late afternoon. There is also a beach cafe. 
Peggy Slaughter 
My husband and I are coming to Bermuda by cruise in about two weeks. we have been to Horseshoe bay many times and love the beauty of the beach and water. Is the beach open all hours of the day, I would love to see the beach at sunset. can't wait to be back on Horseshoe bay. 
Reply (Raj)  
All public beaches in Bermuda are open from Dawn till sunset, and so is Horseshoe Bay beach. Public beaches are closed after sunset. 
Anita Menegay 
It's a beautiful beach, but I want to mention that during the few hours we were there (April 26, 2011), we saw numerous dead
Portuguese Man of War
washed up on the beach. I understand their sting is bad even after they are dead. There were lots of people on the beach who easily could have stepped on them with their bare feet, yet no warnings were posted. So my advice is, watch your step on that beach. 
Carole 
I will be cruising to Bermuda the first week in May. My question is, if I take a taxi over to Horseshoe Beach, is it easy to find a taxi back to the cruise ship at the Dockyard? thank you. 
Reply (Raj)  
It may not be easy to get a taxi back to the dockyard unless you are lucky to find one dropping off other passengers. You can try requesting the driver who drops you to pick you up after certain time. He may or may not agree. The other option is to book a taxi by the hour (usually you need to book for a minimum of 3 hours, $45/50 per hour). 
Kristen 
Hi, just need some info on how once I get off the ship, how do I get to horseshoe beach, can I walk or taxi and if taxi, how much? If walking how far a walk? 
Reply (Raj)  
Hi, Horseshoe Bay Beach is not in a walking distance from the dockyard. It's in Southampton parish. Taxi ride takes about $25 from the cruise ship dockyard. Best is to take bus#7 which starts from the dockyard itself for Hamilton City. It takes about 30 minutes to reach the beach by bus.  
Laura 
Hi... it is very very important that my twin sister and I have an umbrella and a beach chair at horseshoe bay beach. we are coming in on a Royal Caribbean cruise and they have an excursion to this beach but no one can tell us if we can rent a chair and umbrella. both my twin sister and I have had a bit of skin cancer so it is so important to us. Can you tell me if we can reserve ahead of time and the cost/ and where do we reserve a chair and umbrella? Is it at the beach itself? Thanks for your help ... 
Reply (Raj)  
Hi, You can rent umbrellas and beach chairs from the concession located at Horseshoe Bay Beach itself. I don't think you can reserve them in advance. If you are visiting during the high season, there are chances that stock may be over. The beach gets very crowded during the high tourist season.  
Indicative rates are (per hour): Lounge chairs:$10, sand chairs: $8, Umbrellas: $10 large, $8 regular. Note these are only indicative figures. The rates can change depending on demand. Regards, 
Zig