Bermuda Aquarium, Museum and Zoo (BAMZ)
A Top Attraction in Bermuda
Bermuda Aquarium, Museum & Zoo, also known as the BAMZ in short, is one of our favorite attractions in Bermuda. 
Located in the picturesque Flatts Village in Hamilton parish, BAMZ was founded in 1926. It offers 3 different attractions in Bermuda in the same complex, the Aquarium, the Museum and a Zoo.  
You need to budget 2 to 3 hours to enjoy the whole of BAMZ. We would usually visit the complex when the one-hour free guided tour begins. 
The free tour starts at 1:10pm daily during the high season (April - September). In the other months, the tour takes place only on Saturdays & Sundays.  
The Aquarium is really the primary attraction at the BAMZ. We would always begin our tour by first collecting a sound-stick at the entrance. It plays recorded commentaries as you explore the many tanks showing Bermuda's underwater ecosystem. 
BAMZ - Main Entrance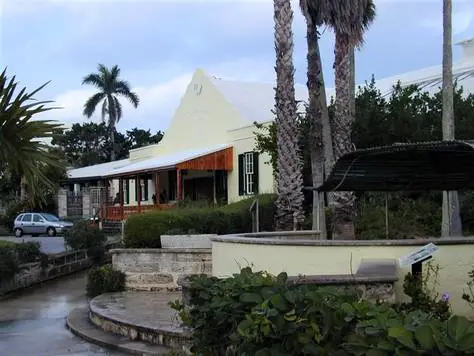 The main centerpiece of the Bermuda aquarium is the 140,000-gallon "North Rock" tank, a living replica of one of Bermuda's spectacular coral reefs. It's one of the largest live coral collections in the world. You can find a variety of marine life including barracuda and shark in Bermuda Aquarium. You can even stick your head into a giant Plexiglas bubble and experience the sensation of diving into a coral cave.  
Bermuda Aquarium  (BAMZ) 
At the BAMZ Bermuda Aquarium, You'll see all sorts of tropical fish, parrotfish, tiger fish and moray eels, and even crabs & spiny lobsters. There are over 100 species of fish and invertebrates on display here. There is an outdoor pool housing harbor seals. Feeding times for these seals are at 9am, 1:30pm and 4pm daily. There is a brief presentation about the marine mammals following the feedings. The Bermuda Aquarium, Museum and Zoo (BAMZ) has some green turtles housed in an outdoor pool. 
The Museum
in BAMZ is open daily from 9am to 5pm. It has recently undergone some major facelift. Earlier the Bermuda museum in BAMZ used to be the least visited and was kind of a let down after the tour to the Bermuda Aquarium. But now it has a lot more interesting exhibits around life in Bermuda, from the recent to very distant past.  
The Bermuda museum in BAMZ has two sections: 
The first section shows the natural history of Bermuda before any humans arrived. It explores the origins and various natural habitats like rocky shore, beach, fresh water pond and forests. There is a multimedia presentation showing creation of the island. There is also a 'peeping cave' where visitors can learn about the island's cave formations and the creatures that live within them.  
The second section in BAMZ museum shows the impact of humans and different species of wildlife on Bermuda's ecology; the way it has gone through changes and now how it's being conserved. 
The Zoo in BAMZ is quite small. However, the authorities here have done a very nice job of setting up very natural environment for the animals. Some of the interesting animal exhibits in the BAMZ Zoo include the following: 
Islands of the Caribbean 
This is the latest exhibit in the BAMZ Zoo and was opened in 2002. The objective of this exhibit is to show how the wildlife has migrated from the Caribbean and South America to Bermuda over the years. There is a wire-mesh cage covering a large area and a walkway through the cage. This allows the visitors to interact closely with the creatures inside. The creatures include Brazilian acouchi, golden lion tamarin, the scarlet ibis, rosette spoonbill, Cayman blue iguana etc. 
Islands of Australasia 
In this section of BAMZ Zoo, you can find a lot of creatures of Australasian and Asian species. These include wallabies, tree kangaroos, bats and tree shrews.  
Local Tails and Discovery Room 
This is a great place in the BAMZ Zoo for kids and adults alike. One can really interact with the nature. There's a touch pool with mollusks, sponges and small lobsters, a table-top tank full of corals and juvenile fish, a glass-enclosed bee hive plus plenty of other interactive features.  
For kids of age between 2 to 4, on every Friday, there are some special activities between 11:15am to 11:45am. These include stories, songs and guest appearances by animals.  
There is also a reptile exhibit in BAMZ Zoo featuring Oscar the alligator. There are also several tortoises and turtles. You can also see birds from South America such as macaws and parrots. You can also see large flock of Caribbean flamingos in BAMZ Zoo. There is a coastal walkway along the Bermuda Aquarium Museum and Zoo (BAMZ) that gives an amazing view of Harrington Sound. 
There is also a gift and souvenir shop inside the complex (BZS Gift Shop) selling various items like kids toys (stuffed and plastic make), musical CDs and Bermuda books. There is a small snack bar in the BAMZ complex called
Peacocks' Pantry
, which is open from 10am to 4pm daily. If you're lucky, you might be able to see a peacock here. If you want proper lunch, you can try another charming Italian restaurant in the Flatts Village called
Rustico
(North Shore Road, Tel: 441-295-5212). This is the closest restaurant to Bermuda Aquarium Museum and Zoo (BAMZ) complex. 
Admission Fees 
You can enjoy all the three attractions at the Bermuda Aquarium, Museum and Zoo (BAMZ) for a ticket price of $10. For children between 5-12 years and Senior Citizens of Bermuda the ticket charge is $5. Children below 5 are free. 
BAMZ Open Hours 
It's open daily from 9am-5pm. Last admission is at 4pm. 
The gift shop is open from 11am to 4pm (Tuesday through Sunday). 
BAMZ is closed on Christmas Day. 
Seal Feeding Timings: 9:00am, 1:30pm and 4:00pm daily. 
BAMZ Location and Contacts 
40 North Shore Road,
Flatts Village
, Hamilton Parish. Phone: 441/293-2727 
You can get to BAMZ by bus #10 or #11. From Hamilton or St. George it takes about 20 minutes by bus and about 15 minutes by taxi or scooter. If you are coming from Kings Wharf (Royal Naval Dockyard), take a direct ferry to Hamilton (20 minutes) and then take the bus. The bus stops right in front of BAMZ. There is also a parking available opposite to the BAMZ complex.  
Related Articles 
2) Check out
Hamilton Parish
to know about other great attractions in the parish. 
Visitors' Reviews & Comments 
Linda Lichtman (April 2013) 
I would like to figure out how to get back from Bamz by taxi to Hamilton to catch Ferry back to dockyard in June. 
Raj (bermuda-attractions.com, April 2013) 
Hi, There is no taxi stand at the Bamz. So unless you book one by the hour and keep it waiting, or see one dropping off another visitor, you won't get a taxi back from Bamz. The best is to take a bus (#10 or 11). It takes only 20 minutes to reach Hamilton (compared to 15 minutes by taxi). From there walk down to the Ferry Terminal at Front Street and take the direct Blue Route ferry back to the Dockyard (another 20 minutes).