Captain Smitty
Snorkeling Boat Tour in Bermuda
By Clark Howell 
My wife and I went out on Captain Smitty's Catamaran, (Sunday, July 12, 2009) and had the BEST snorkeling adventure of our lives!!  
It was truly a storybook day, from start to finish. The boat was beautiful, the reef was spectacular and the crew was outstanding!  
And on top of that, Captain Smitty serenaded us all on the trip back.  
What a day! 
Clark Howell
Reply from Raj: 
So you had taken the snorkeling cruise on the
Aristocat
catamaran from Fantasea Bermuda. This is an excellent catamaran, probably the best in Bermuda. You would have noticed that this 55-foot catamaran had a double hull... quite specially designed. We love this sailing and snorkeling tour by
Fantasea Bermuda
. 
Take a look at the picture and see if you can recognize Captain Smitty.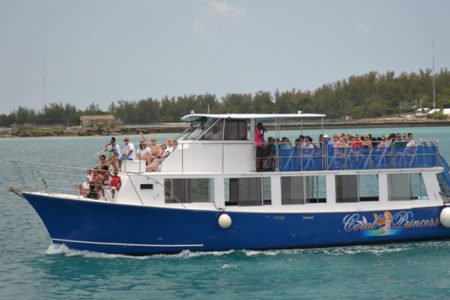 For the readers: 
The snorkeling trip on
Aristocat
is like sailing and snorkeling in the blue oasis of
Bermuda's coral reefs
. They also give an informative commentary about the island. This is a 3-hour tour and costs 60$ per person. You get complimentary soda &  rum swizzle on board.  
The cruise timings are 9a.m to noon, then 2p.m to 5p.m.