Reef Explorer Bermuda
Snorkel, Glassbottom, Adventure Boat Tours
Captain Michael Gladwin has over 25 years of experience in Bermuda waters and is a very competent skipper. 
He owns the largest custom boat which is 70-foot long, with 20-foot beam and having glass bottom and other custom features. 
If you take a night ride, they switch on the special sub-sea lights for night viewing of marine life. 
The boat can easily accommodate 150 passengers and has adequate safety equipment onboard. 
Reef Explorer has two open decks and bimini shades. The upper deck is great for viewing the scenery around as you sail along. The lower deck has a bar with soda dispensers. There are also restrooms and changing rooms on the lower deck. 
Reef Explorer Cruise Bermuda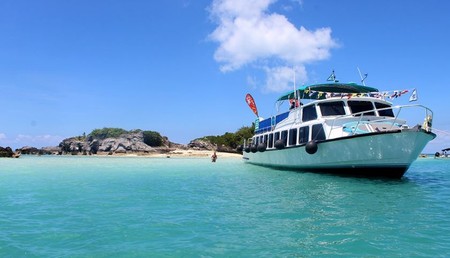 They have onboard snorkel equipment and kayaks. There is a small special platform attached at the rear end of the boat to facilitate easy access to the water. 
There are several cruises available from the Reef Explorer. 
Snorkel Adventure in Bermuda 
This is a three hour tour. On the way the captain will share his knowledge of the island. You will see an 18th century shipwreck and then reach the Turtle Cove where you will see a number of green Atlantic turtles in their natural habitat. You will be then taken to a secluded cove where you can snorkel in waist deep water.  
Or alternatively you can join the guides for a safari to the
Sea Garden of Bermuda
, a water area where you can see a plethora of amazing marine life and corals. They will be giving you snorkel and other buoyancy equipment. If you can't swim, just take a kayak and float around. So there is an option for all. On the way back, they put on the music so that you can relax and take some refreshment if you want. 
Glass Bottom Tour 
It's a two hour tour. The route is similar to the snorkel adventure. The captain will share a lot of
historical facts about Bermuda
and how the pastel color houses with white limestone roofs have become a traditional architecture in Bermuda. You will see variety of fish, corals and other marine creatures once you reach the destination. They will also show you the 18th century shipwreck on the way. Then you will proceed to Turtle Cove to see the green turtles of the Atlantic before you return. 
Aquarium Snorkel & Fun Tour of Bermuda 
This is a three and half hour tour that takes you along the beautiful north shore of Bermuda. On the way you will see many water facing houses and historical buildings of Bermuda. The Captain will provide a lot of information about
Bermuda's history
. 
On your return, the boat will cruise to a shallow bay where you can have a refreshing swim, or kayak or even relax onboard while listening to music. 
Pirate Party Adventure in Bermuda 
This is a night time cruise that lasts for one hour and 30 minutes. They will take you to the Pirates Point of Bermuda. This is where the notorious pirates used to lure the ships passing by and loot them.  
On the way the captain will share thrilling stories of how piracy was once legal in Bermuda and one of the main sources of income in the island. They will take you to the lower deck and switch on the special sub-sea lights so that you can see reefs and fish that are rarely seen during the day time. You will also see a shipwreck that had fallen prey to the pirates and finally sank at the bottom of the ocean. 
Location and Contacts of Reef Explorer 
Address: Suite 251, 48 Par-la-Ville Road, Hamilton HM 11, Bermuda 
Email: info@bermudareefexplorer.com 
Phone: (441) 535-7333 
Related Articles 
Visitors' Reviews & Comments 
Review and share your experience.