World Rugby Classic in Bermuda
World Rugby Classic was first held in Bermuda in 1988. Usually held in the month of November, this is an international competition and is quite unique to Bermuda. 
If you are a tourist and don't care much about the game or do not understand it well enough, you will still be able to greatly enjoy the ambience in and around the ground. 
There is virtually a big party that goes on there, and you can freely mix around with people and sometimes even with the players. 
So how did the World Rugby Classic start in Bermuda and who participate in this event?  
This event has mainly followed the footsteps of the Easter Rugby Classic which used to be a great platform for famed international players to participate and mix with each other. However, since the players started leaving the Easter Rugby Classic for various reasons, Bermuda took the opportunity to create such a similar platform for international teams. 
World Rugby Classic in Bermuda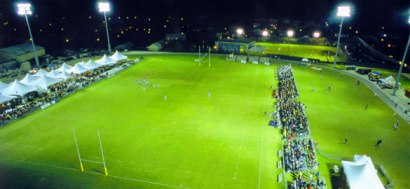 The whole idea was to keep providing opportunities to the great players who have ended their international professional careers. So you can expect a lot of senior players participating in the competition representing their respective countries. However, do not assume that seniors mean they are out of form or out of their zeal and love for the game. Imagine what happens if a player is dropped from the country's international team. Does his love for the game, his camaraderie and potential all end as well?  
So, Bermuda World Rugby Classic started providing a great platform to such senior players. The players can come in and show their skills in a truly international competition, and at the same time have a great platform to mix around with their fellow international players. 
In 1988, the first such World Rugby Classic was held in Bermuda. England, Wales, Scotland and Ireland sent their teams for the event. The first classic was won by Wales. However next year, New Zealand joined and they won the trophy for next several years. 
Over the years many teams representing their countries have participated in the World Rugby Classic competition. There have been teams from England, U.S, Ireland, Scotland, Wales, France, Argentina, Australia, New Zealand, South Africa, Canada, Spain, Portugal, Uruguay, etc. 
The event also holds Women's International and a match between Bermuda and the Caribbean. 
One of the biggest attractions during this Classic Week is the opportunity for all including players and spectators to mix around after the matches. The locals and the visitors have whole night parties over drinks and chats. There are member tents put up behind the goal lines where members and guests enjoy sit down lunch, dinner, and an open bar in the evenings serving wine and drinks. The players facility known as the Classic Club is set up at the Touchline that includes meals and drinks at reduced prices. There are also entry passes for general admissions - Per game ($25) and for the whole week ($225). 
The inauguration of the event is celebrated by a grand roadshow on the Bermudiana street at Hamilton with
Gombey Dancing
and DJs playing music. The roadside restaurants there offer great menus with discounted prices. 
2011 Schedules for World Rugby Classic Bermuda 
First Round Matches: Nov 6, 2011 - Nov 7, 2011 
Semi Finals: Nov 9, 2011 and Nov 10, 2011 
Final: Nov 12, 2011 
Contacts 
President (General Inquiries): 441/295-6574 
Classic Administrator: 441/278-1446 
Check out the website www.worldrugby.bm for further details. 
Related Articles 
1) Check out
Bermuda Events
for all the main events & festivals in Bermuda 
Visitors' Reviews and Comments 
Hi, My husband and I have just celebrated our 35th Wedding Anniversary and as we are both rugby fanatics are treating ourselves to the tournament.  We will be staying for two weeks, with the tournament right in the middle. We just wanted to know the best way to travel around the island, what we shouldn't miss and also the best way to use money ie cash, travelers checks or a currency card? Would appreciate your views.  We can't wait.  Roll on November!!! Many thanks.  Regards Barbie Newman 
Hi Barbie, 
There are plenty of attractions and activities in Bermuda that are more than worth experiencing. Please explore the following links to choose the ones that you like the most. 
However, remember that other than the public beaches, many of the other attractions and activities may remain closed during the winter time or work in reduced hours. But there will be still enough for you to enjoy through the two weeks in November when the Rugby Tournament is held. It's best to check this out with Bermuda's Department of Tourism to make certain what will remain open and what will not during your time of stay. Here are the contacts: 
Email: travel@bermudatourism.com 
Phone (24 hours toll free): 1-800-BERMUDA 
If you buy transportation passes for the duration of your stay, that will be valid for both buses and ferries, and you can avail them any number of times during the period. This turns out to be the cheapest and one of the best ways of travelling around the island. If you want more flexibility and are able to ride a two-wheeler, then rent a scooter. For longer duration, scooter rental also turns out to be a cost effective solution. Please explore the relevant sections under the link:
Bermuda Transportation
Best way to use money in Bermuda: Check out the link
Bermuda Currency
and read the section under 'Modes & ways of using money in Bermuda'. 
Have a great time in Bermuda, 
Raj 
www.bermuda-attractions.com