Devonshire Bay Bermuda
Devonshire Bay is the only public beach on the south shore of Devonshire parish in Bermuda. It's a scenic national park and great for families and kids. You get a nice combination of a ruined fort, beach, swimming and parklands. There are also wading pools scattered around where you will find small crabs, shrimps and small fishes. This is not a typical tourist place. 
Many families come here for picnic. The beach with baygrapes and palmettos behind it is nice and calm. It's great for swimming unless there is strong wind. As you come to the border of Devonshire bay which is full of boiler reefs, you will be able to get a wonderful view of the south coast of Bermuda. 
There are remains of a fort called Devonshire Bay Battery in the adjacent park area. The fort was built in 1750s by the British. You will also see fishermen and locals mooring their small boats on the bay. The fishermen even sell their catch here. Before entering the bay, you will see handwritten boards saying fishermen selling fresh fish at the bay. 
Usually you will find the fishermen selling fish on the weekdays. So if you happen to stay in an accommodation where you can cook like in a rental apartment with a kitchen, try out the fresh fish. The fishermen will also make filets for you if you want. It can cost between $12 - $15 per pound. 
Devonshire Bay Bermuda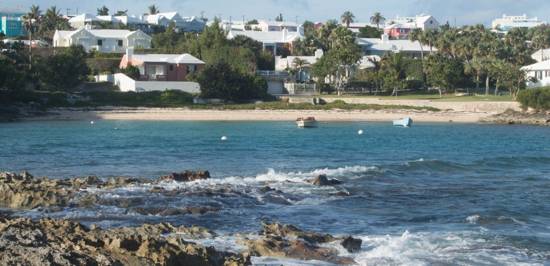 How to Reach
Take bus #1. Take Devonshire Bay Road off South Road. Keep to the left and you will see that the road finally ends and the park begins. There is parking for scooters and cars. 
Road Map 
Raj Bhattacharya
Raj is an avid traveler and a full-time travel blogger. He has traveled to numerous countries across the world and loves to keep travelling. His mission here is to help viewers like you visiting Bermuda or seeking insights into related matters with the most comprehensive content. Since years now he has been helping countless viewers by posting quality articles on this website, answering questions and sharing experiences. Launched in 2008, this website is Bermuda's leading source of online information since many years. 
Related Articles
Visitors' Reviews & Comments
Share your experience.