Wadson's Farm Bermuda
Wadson's Farm is located in Southampton parish Bermuda and spread over some 30 acres of land area. It integrates animal, poultry and vegetable farming together to produce chemical free crops. Tom Wadson, the owner has been farming since 1976 in Bermuda. He started with a 1 acre farming land in Paget parish as a part time effort. His focus those days was on growing potato. Later he introduced other vegetables and took up the current farm house in Southampton. 
In 2003, Hurricane Fabian almost completely wiped off everything in the farm and Tom had to start from the scratch again. That was the time when he decided to move away from conventional farming and start organic agriculture. He added pasture poultry and sheep, and then pigs (the original Bermuda hogs). 
Today Wadson's Farm employs 11 full-time staffs and is one of the leading suppliers to some of the best restaurants and supermarkets in Bermuda. Some of the staff of the farm have been with them for over two decades. 
Wadson's Farm Bermuda - Sheep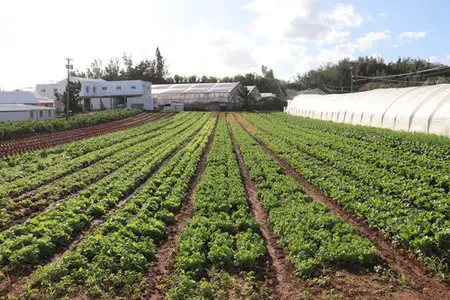 The farm produce includes bananas, cassava, potatoes, sweet potatoes, strawberries and about 50 different types of fruits, vegetable herbs and flowers. You also get meet and poultry items. The farm also has a greenhouse that focuses on producing year-round lettuce. 
Over the last several years, they have been sending Easter Lilies to Her Majesty the Queen, as Bermuda's annual gift. Wadson's Farm has a retail shop on site selling various fresh items including vegetables, poultry, meet and plants. The shop is known as Wadson's Home Farm Market. They also have a roadside stand at Whale Bay that operates 3 days a week. 
Wadson's Farm has been awarded the "Best Greengrocer" by the Bermudian Magazine. They were also the 2008 recipient of "Award of Excellence, Best of Bermuda Gold" for food and beverage from the same magazine. 
There are organized tours of the farm including school educational tours that are done on appointments. You can call them up for details of the tours. There are also special events held at the farm like a part of Bermuda's Annual Gourmet Gateway Program when a Sunday organic brunch is often organized here. 
Open Hours
The on-site shop is open from Tuesday to Friday (between 10am - 6pm), and on Saturday from 9am - 1pm. 
Location and Contacts
Wadson's Farm 
10 Luke's Pond Road, Southampton, Bermuda 
Phone: 441/238-1862 
Raj Bhattacharya
Raj is an avid traveler, a travel journalist and a blogger. As an author of this website, he shares deep insights on Bermuda and related areas of interest. Since years, he has been helping countless viewers by posting quality articles, answering questions and sharing experiences on this website. Launched in 2008, this website is Bermuda's one of the leading sources of information since many years. 
Related Articles
1) Check out
Southampton Bermuda
to know all about the parish and its attractions and activities. 
Visitors' Reviews and Comments
Review and share your experience.