Convict Cemetery Bermuda
Located in Sandys, tucked behind a row of houses and close to the Royal Naval Dockyard, the convict cemetery was the burial ground for the convicts who were brought in from England in 19th century for construction of the dockyard and other fortifications in the island. 
Being convicts, they didn't have the privilege to be buried in any other graveyard in Bermuda. In fact such was their social stigma even after their terms were served that over 98% chose to go back to England or migrate to countries like Canada or US, of course at their own cost. 
About 9000 convicts were brought in from England to Bermuda in the 1800s. Out of them over 2000 died either out of the Yellow Fever epidemic that ravaged Bermuda during that time, or due to the nature of risk involved in their work. 
Although slavery in Bermuda and across entire British empire was abolished in 1834 and many slave blacks became free, one could still see thousands of chained convicts in the island who were not allowed the luxury of free movements. They lived in extremely poor conditions in hulks that were once used as warships and later modified to accommodate the convicts not even offering the basic living conditions. 
Convict Cemetery Bermuda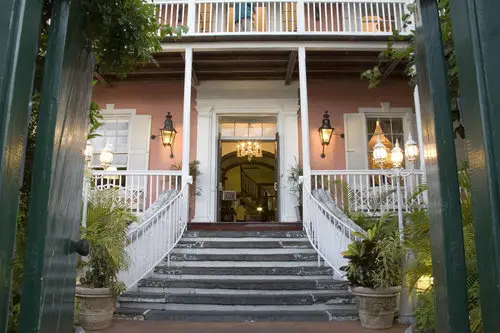 Most of the convicts who were sent to colonies like Bermuda those days included debtors and those who engaged in riots due to starvation, and other types of criminals. Instead of executing them in England, they were sent out to work as bonded laborers. They were allowed to live like free colonists after they served their penal terms. But as I mentioned, the social stigma was such that it drove most of them away from the island whose residents did not yet learn to treat slaves and convicts as human beings. 
There are only 13 marked graves in Convict Cemetery and out of them there are only four of them named. The cemetery is hidden behind a row of houses. 
Admission is free. The property is managed by Bermuda National Trust. 
Location & Contacts
Located behind Albert Row and at the western end of Cochrane Road. The road was named after Admiral Cochrain. It's off the Malabar Road and is close distance from the Royal Naval Dockyard.  
Bus routes: #7 and 8 (operating between Hamilton and Dockyard). 
Phone: (441) 236-6483 for further information. 
Raj Bhattacharya
Raj is an avid traveler and a full-time travel blogger. He has traveled to numerous countries across the world and loves to keep travelling. His mission here is to help viewers like you visiting Bermuda or seeking insights into related matters with the most comprehensive content. Since years now he has been helping countless viewers by posting quality articles on this website, answering questions and sharing experiences. Launched in 2008, this website is Bermuda's leading source of online information since many years. 
Related Articles
1) Check out
Sandys Bermuda
to know about the places of interest in the Parish. 
Visitors' Reviews & Comments
Share your experience.