Watford Bridge Bermuda
Watford Bridge is located in Sandys Parish and goes over the water channel between Somerset island and Watford island. The bridge connects the road that goes all the way up to Royal Naval Dockyard through Boaz island and Ireland Island. In the 17th century when the British settlement took place in the island, a ferry was used to cross over this 450 feet wide channel. 
It was called Horse Ferry because the small flat boat used to carry even a horse and a carriage on it. There has been three bridges constructed over this water channel so far. The first one was conceived in early 1900s after a severe storm had cut out all communications between Somerset and the other side where the Royal Naval Dockyard is located. In 1903 the first bridge was commissioned eliminating the need for the ferry. That bridge lasted for some 54 years. 
In 1957, a second bridge was built on a post-tensioned concrete structure. But within three years of its commissioning, the bridge started to deteriorate due to the harsh marine conditions. It kept requiring heavy maintenance, but finally had to be demolished after 23 years from its construction. 
Watford Bridge Bermuda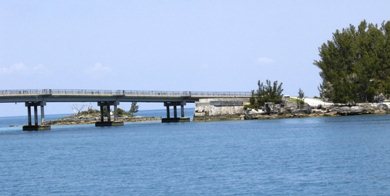 The third and the new bridge was built in 1983 using galvanized structural steel beams that supports a concrete deck. This is a successful implementation of a technology using galvanized steel beams and designed to last for 120 years with minimal maintenance. This New Watford Bridge was designed following a lot of research from Bermuda's Public Works Department as well as their consultant. It has a built in corrosion protection system. 
The view from the Watford Bridge is spectacular. There are two military cemeteries located close to the bridge. While going towards the dockyard as you cross the bridge, Watford Cemetery is located on the right. This is where many military personnel and their families were buried during 1853-1899, many of who died out of Yellow Fever epidemic in the island. 
Somerset Military Cemetery is located west of Watford bridge and off Mangrove Bay. You will see graves of military personnel of early 1900s. Admission is free to both the cemeteries and bus routes #7 and 8 have nearby bus stops. 
There is a Ferry Dock close to the Watford Bridge and known as Watford Ferry Stop. The ferry stop falls on the route of Hamilton and Dockyard ferry connections. It is located on Mangrove Bay Road. While coming from Dockyard, you can get into Mangrove Bay road from Malabar Road. The ferry stop is some 2.5 miles from the dockyard and takes 5 minutes by bus or scooter. 
How to reach Watford Bridge
Located between Somerset Island and Watford Island in Sandys Parish. 
Bus Routes: #7, 8 have nearby bus stops to access the Watford bridge. 

By Raj Bhattacharya 
Raj, a seasoned travel writer and Bermuda destination expert, has extensive global travel experience. This website reflects his profound insights, garnered over nearly two decades of dedicated findings and research on the island. Raj has assisted countless Bermuda-bound visitors by providing direct, personalized responses to their queries and imparting his wealth of knowledge through this platform. This site serves as an indispensable guide for those seeking informed and reliable insights into Bermuda's treasures. 
Related Articles
1) Check out
Sandys Parish
for many other great attractions in the parish. 
Visitors' Reviews and Comments
Share your experience.