The Amazing Bahamas Islands
Bahamas is a cluster of numerous islands, islets, cays (i.e. coral reefs) and rocks ... actually an archipelago of more than 700 islands, islets and cays and over 2,400 rocks. However only 30 islands out of all are inhabited, and about a dozen of them would be of interest to the tourists because these are the ones that behold all the colors and characters of the Bahamas from tourism perspective. 
All these islands are located off the US East Coast and east of Miami, Florida. The nearest island Bimini is only about 50miles to the east of Miami while one of the farthest is Inagua (about 700 miles away).  
Nassau located in New Providence island is the political and administrative capital of Bahamas. This is where most tourists land up as it offers whole host of entertainment including shopping, casinos, bars great resorts, beaches, snorkeling and boat tours and many other island activities. Nassau has cruise port as well as international airports serving cruise ships and flights every day. 
Bahamas Islands Map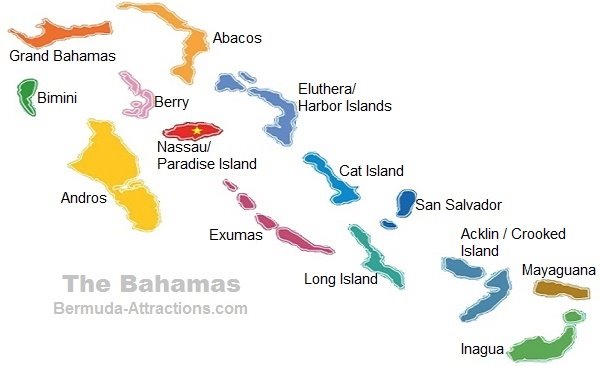 Paradise Island is only 5kms away from Nassau and joined with New Providence Island by two bridges across Nassau harbor. It has been developed as another tourism magnet to further complement Nassau, and the island pair together makes the single most popular place in the Bahamas. 
The next most popular island to tourists is the Grand Bahama which is quite close to Florida. All other islands in Bahamas are fondly called the Out Islands because they are usually out of typical touristy map and remain virgin with unique characters of their own. For example, Abacos and Exuma are leaders in offering ideal waters for boating and sailing along with excellent opportunities for snorkeling along the reef line, experiencing sleepy village lifestyle, serene secluded beaches and more. 
Harbor Island on the other hand is a paradise for those looking for lovely beaches that would remain of their own as long as one wants, and Bimini is a magnet for those fancying a dive. 
Most locals believe that if you want to experience the true Bahamanian life, you need to visit one or more Out Islands. Why? Because about 85% of the land mass of Bahamas exist in the out islands, so they got to behold the real Bahamas life. While large many Bahamians move to Nassau in order to make a living out of the strong hospitality sector here, most if not all retain their roots in their native out islands they come from where their families continue to live. 
More than 6 million tourists visit Bahamas annually, out of which about 57% arrive at Nassau/Paradise Island alone, around 13% in Grand Bahama and remaining about 30% in the Out Islands. 
Main Islands and Out Islands
Here are the main islands in Bahamas including the out islands (ordered by popularity). Actually most of these islands are themselves a chain of multiple islands and cays. Go through the snapshot for each to identify the one(s) of your interest, and then visit the corresponding link for details including how to reach the island, the main attractions and activities, hotels, dining and more. 
Most cruise ships from the US as well as flights to Bahamas get to Nassau which is the capital of Bahamas and located in the New Providence Island. Paradise Island is connected by two bridges and is at a short distance from the Nassau Downtown. New Providence has almost 70% of the total resident population of Bahamas.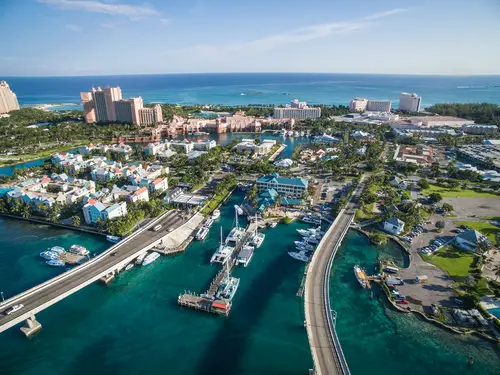 Photo: BID Ciudades Sostenibles, flickr, cc by 2.0 
Both Nassau and Paradise Island are tourist magnets... the hugely popular Cable Beach of Nassau is fringed by resorts, the towering Atlantis Resort complex in Paradise Island has a number of hotels of different luxury levels along with many in-complex attractions like one of the largest aquariums with over 50,000 fish and marine life, huge water park with slides, river rides and pools, Dolphin interaction center, the largest casino in Caribbean, shopping arcades etc. Both Nassau and Paradise Island offer numerous dining options, great nightlife, shopping and touring options. 
The two most important places are Freeport and Port Lucaya, the latter is full of lovely beaches and located near Freeport. While the main beach in Lucaya would be full of tourists and having many watersport activities, you can find lovely secludes beaches not too far away.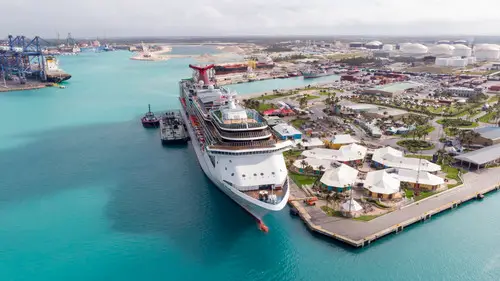 Photo: YES Market Media, Shutterstock 
Lucaya Market Place is known for hand crafted Bahamian products and jewelry items. Grand Bahama's large underwater cave systems are a great attraction for divers. The island offers a magnificent combination of island life with modern amenities as well as laid back style of Bahamian life. Great for eco tours as well. 
Marsh Harbor is the main settlement where most tourists arrive. It offers all modern amenities including nice resorts and villas. However the outer islands of Abacos offers lovely serene and laidback Bahamian life and wonderful secluded beaches. Abacos is known for great deep sea fishing as well as bonefishing opportunities. Rich with reefs and wrecks, it's also a great place for divers and snorkelers.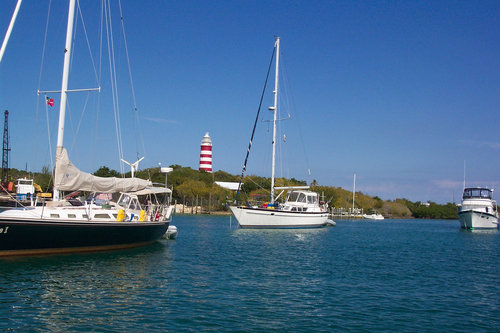 Hope Town Harbor & Lighthouse. Photo: Killian77, flickr, cc by 2.0 
George town is the main settlement and the administrative center. It offers a range of resorts to tourists. The 'Exuma National Land and Sea Park' is known all over the world as a magnet for divers and snorkelers to explore vast marine life, great reefs, huge drop offs and blue holes. 
Pristine beach at Shroud Cay, Exuma Cays Land and See Park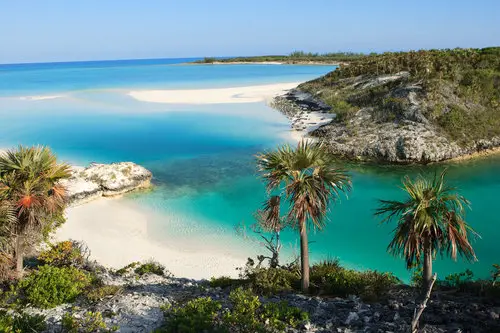 While Exuma offers original slow paced Bahamian life and great Bahamian food, it also offers ultra luxurious stays on beach side private villas in Exuma Cays where the celebrities own several islands. 
Eluthera was the first of all the Bahamas Islands which witnessed the first permanent settlement way back in 1648. Governor's Harbor is the main settlement here. A great island for lounging on pink sandy beaches, diving and snorkeling to explore many wrecks and marine life, all amidst sleepy and laid back style of Bahamian life while enjoying great local food. 
You can easily ferry across to Harbor Island from North Eleuthera. This tiny island is known for its Pink Sands Beach which has been listed as one of the top 10 beaches in the world. You can see lovely pastel houses lining the streets with swaying palms. 
Bimini is the island nearest to Miami (Florida) off its coast. There are short flights and cruises available from several places in Florida. The island is known for being the capital of Big Game Fishing due to its proximity of warm Gulf Steam and deep waters close by. Bonefishing in shallows, diving and snorkeling are also quite popular. Bimini used to be one of the favorite island destinations of author Ernest Hemingway, who frequently visited, wrote books and engaged in deep sea fishing from his own boat. 
Deadman's Cay is the main settlement here. Farming and fishing remain the main source of livelihood here. So you know that this place is all about experiencing slow paced original yet friendly Bahamian life. However there are many contrasts in the island. The eastern coastline is full of sharp cliffs and lovely secluded beaches while the western coast faces the calm Bahama Bank ideal for bonefishing, snorkeling and kayaking through the mangroves. One of the largest Blue Holes in the world off the eastern coast draws large number of divers from all over the world.  
Andros is the largest island of the Bahamas yet the least explored. The deep 'Tongue of the Ocean', the world known 'Andros Barrier Reef' and numerous Blue Holes attract large number of divers and snorkelers to explore vast marine life and reef systems. 
While the inland water areas, creeks and shallows are ideal for bonefishing, kayaking and bird watching. Andros is known as the Bonefishing Capital of the world. It too offers a laid back slow paced life reflecting the original way of Bahamian lifestyle. 
One of the farthest islands from the US east coast, San Salvador has the distinction of being the first island in the New World where Christopher Columbus landed in October 1492. This island too offers pristine secluded beaches, great opportunities for scuba diving and snorkeling, nice tourist attractions including old kerosene operated lighthouse, Columbus's landfall landmark etc. 
Rum Cay, another tiny island off the south western end of San Salvador is great to explore large cave where original Lucayan tribes lived. There are cave drawings and left over items from the period. 
Bullock Harbor of Great Harbor Cay is where the main settlement is. Other than enjoying the bliss of relaxation amidst laid back Bahamian hospitality, lounging on lovely beaches, this island is also a favorite for those indulging in game fishing, diving and snorkeling. In fact Chub Cay at the southern end is known as the Billfish Capital of the Bahamas.  
This sparsely populated island still reflects the original rustic Bahamian life. Miles of wonderful secluded sandy beaches, great opportunities for diving, snorkeling and fishing are the reasons why tourists consider this island along with enjoying a true slow paced Bahamian hospitality. The highest point of Bahama Mount Alverina with an altitude of 106ft is located at Cat island. Arthur Town in Cat Island was the childhood home of Sir Sidney Poitier, the academic award winning actor. 
Mostly undeveloped and presenting rustic original Bahamian life with vast stretches of lovely pink sandy beaches and numerous coves. Great place for snorkelers and divers with its lovely coral gardens and reefs. Acklin was once the home of largest Lucayan tribe settlement of Bahamas which is reflected in large number of caves where thee lived here and which you can explore. Boat ride on the 9-mile channel of Crooked Island to Turtle Sound is a special experience with wonderful views around. 
Related Articles
Visitors' Reviews and Comments