Straw Market, Nassau, Bahamas
Almost every tourist would visit the Straw Market located in Nassau Downtown on Bay Street and at an easy walking distance from the Cruise Terminal (Prince George Wharf). Straw industry is the oldest in Bahamas and the Nassau Straw Market originally started in 1940s when the hand woven straw items like bags (which were used in earlier days for carrying fruits and fish), dolls etc were predominantly featured. However the structure was burnt down and was replaced with a temporary tented structure. The present permanent structure of the straw Market was opened on December 21, 2011. 
This is like a flea market and there are over 500 vendors (mostly ladies) who now sell all kinds of items. while you can surely get handmade traditional Bahamian straw products such as bags, purses, hats, dolls etc, the market is full of many other cheap items including T-shirts, children's clothes, caps, inexpensive jewelry, bookmarks, bracelets, many different types of trinkets, gifts and souvenirs. 
Straw Market, Nassau (the new structure)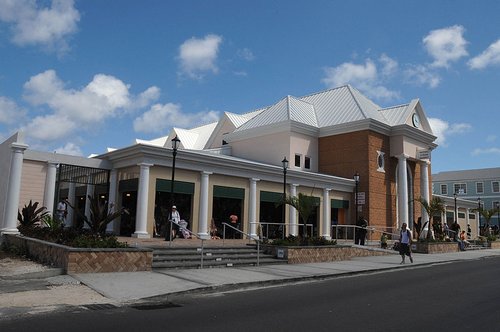 Photo: JERRYE AND ROY KLOTZ MD, cc by-sa 3.0 
There is also a section in one end selling nice wood crafted items (such as dolls and figures, mugs and cups, flowers and fruits etc) as well as conch shell items that are locally made. But authentic local crafts have somewhat taken a backseat in the straw market. Most items these days are imported from China and Taiwan. But if you are looking for cheap gifts or souvenirs, then this is the place to go. 
However almost all shops seem to sell the same items, and there are hardly any variations although prices can vary from shop to shop. There is strangely no fixed price tag. The vendor will drop a price and start bargaining with you and lower the price, do a bit of (or rather a lot of) push sales to convince you. So you should be ready for haggling but at the end of the day you can get great bargains. 
Inside Straw Market, Nassau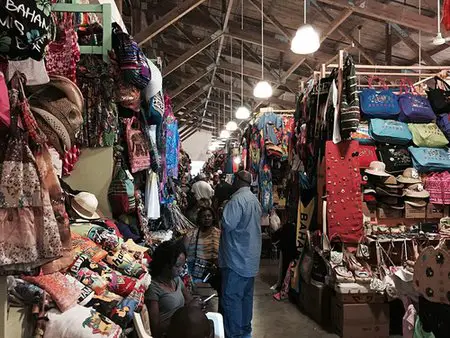 It can get quite warm and stuffy inside. The walkways are quite narrow and it can get very crowded (mostly by tourists though). Shopping here sometimes becomes quite uncomfortable if you get into the central area. I wish the lighting inside could have been better as the isles appear to be a little darkish. Try to visit in the first morning hours in order to avoid crowd. 
Carry cash as cards are not accepted here. Note that there is another straw market at Cable Beach known as the Pompey Market. You also get straw made items in Paradise Island. 
The Nassau Straw Market is located in Downtown Nassau and on Bay Street and about 300 meters from the Prince George Wharf (Cruise Terminal). It's open daily from 8am to 8pm. 
Road Map 

By Raj Bhattacharya 
Raj, a seasoned travel writer and Bermuda destination expert, has extensive global travel experience. This website reflects his profound insights, garnered over nearly two decades of dedicated findings and research on the island. Raj has assisted countless Bermuda-bound visitors by providing direct, personalized responses to their queries and imparting his wealth of knowledge through this platform. This site serves as an indispensable guide for those seeking informed and reliable insights into Bermuda's treasures. 
Related Articles
Visitors' Reviews and Comments