Scuba Diving in Nassau
Best Sites & Operators
There are several great scuba diving sites off Nassau and short boat rides away. Some being in shallow waters (within 15-45ft) offer longer dive time and full of shallow reefs, coral gardens and fish. 
James Bond wrecks located off Nassau features two wrecks that have been used quite extensively in James Bond movies. The look-alike wreck of Royal Air Force Vulcan Bomber which was shown in the movie 'Thunderball' lies at a depth of 45 feet. 
'Tears of Allah' - wreck of a tugboat which was used in the movie 'Never say never again' lies nearby at a similar depth. Both being shallow water wrecks, it is quite possible to explore both in one dive. 
Wreck Dive, Nassau 
Photo: neverzola, Pixabay 
Lost Blue Hole is a natural hole on the ocean floor at a depth of 40ft. The hole itself is 200ft deep and 100ft wide. You can see giant stingrays, numerous large turtles, sharks, groupers and other fish. 
Shark Dive at Stuart Cove is extremely popular with divers and its unique. The divers get to swim with reef sharks and are able to see sharks being hand fed. Although these sharks grow to a large size of 8-10ft, they are not dangerous if you follow the diving norms, but the sight is awesome. 
Shark Dive, Nassau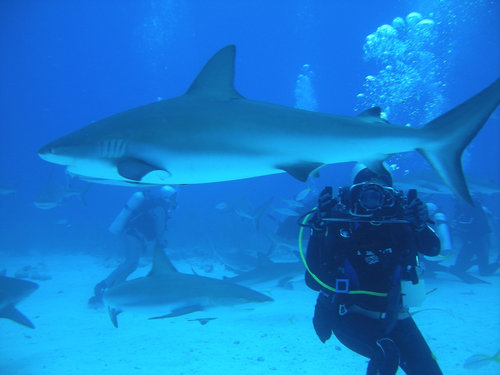 Photo: neverzola, Pixabay 
Tongue of the Ocean is to the western waters of Nassau where the drop off is huge and exceeds a mile. There is a network of walls in the deep waters here (like an underwater Grand Canyon) which is home to plethora of colorful corals, sponges and marine life. Millions of fish visit the waters here from the open ocean. 
The De La Salle Wreck - a 100ft wreck at 40ft water offering excellent views of fish and marine life. 
Lighthouse Wreck is located near the Nassau's Harbor Lighthouse, there is a 60ft wreck here in 35ft water teeming with tropical fish and often visited by schools of eagle rays.  
Will Laurie Wreck dive site is where you can see the wreck of the 100ft freighter Will Laurie which was damaged in a storm and later was drowned. It's considered a good night diving site because you can see lots of trumpet fish here as well as orange cup corals. 
Bahama Divers 
The center was founded in 1965v and has since grown as one of the most experienced and large dive and snorkel operations in Nassau. They offer two tank morning dives, single tank afternoon dives, Night Dives, Discovery Scuba (which is for learning to dive 1 day course and a dive), PADI courses etc. Their dives take place in locations such as Lighthouse Wreck, Lost Blue Hole, De La Salle wreck etc. They also offer scuba and snorkel gear rentals, as well as chartered dives for private groups. 
They are located at Nassau Yacht Haven Marina - few minutes from downtown Nassau. 
Indicative rate: 2-Tank morning dive (e.g. Ocean Wall andáReef) is $139 
Phone 8am-5pm: (242) 393-5644, 393-1466 
Evening Phone 5pm-11pm: (242) 436-5633 
Website: www.BahamaDivers.com 
Stuart Cove's Dive Bahamas 
They are a well known and one of the leading dive centers in Bahamas. They have participated in professional production work with several Hollywood movies that screened scuba diving in the Bahamas. They offer daily morning 2-tank dives and afternoon 2-tank dives around the island of New Providence. Usually the morning dives are reserved for certified divers. 
You will first dive to a wall at a depth of 40ft and then dive deeper into 80ft. The second dive is at a reef site or a wreck site. The wreck site would typically be either the James Bond Wrecks site, or De La Salle wreck site, or the Cessna wreck site that was used in the movie Jaws, and such. You can take a all-day dive trip by combining morning trip with an afternoon dive trip (packaged lunch is available at dive shop). 
They also offer PADI courses and Discovery Scuba (dive lesson and a dive). 
Stuart Cove's is located in the south-western coast of New Providence. They have pick up and drop service for hotels and cruise ships at both Nassau and Paradise Island. 
Indicative price: 2-tank dive is $134 
Phone: 242-362-4171 (7am to 8pm EST, 7 Days a Week) 
Website: www.StuartCove.com 
Custom Aquatics 
As the name suggests, they offer custom private dive trips. You can choose to dive around the Isnald of New Providence, or they can take you to Exuma Cays about 40 miles to wards east of Nassau. The dive sites in Exuma Cays are in northern cays or the protected Exuma Land andáSea Park which are full of fish, marine life and coral reefs. They have a 28ft Parker boat with a dive platform, portable toilet, dive accessories etc. Depending on your requirement and your group size, call them to get the price. 
Coral Harbour Road, P.O. Box CB-11411, Nassau 
Owners: Fran and Monty 
Phone: (242) 362-1492 
Stuart Coves' Shark Adventure 
This is a special and one of the most exciting dives you would ever experience. It's a 2-tank dive with reef sharks. They take you to two ocean walls (either 'Shark Wall' and 'The Arena' or 'Runway Wall' and 'The Runway'). First you will swim with the sharks as they follow you to their feeding area. In teh second dive, you will stand on the ocean floor and watch a professional feeder hand feed the sharks with a bait box and a spear pole. The sharks come really close. 
Indicative price: $182 (it takes place in the afternoon) 
Phone: 242-362-4171 (7am to 8pm EST, 7 Days a Week) 
Website: www.StuartCove.com 
Blackbeardĺs Cruises 
They offer liveaboard scuba dive vacation over a week. You will stay aboard the boat and sleep on dormitory style beds but in air-conditioned cabins. Over a week there will be some 19 dives... and it covers all including shark dive, walls, blue holes, coral reefs, dive in high speed drift etc. They take you to out islands like Exuma Cays, South West Eluthera etc during the dive vacation. You will be able to dive at the Caribbean's largest underwater park - the Exuma Land andáSea Park which is teeming with walls, coral reefs and marine life of all sorts including sharks in 15-80 feet dive. 
Indicative price: Weeklong liveaboard diving - $995.00 per person + taxes andáduties. 
Toll Free: 800.327.9600 
Office: +1.954.734.7111 
Website: https://allstarliveaboards.com/blackbeards/ 
Stuart Cove's SUB 
This is like a personal submarine which you can yourself pilot underwater (imagine like a fully covered scooter with a large dome for your head and even hands). You can breathe normally as the water-free dome is kept oxygenated and you do not require any diving, snorkeling or even swimming skills. After a brief piloting instructions, you will be lowered into a reef area at a depth of 15-20ft and then you can freely move around and watch the amazing marine life just the way scuba divers do. 
Indicative price: $138 per person 
Phone: 242-362-4171 (7am to 8pm EST, 7 Days a Week) 
Website: www.StuartCove.com 
Related Articles
Visitors' Reviews andáComments