How to get from Nassau to Exuma
How far is Exuma from Nassau?
Exuma is located south-east of Nassau in the Atlantic and comprises of numerous islands and cays. Northern part of Exuma has a chain of cays and the Norman's Cay, which is the northern-most cay of Exuma and nearest to Nassau is only 45 miles (or 72 kms) away from Nassau. So, depending on the place where you want to go in Exuma, the distance from Nassau will vary.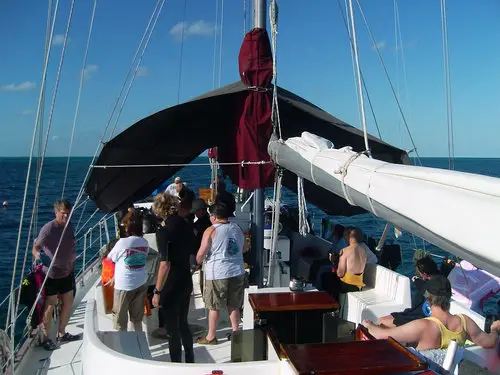 Photo: Greg Grimes, flickr, cc by-sa 2.0 
Below are the distances from Nassau to important places in Exuma 
George Town in Great Exuma, which is the capital of Exuma is located 145 miles (233kms) away from Nassau 
The popular Pig Beach at Big Major Cay, Exuma is located 82 miles (132kms) away from Nassau 
Little Exuma is located 155 miles (249kms) away from Nassau 
Getting from Nassau to Exuma
From Nassau, you can get to Exuma either by flights operated by airlines such as Bahamas Air and Flamingo Air, or by a fast ferry operated by Bahamas Ferries, or by a tour boat that take tourists to the Pig Beach at Big Major Cay. You can also charter a flight and get to Exuma from Nassau. 
Each option is explained below: 
Nassau to Exuma Flights
If you are planning to visit the Pig Beach at Big Major Cay to see swimming pigs, feed the Rock Iguanas at Bitter Guana Cay, see nurse sharks at Compass Cay, visit the sand bars at Pipe Cay and snorkel into the Thunderball Grotto, then you need to ideally fly into Staniel Cay. 
There is no airport or air strip at Big Major Cay, so you can not directly fly to Big Major Cay where the Pig Beach is located. The nearest airport to the Pig Beach is at Staniel Cay. From there, you can visit the sites by a boat. Nassau to Staniel Cay (Exuma) flight duration is 40 minutes one way. 
Bahamas Air
offers full day tours from Nassau to Exuma which includes to & fro flights to Staniel Cay accompanied by local boat tours to take tourists to the above places. The day trips operate daily, starts in the morning and returns by late afternoon. Indicative cost of tour is $499 per person... includes flights and boat tour to visit the above mentioned sites. You need to additionally pay for your lunch at Staniel Cay Yacht Club. Visit the
Bahamas Air Tours Website
for tour details and booking.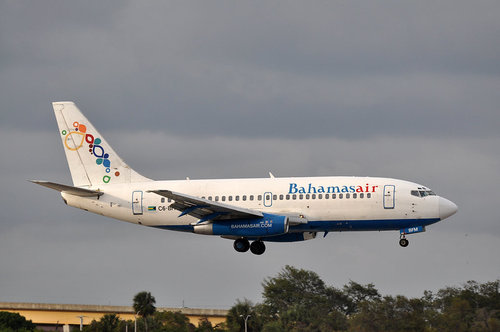 Photo: Eric Salard, flickr, cc by-sa 2.0 
Bahamas Air Tours also offers private charter flights from Nassau to Exuma along with a customized itinerary as per your wishes including tour to the Pig Beach and other nearby sites of your interest. The chartered aircraft can take up to 9 passengers. Go through
Bahamas Air Tours Charters Page
for more information and to request booking of charter flights from Nassau to Exuma. 
There are also scheduled daily flights of Bahamas Air between Nassau and Exuma International Airport (located at Moss Town in Great Exuma and 14kms north-west of George Town). There are direct flights as well as flights with one stop over at Rock Sound Airport in Eleuthera. Duration of the direct flight from Nassau to Great Exuma is 45 minutes and indicative one-way fare is $140. Visit
Bahamas Air Website
for current schedules, fares and online bookings. 
Flamingo Air
operates scheduled daily direct flights to Staniel Cay of Exuma. The one-way flight duration is 45 minutes. There are two flights daily from Nassau to Staniel Cay, one at 8am and the other at 4pm. Indicative one-way fare is $152 (round trip fares work out to be cheaper). They also offer same day round trip excursion tickets on these flights ($208 for round trip)... and this works out to be very attractive to make a day visit to the Staniel Cay. You can then avail a local boat tour there to visit all the sites. Visit
Flamingo Air Website
for current schedule, fares and bookings. 
Like Bahamas Air Tours, Flamingo Air also has a unit called
Flamingo Seashore Tour
which offers tour package to the Exuma covering Pig Beach, Compass Cay, Rock Iguanas etc. These packages also include the to & fro flights. Visit
Flamingo Tour Website
for tour and booking information. 
Nassau to Exuma Ferry
Bahamas Ferries operates a fast ferry service from Nassau to George Town (Great Exuma). This is usually an overnight ferry and takes about 14 hours one-way. The indicative roundtrip fare is $130 per adult and $91 per Child (2-11 years).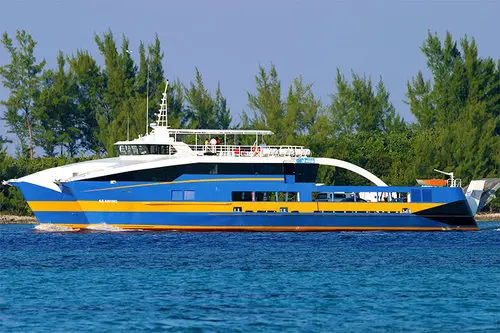 Source: Bahamas Ferries 
NOTE: Depending on prevailing situation and demand, the company temporarily suspends the ferry service or change the schedule. So check out
their website
for current schedule and booking. 
Nassau to Exuma by Speedboats
Several tour operators in Nassau operate speedboats that take you to several islands and cays in the Exuma for a full day trip. These day tours are packed with activities such as swimming with pigs, feeding sting rays, watching experts feeding Caribbean reef sharks, nurse sharks, lemon sharks etc. 
Powerboat Adventures operates speed boats (they have two boats with a capacity of 64 and 24 respectively). Their boats leave from Paradise Island Dock in the morning. In one hour the speedboat reaches Allen's Cay in Exuma. Allen's Cay is located at the far northern chain of Exuma and 30 miles south-east of Nassau. This is where you can feed Rock Iguanas. This is followed by visit to Ship Channel Cay where you can swim with pigs, see sting rays, see experts feeding sharks etc. The package includes hotel pick up/drop, lunch and free bar. Indicative cost: $260 per person. 
Rock Iguana at Allen's Cay, Exuma 
Photo: Greg Grimes, flickr, cc by-sa 2.0 
Phone: +1 (242) 363 22 65/66 
Website: www.powerboatadventures.com 
Harbor Safaris also operates a similar trip as above from Nassau to Exuma Cays, but they also visit the Pig Beach at Big Major Cay, North Exuma Cays and take you to the sand bars if weather permits. The total tour duration is about 8-9 hours. Tour price is $399 per person, lunch is included. The boat leaves in the morning from the Bay Street Marina (Nassau) at 8am. 
Swimming Pigs at Exuma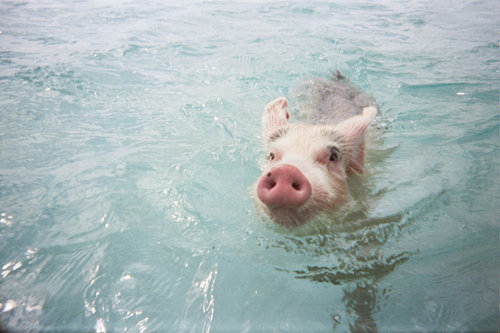 Photo: bookfinch, flickr, cc by 2.0 
Phone: 242-394-8687 
Website: www.harboursafaris.com 
Bahama Boat Excursions offers speedboat charters from Nassau Dock. You can customize your day tour and visit the Exuma cays and participate in activities that you like. 
Website: www.bahamaboatexcursions.com 
What is the best way to get to Exuma from Nassau
Flight is the most popular way of getting to Great Exuma from Nassau, because it takes the least time (45 minutes one-way). When it comes to visiting the Pig Beach in Staniel Cay, tour flights operated by Bahamasair or excursion round trip flights by Flamingoair are the two most popular ways of getting there mainly because of the time you save travelling to & fro. 
However, for visiting the cays of Exuma that are near Nassau such as Allen's Cay, speed boat is the best and the only option, because there is no airport at Allen's Cay and it takes only 1 hour to reach there by speed boats that are operated by tour operators in Nassau. 
Below are the comparisons of flights vs. speedboats for getting to Pig Beach from Nassau: 
If you take a flight from Nassau, you will need to first get to Staniel Cay Airport and then take a boat ride to visit the Pig Beach at Big Major Cay of Exuma. But if you take a speedboat tour from Nassau, you need not come to Staniel Cay and directly visit the Pig Beach. 
However, a speedboat will take about 3 hours reach the Pig Beach from Nassau, whereas the flight takes only 35-40 minutes to get to Staniel Cay and then a short boat ride to the Pig Beach. 
Since you save a lot of time on flights compared to speedboats, you can see more sites when in Exuma during a day tour and spend more time on each site. On the other hand, transfers from Nassau to Exuma take longer time in speedboats, and therefore they are able to show a limited sites other than the Pig Beach before they return to Nassau. 
From the plane, you get wonderful view of the Atlantic. All seats are usually window seats. 
If the ocean is rough, you can experience a rough ride on the speedboat which is often very uncomfortable. There can be long exposure to sun, wind and rain because some of the boats hardly have shades. The flights offer comfortable journey in air-conditioned cabins. 
Depending on the weather and ocean conditions, the speedboats frequently cancel the trips to Exuma, and sometimes at a short notice. 
Related Articles
Visitors' Reviews and Comments