How to know the Bus Zones
If there is a big mystery in the entire bus system of Bermuda, it is to figure out how many bus zones would you travel between two points. After all your bus fare would depend on that because you pay either 3-zone fare or 14-zone fare unless you use a pass. 
But unfortunately there is no way to quickly figure out the number of zones between any two places in the island so that you can be ready with the applicable token, ticket or change. With 11 bus routes, a total of 14 zones and numerous bus stops or destinations on each bus route, there could be millions of combinations for fare zones. I have noticed many tourists are intrigued and some completely baffled with this, while the locals do not seem to have any problems determining the fare zones. 
Fortunately, there is a simple way (although rough) to figure out number of bus zones between two places in Bermuda. First note that each bus zone is roughly about 2miles and there are 14 of them (west to east). You won't find any physical markings in the island showing the zone boundaries - they are imaginary lines. 
Let's understand the boundaries of each bus zone so that you know how many zones you may need to travel. 
Bus Zones - West to East
I have given the span of each zone below. From places listed against each, find out the bus zone number in which your starting point and destination are located. You can then easily calculate how many bus zones you need to travel. However if your starting point or destination happens to fall right on a zone boundary or very close to it, then while buying tickets or tokens, ask the staff at the counter or check with the bus driver about applicable fare zones. 
Western Bus Routes of Bermuda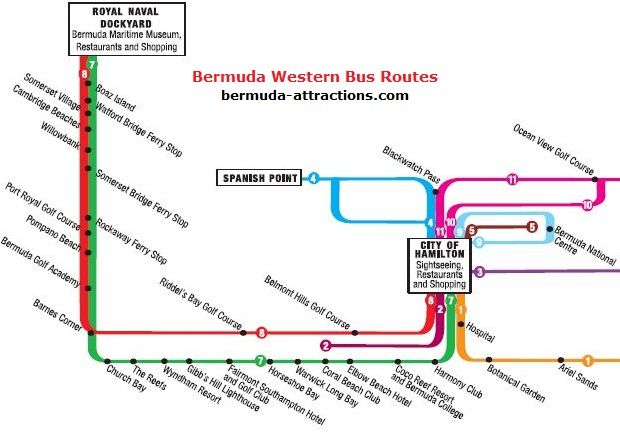 ZONE-13: Is the Royal Naval Dockyard Area up to southern end of Boaz island. Other than the dockyard, the zone covers Ireland Island North/South (which includes Royal Naval Cemetery) and Boaz Island. 
ZONE-12: The next zone starts at the boundary with previous zone and extends little beyond the eastern end of Somerset Bridge. It includes Watford Bridge and Ferry point, Somerset Village, Cavello Bay, Cambridge Beaches Resort, Daniel's Head Beach, Sea Glass Beach, Somerset Bridge etc. 
ZONE-11: Starts after Somerset Bridge and extends beyond Whale bay road in Southampton. So this zone covers places like Pompano Beach Club, Port Royal Golf Course, Whale Bay Beach etc, all in Southampton. 
ZONE-10: Starts little after Whale Bay road and goes up to Fairmont Southampton Hotel. In between it covers Rockaway Ferry, Church Bay Beach, The Reefs Resort, Gibbs Hill Lighthouse etc. 
ZONE-09: Starts from Fairmont Southampton Hotel and goes all the way up to eastern end of Warwick Long Bay beach, covering Horseshoe Bay Beach, several other small coves in between (like Jobson's Cove), Warwick Long Bay beach as well as Surf Side Beach Club. Riddel's Bay Golf Club is also covered by this zone. 
ZONE-08: Starts from eastern end of Warwick Long Bay and goes up to eastern end of Elbow Beach covering Elbow Beach, Elbow Beach Hotel, Coco Reef Resort etc along South Road, and Belmont Hill Golf Club, Newstead Belmont Hill Resort, Paget Marsh, Four Ways Inn etc along the Middle road. 
Eastern Bus Routes of Bermuda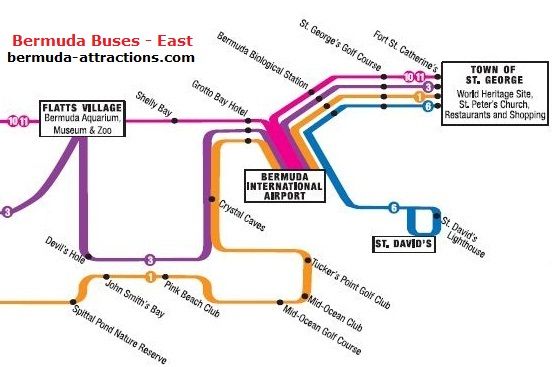 ZONE-07: Starts from east end of Elbow Beach and extends up to the end of Paget parish along south shore area covering King Edward VII Hospital, Botanical Gardens. 
ZONE-06: Covers the whole of Hamilton City and a large part of Pembroke parish including Spanish Point, Admiralty Park, Clarence Cove, National Sports Center etc along north shore areas. 
ZONE-05: It starts from the boundary of Zone 7 and 6 and extends up to beginning of Flatts village covering mostly Smith's parish including Ocean View Golf Course, Collector's Hill etc. This zone covers a part of both north shore and south shore areas. 
NOTE: While travelling from Zone-7 to Zone-5 (or reverse), you need to take a bus transfer at Hamilton Central Bus Terminal. Transfers are free only if you take the next connecting bus. Ask for a transfer slip from the first bus and show it to the driver of the second bus. Pass holders do not need such slips. 
ZONE-04: This bus zone covers Flatts Village, Aquarium (BAMZ), Shelly Bay Beach, Spittal Pond Nature Reserve, John Smith's Bay Beach, Pink Beach Club, Devil's Hole etc. This zone too covers a part of north and south shores. 
ZONE-03: This zone extends on its east almost up to the Causeway that bridges the main island with St. George. It includes Mid Ocean Golf Club, Rosewood Tucker's Point Resort, Tucker's Point Golf Club, Crystal Caves, Swizzle Inn, Blue Hole Park (i.e. Tom Moore's Jungle) etc. 
ZONE-02: Extends into the middle of St. George's parish including Grotto Bay Beach Resort, Ferry Reach, Bermuda Institute of Ocean Sciences (BIOS), International Airport etc. 
ZONE-01: Covers rest of St. George's parish including St. George's Town, St. George's Club, St. George's Golf Course, Tobacco Bay Beach, Achilley's Bay Beach, Fort St. Catherine, Gates Fort etc. 
ZONE-14: Is defined within St. David's island accessible through Southside gate covering places such as Carter House, St. David's Lighthouse, Clearwater beach etc. This zone is kept separate because only one public bus route (#6) services the zone from St. George's town and therefore 14-zone (or all zone) fare is not applicable here. 
Bus Zones From Hamilton City
Belmont Hills Golf Club (bus #8) - 3 Zone 
Bermuda Aquarium, Museum and Zoo (bus #10,11) - 3 Zone 
Bermuda National Museum (bus #7,8) - 14 Zone 
Bermuda Underwater Exploration Institute (bus #1,3,7,8) - 3 Zone 
Botanical Gardens (bus #1,2,7) - 3 Zone 
Crystal Caves of Bermuda (bus #1,3,10,11) - 14 Zone 
Elbow Beach (bus #2, 7) - 3 Zone 
Fairmont Southampton (bus #7,8) - 3 Zone 
Henry VIII / Gibbs Hill Lighthouse (bus #7) - 3 Zone 
Grotto Bay Hotel (bus #1,3,10,11) - 14 Zone 
Horseshoe Bay Beach (bus #7) - 3 Zone 
King Edward VII Hospital (bus #1,2,7) - 3 Zone 
John Smith's Bay (bus #1) - 3 Zone 
L.F. Wade International Airport (bus #1,3,10,11) - 14 Zone 
Mangrove Bay - Somerset (bus #7,8) - 14 Zone 
Royal Naval Dockyard (bus #7,8) - 14 Zone 
St. George's (bus #1,3,10,11) - 14 Zone 
Tucker's Point Resort (bus #1,3) 14 Zone 
Related Articles
Visitors' Reviews and Comments