Yours Truly Cocktail Bar, Bermuda
Category: $$ 
The Ambience
Yours Truly has been designed in a retro style to resemble a typical speakeasy that existed in the US between 1920s and 1930s. It's located on the narrow alleyway called Chancery Lane in Hamilton City that connects Front Street with Reid Street. From Front Street, as you go down the colorful steps of the alley, look for the red door with a black wood-paneled border... there will be couple of Victorian-style lamps hanging from the wall... you know you have found the place.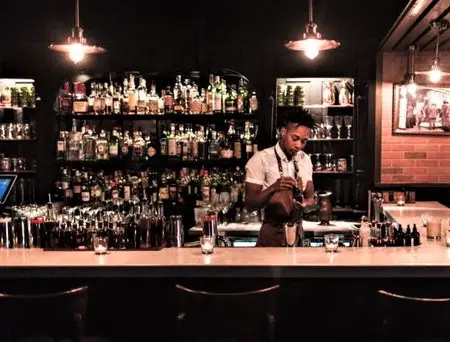 Photo: Yours Truly Bermuda 
The door won't be open, because this is how the speakeasy pubs operated. Ring the door bell and wait for few minutes. Soon there will be a server greeting you and taking you inside a dimly lit room and seating you on a table. There is only a single room... the shelves behind the smallish bar is well-stocked with craft spirits. There are few wooden bar stools with cushions that line the bar and several round wooden tables with wooden chairs scattered around the room. 
At one corner, next to the bar, there is a sofa seating as well. Music plays through the speakers. This is a cocktail bar... so people drop in here mainly for chilled drinks, beer and hand crafted fine cocktails. You will practically find no tourists here. The place is visited mainly by the locals including couples who want to be out for drinks without being noticed. It's a perfect place to enjoy a friendly local vibe. 
The Drinks & Food
Expect some of the finest quality cocktails, spirits, craft beer and boutique wine at Yours Truly. The pub actually boasts of their bartenders creating exclusive handcrafted cocktails using house-made syrups, bitters, infused liquors and hand carved ice... they are quite justified in their claims.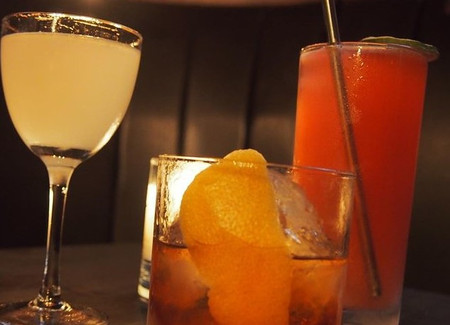 Photo: Yours Truly Bermuda 
So, what drinks should you try here? Cocktails at 'Yours Truly' rotate regularly and all of them are served in colorfully designed vessels. There are plenty of choices in the menu. One of the popular ones is rum based ZOMBIE.... it's an infusion of 3 styles of rum, Velvet Falernum, Maraschino, Absinthe, Grapefruit, Pineapple, Lime, Grenadine, Passion Fruit and served in a Tiki head. 
Out of the cocktails served in tall glasses, one of best is DRUNKIN' BOTANIST (a Gin based drink made with Gin, Sherry, Lime, Elderflower, Basil and Cucumber). For a vodka based drink, try out BLACK FOX (made with Vodka, Aperol, Montenegro, Allspice, Grapefruit, Lemon). Another excellent one is the QUEENS PARK SWIZZLE (An appealing mix of aged rum, lime, mint, sugar and aromatic bitters).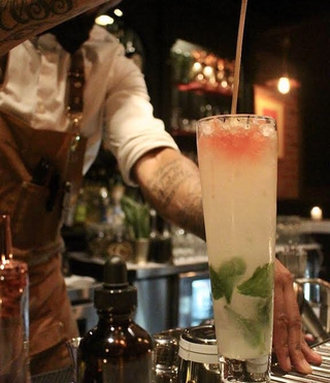 Queens Park Swizzle. Photo: Yours Truly 
Some of the popular drinks served in short glasses include MONTE CARLO (Rye Whisky, Benedictine, Angostura Bitters), BLACKBERRY SMASH (Bourbon, Lime, Blackberry, Mint), HER NAME WAS BIANCA (Gin, White Vermouth, Lillet Blanc, Elderflower, Orange Bitters, Lemon Zest), etc. 
Since this is a cocktail bar, the food option are limited and essentially pub grubs... such as fish sandwiches, tandoori chicken (prepared in Indian style in earthen oven and served with bread), a simple charcuterie board comprising of assortment of meats, cheese, breads, etc... and the food is good too. 
Indicative Price
The cocktails range from $15 - $16 per serving. 
Service
Yours Truly is actually owned by a 'Yellowfin' group which also owns several other restaurants, pubs and sushi bars in the island all of which are quite popular. So, expect a great night-out experience. You do get table service here. The bar tenders are extremely friendly and knowledgeable about the drinks they are serving. You will be pleased with the overall experience. 
Open Hours
Tuesday - Thursday: 5PM - 12AM 
Friday - Saturday: 5PM - 1AM 
Location and Contacts
From the Hamilton Ferry Terminal, walk towards right along Front Street and get into Chancery Lane, and go down the steps... it's only a 6-minute walk (500 meters) to Yours Truly. 
Address: 2 Chancery Lane, Hamilton City, Bermuda 
Road Map 
Related Articles
Visitors' Reviews and Comments