Norwegian Majesty - Bermuda Cruise
Our Review
Norwegian Majesty has been sold out to Louis Cruise Lines based out of Cyprus. So from 2010, this ship has been sailing as Louis Majesty instead of NCL Majesty. The ship has a total capacity of 1462 passengers with 570 crew. It has 9 decks and 731 cabins. Unlike its sister ships like Spirit or the Dawn, Norwegian Majesty is not a very large ship. It leaves from Charleston, Baltimore or Philadelphia and usually docks at either Kings Wharf or St George. Norwegian Majesty was launched in 1992. The ship has been revamped recently and a number of facilities added including additional cabins. 
NCL Norwegian Majesty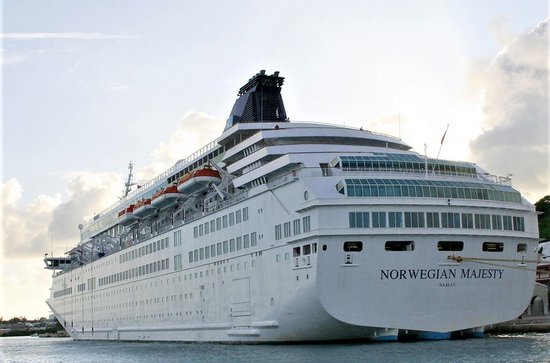 Photo: David, flickr, cc by 2.0 
There are now more restaurants and public rooms in the ship. This ship like the Spirit, has introduced Freestyle cruising. So there is no fixed time for dining, there is no formal dress code, you can enjoy the early musical performance or the late show. There is a lot of casual flexibility. 
The Cabins or Staterooms
There are Owner's suites. These suites include Living room, dining area, separate bedroom, two lower beds, floor-to-ceiling bay windows, refrigerator, VCR and stereo with CD library, and marble bathroom with tub and shower. 
The standard suites include Two lower beds or double bed, floor-to-ceiling or large picture window, sitting area, refrigerator, VCR, tub and shower. Some suites have partially obstructed views. There are Ocean view and inside cabins. There are variations within the stateroom types. All cabins have two lower beds that convert to queen, small bathroom with shower, hairdryer, cabin-controlled thermostat, TV, and radio. The inside cabins are about 140 square feet whereas the Ocean view cabins are 152 square feet in area. 
Restaurants and Dining Options
Usually the dining rooms are allocated depending on the location of your cabin. However, you can always request for a change subject to availability of tables. 
Four Seasons Main Dining Room: Located on Deck 5; accommodates 241. Other than the nice international menu, the restaurant has a fabulous view. It has terraced seating and floor-to-ceiling windows. 
Seven Seas Main Dining Room: Located on Deck 5; accommodates 470. This is a grand dining room offering impressive views and great cuisine. The master chefs are members of Chaine des Rotisseurs gourmet society. The restaurant has terraced seating and floor-to-ceiling windows. 
Le Bistro French Restaurant: Located on Deck 5 and accommodates 62. This place is great for a romantic dinner and offers a warm, upscale atmosphere. It has a menu of French Mediterranean items including the classics like Foie Gras and Surf and Turf.  
Pasta Café/Royal Observatory: Located on Deck 9; accommodates 64. Nice and intimate restaurant serving pastas. You can choose from an extensive wine list and toast to the piano player to enjoy a perfect ambiance.  
Piazza San Marco: Located on Deck 10; accommodates 60. You get a wide range of pizza's, burgers and other fast foods here. Open 23 hours daily.  
Cafe Royale: Located on Deck 10; accommodates 112. Offers buffet style food including omelets and pancakes for breakfast, fruit carving and pasta for lunch and Mexican or Caribbean at night. You can both indoor and outdoor options. 
There is also 24 hours room service available.  
Onboard Entertainment and Public Rooms
There is no multi level atrium on this ship like what you get in the Spirit or the Dawn. However the lobby and the reception area is very attractive with white marbles and a lot of aesthetic feel.  
The public rooms are generally quite informally elegant and have used fabrics in pastels and muted shades, fine woods, artwork and marble. There are large number of glass walls giving spectacular views of the sea. 
The Galleria shops on deck 5 offers a wide selection of brand name and specialty goodies from Bijoux Terner to souvenirs, beach wear and sundries. There is also a Colombian Emeralds International jewelry shop on this deck. Here are the other entertainment options: 
Coffee Bar/Lounge: On deck 5; accommodates 30. Offers coffee drinks and has a full bar.  
Frame 52 Disco: Nightclub on deck 7; accommodates 130. It's a a full disco and bar. 
Monte Carlo Casino: On deck 6. There are 158 slot machines plus blackjack, roulette, craps and Caribbean stud poker tables and such. 
Polo Club Piano Bar: This is on Deck 6 and accommodates 61. It's a horseshoe-shaped piano bar with a dance floor. 
This is one of the most popular lounges on board, particularly for a drink after the show. They serve 31 different martinis every night. 
The Royal Observatory Lounge: On Deck 9; accommodates 132. 
It's a great place to watch sunsets with its floor-to-ceiling windows on three sides. 
House of Lords Lounge: On Deck 5; accommodates 82. This is a lounge for weddings and family gatherings. It's a private room within Rendezvous Lounge. 
Rendezvous Lounge: Located on Deck 5; accommodates 88. This full bar offers a wide selection of cocktails, wines and beer and like its name, the Rendezvous is a good place to meet. 
Library and Game Room: On Deck 5; accommodates 30. Other than reading from good collection of books, you can play bridge, rummy, chess, checkers, Scrabble and more. 
Pool Bar: On deck 10. Located next to the swimming pool. 
Topsiders Bar: On deck 10. Located next to the adults swimming pool and there is a giant TV screen showing sport activities. 
Palace Theatre: On deck 6; accommodates 590. You get to see Broadway and Vegas-style shows here. 
Queen of Hearts Card Room: On deck 5; accommodates 28 
Royal Fireworks: On deck 5; accommodates 220. Entertainment and dancing every night.  
Kid's Crew program is divided into three age groups. Junior Sailors (2 - 5), First Mates and Navigators (6 - 12), and Teens (13 - 17). Operating on Sea days: 9 a.m. - noon, 2 - 4:30 p.m., 7:30 - 10 p.m. In port: 3 - 5 p.m., 7:30 - 10 p.m. in the 'Kids Korner' playroom.  
Apart from this there is Children's Splash Pool with slides and Video Arcade for Games.  
Onboard Activities
Bodywaves Fitness Center: There is a Gym and an aerobics area. Mandara Spa is the full-service beauty salon and spa.  
Swimming Pools: There are two swimming pools on Deck 10 as well as  2 hot tubs.  
Sports: There is a Jogging / walking track on deck 7. 
Others: Internet Cafe on deck 5. This 24-hour facility is equipped with eight computer terminals.   
Cost that are outside the cruise deal
Watch out for these extra costs: 
As part of gratuity, the Majesty adds $10.50 per person per night. 
There are cover charges for dining at the specialty restaurants. Le Bistro charges $15 per person. 
You can not bring your own liquor on board other than limited quantity of wine in bottles. Corkage fee applies for bottled wine. 
Tap water, juice, coffee, iced and hot tea are the only free drinks. A beer costs $4.50. A bottle of wine can be $25-$100+. Most cocktails are $7-$12. Sodas are $2. 
There are no Laundromats on the ship, however they do offer dry cleaning services for a fee. 
Internet usage charge is 75 cents per minute or $55 for 100 minutes. There are other packages too. 
There is extra charge for the kids to use the arcade machines - they are run with quarters. 
Our overall review and opinion
This is a freestyle cruise where you can wear resort casuals. Shorts and exercise wears are not allowed in any specialty restaurants anytime. There are optional formal nights. 
Concept of Freestyle does offer you  a lot of flexibility. You have all the freedom of having your food anytime or enjoy your entertainment's in your own time. That I think is a big plus. The cruise is easygoing and relaxing. 
This style of cruise is preferred by many cruise passengers these days compared to the traditional way of cruising, which may not be as much fun as this one. As fellow passengers, there would be honeymooners, couples, some singles, and families with children, particularly during school holidays.  
Many passengers are first-time cruisers. Average age could be 45. The restaurant and bar services can slow down considerably during the peak hours. 
But the food is generally quite good and the room stewards excellent. Norwegian Majesty offers a number of nice shore excursions in Bermuda.  

By Raj Bhattacharya 
Raj, a seasoned travel writer and Bermuda destination expert, has extensive global travel experience. This website reflects his profound insights, garnered over nearly two decades of dedicated findings and research on the island. Raj has assisted countless Bermuda-bound visitors by providing direct, personalized responses to their queries and imparting his wealth of knowledge through this platform. This site serves as an indispensable guide for those seeking informed and reliable insights into Bermuda's treasures. 
Related Articles
1) Check out
Bermuda Cruises
to know all about cruises calling ports in Bermuda.