Queen's Birthday Celebration in Bermuda
Queen's Birthday in Bermuda is no longer an official or a public holiday from 2009 onwards. In lieu of the holiday for Queen's birthday, Bermuda National Heroes Day is now an official holiday in Bermuda. However, the Queen's birthday is still celebrated in Bermuda with military parades and much fanfare in the month of June and usually on second Monday of the month. 
The origin of this celebration dates back to the times of King George III when the British Household Division started a routine parade in London. Since then the custom is being continued as the Sovereign's official birthday. This is done not only in England, but also in many other commonwealth countries. Presently the event marks official birthday of Queen Elizabeth-II, and in Bermuda it is celebrated with pomp and fanfare. 
the Queen's Birthday Parade in Bermuda starts at 10am at the Flag Pole of Hamilton City. The Bermuda military and the Sea Cadets participate in the march and are accompanied by Bermuda Regiment band. 
They all march down the Front Street towards Cenotaph, but take a stop half way for inspection by the Governor of Bermuda who is the official representative of the queen. The band plays the music 'God Save the Queen'. Finally a 21 gun fire salute is given in honor of the queen. The parade finally ends at Cenotaph. 
Queen's Birthday Parade in Bermuda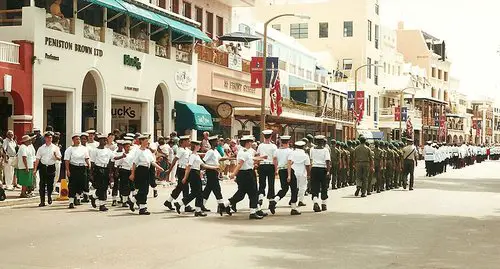 Photo: Seán Pòl Ó Creachmhaoil, cc by sa 4.0 
Update May 2018: Queen's Birthday Parade is scheduled on June 9, 2018. 
Update June 2016: Queen's Birthday Parade was held on June 11 on Front Street (Hamilton). Royal Bermuda Regiment fired the 25-pounder guns and offered the 21 gun salute. There were bands in the parade who played drums and pipe organs. 
Update June 2015: Queen's Birthday Parade was held on June 13th at 10am. This is the first time it was held at Bermuda National Stadium in Devonshire instead of the regular venue at Front Street. It was also accompanied with Trooping of Colors which last took place in 2010 when new colors were presented to the regiment. About 200 soldiers from the regiment parades in front of the Governor George Fergusson, Premier Michael Dunkley, several other dignitaries and hundreds of spectators - both islanders and tourists. While some retail stores and businesses were closed in the island, It was business-as-usual in most places, and most major tourist attractions remained open. 
Update June 2014: Hundreds of tourists and locals gathered along Front Street in Hamilton City to witness the parade. Governor George Fergusson received the guard of honor and inspected officers of Bermuda Regiment, Police Reserves etc. As usual, a 21-gun salute took place in honor of the queen. But sadly, an aged man standing near the flag pole and watching the event collapsed due to such heavy gun sound. 
Update June 2013: The Queen's Birthday parade which was supposed to be held on June 15 this year, had to be canceled due to inclement weather. 

By Raj Bhattacharya 
Raj, a seasoned travel writer and Bermuda destination expert, has extensive global travel experience. This website reflects his profound insights, garnered over nearly two decades of dedicated findings and research on the island. Raj has assisted countless Bermuda-bound visitors by providing direct, personalized responses to their queries and imparting his wealth of knowledge through this platform. This site serves as an indispensable guide for those seeking informed and reliable insights into Bermuda's treasures. 
Related Articles
1) Check out
Bermuda Events
for all the main events and festivals in Bermuda 
Visitors' Reviews and Comments
Will Clemens (May 2013) 
Is there a Queen's Birthday Parade this year? Month of June? If so what is the date, time, location, etc. Thank you, Will Clemens 
Raj (bermuda-attractions.com) May 2013 
Queen's Birthday Parade is held on second Monday of June every year. It starts at 10am at the Flag Pole on Front Street (Hamilton City).