Bermuda Cricket Cup Match
Played in July-end/ Aug-beginning, this is one of the biggest events for Bermudians. The whole island enjoys two consecutive official holidays so that the islanders can watch the cricket cup match, either live at the stadium or on television, and thousands simply go out, camp and celebrate. The cricket match is played between two rival teams - Somerset Cricket Club and St. George's Cricket Club. 
Bermuda Cup Match being played at St. George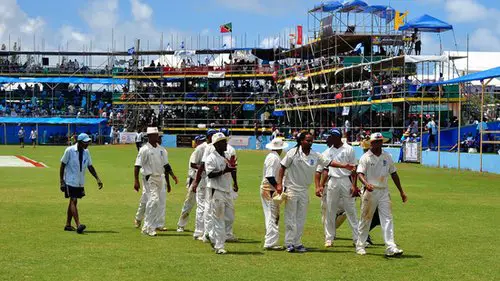 Photo: Kansasphoto, flickr, cc by 2.0 
The whole island virtually shuts down during these two days. There are about 15,000 spectators who gather in the cricket stadium, while many others roam around the area and enjoy the fun celebrations. And there will be thousands of others who will be camping virtually in all public places including beaches, roadsides and in public parks. It is a great festival time in the island. 
The two public holidays over which the cricket cup match is played are known as the Emancipation Day and the Somer's Day, which always coincide with Thursday and Friday that immediately precede the first Monday in August. So the match is played either in end of July or beginning of August. 
Following the cup match which is held over these two days, Bermudian's are spared from work for the next two days (Saturday and Sunday) as well, so a 4-day long holiday continues in the island. 
Emancipation day
(the first day of the cup match) marks the end of Slavery in the island. Slaves were freed and slavery was abolished in Bermuda in 1834. So this day is a celebration to mark the occasion. Other than being the first day of Cup Match, the very popular beach festival
Bermuda BeachFest
is also held on the same day. 
Somer's Day (the second day of the cup match) is a historical day when Bermuda was discovered by Admiral Sir George Somers in the year 1609. His ship Sea Venture got wrecked on a reef near the shore of Bermuda. He and his men came ashore which finally resulted in the first human settlement in the island. 
Although the designated public areas for camping include Chaplin Bay, Ferry Point, Higgs and Horseshoe Islands, and Coney Island, on these two days the Bermudians will not hesitate to invade any public areas. They set up their camps loaded with beer and food to enjoy the two days. In fact many of them start camping a day before the cup match begins. 
What is Cup Match and Cricket?
So what is this cricket cup match about? If you are a tourist and not familiar with the game of cricket, here is a short description of the game to get you on board quickly. 
Cricket is played between two sides of 11 players each. One side bats first, and the second side bowls with 11 players on the field. The batsmen hit the ball much like in baseball and score runs. After all the players in the first side get bowled out or the captain declares the innings being convinced that his team has scored enough, it's turn for the second side to bat. 
Both sides get two innings each to bat. The side that scores more runs (two innings together), wins the game. In Bermuda, cricket traces back to 1844. In 1845, the Bermuda Cricket Club was formed. Those days, the game was played by both the British troops posted in the island and the Bermudians. 
Cricket originated from England and Bermuda's ties with British ensured that this game remained popular in the island forever. In 1902, the annual Bermuda cup match was established for the first time. In fact the popularity of the game increased so much that many islanders stopped going for work in order to watch the game. Finally in 1947 it was decided to enact two public holidays in Bermuda to hold the cup match. Bermuda's cricket is controlled by Bermuda Cricket Board. 
The cup match is always held between Somerset Cricket Club of Sandy's located at the western end and St. George's Cricket Club of the east-end. The venue changes to east or west every year. Islanders actively support their own teams with the team colors. Light and dark blue shows support for St. George's team; red and dark blue is for Somerset. Supporters have small silk ribbons pinned to their clothes showing such colors, some waving them from their cars. 
While there are thousands who watch the game live and from home on TV, there are large numbers who join the activities around the cricket stadium. 
There are many food and drink tents setup outside the cricket ground. There are also stalls selling cup match themed towels, T-shirts etc, clothes. The gambling laws get relaxed during the two cup match days. Bermudians engage in a gambling game called the Crown and Anchor, which has become an integral part of cup match celebrations. The food and gambling tents are set up around the stadium ground. This is a great time to freely mix with the locals. 
The Crown and Anchor gambling is about betting on a symbol. Three dices with six symbols each are rolled and if your symbol comes up in all three, you can win up to three times your betting amount. 
What is open/closed during Cup Match?
Buses run at Sunday/Public Holiday schedule. Blue route ferry (between Hamilton and dockyard) runs on regular weekday schedule. Taxis are usually available but at higher fares of public holidays. 
Attractions such as Bermuda National Museum at dockyard, Crystal and Fantasy Caves at Bailey's bay, Bermuda Aquarium, Museum and Zoo at Flatts, Bermuda Underwater Exploration Institute at Hamilton, Fort St. Catherine and St. Peters Church at St. George, Harbor Nights in Hamilton, etc, usually remain open during the cup match days and so do the Visitors Information Centers. 
Several restaurants such as Flanagan's, Hog Penny, Pickled Onion, Juice n' Beans Cafe, La Trattoria, Wahoo's Bistro, Griffins, The Beach House etc remain open on both days. You can find out the restaurant open hours at Visitors Service Centers. 
If you landed up in Bermuda during cup match (or for that matter during any public holidays) and like to spend your time enjoying and exploring the island, there are still some options available... 
2023 Bermuda Cup Match Schedule and Venue
Schedule: August 3 and 4, 2023 
Venue: St. George's Cricket Club. Address: 56 Wellington Slip Road St. George's, Bermuda. 
You can buy tickets at the stadium gate or online at ptix.bm. 
Road Map of Cup Match Venue 
2022 Bermuda Cup Match Schedule and Venue
Schedule: July 28 and 29, 2022 
Venue: Somerset Cricket Club. 6 Cricket Lane, Sandys, Bermuda. 
You can buy tickets at the stadium gate ($25 for adult) or online at ptix.bm. 
2021 Bermuda Cup Match Schedule and Venue
Schedule: July 29 and 30, 2021 
Venue: St. George's Cricket Club. 56 Wellington Slip Road, St. George's. 
You can buy tickets at the stadium. 
2020 Bermuda Cup Match Schedule and Venue
The cup match has been cancelled in 2020 due to Covid-19. It was scheduled to be held in Somerset Cricket Club in Sandys on Thursday July 30 and Friday July 31, 2020. 
2019 Bermuda Cup Match Schedule and Venue
Dates: August 1 Thursday - August 2 Friday, 2018; Time: 10am – 6pm 
Venue: St. George's Cricket Club. 56 Wellington Slip Road, St. George's. 
Admission: $20 adults, $5 children 5-12 years, Bermuda seniors with ID. Children under 5 are free. 
You can buy tickets at the stadium. Gates open at 7am, match starts at 10am. 
Related Articles
Visitors' Reviews and Comments
Beverly (July 2019)  
Hi, We will be in Bermuda July 31 - Aug 2 which is during the Cup Match. We have an idea of how wed like to spend our time and would like your opinion. 
July 31 - because of the public holidays we Plan to see both Hamilton and St. George with simple self guided walking tours. Thinking we do Hamilton first so we could do some shopping if we chose and then move on to St. George. No set time to get back to the ship.  
Aug 1 - considering biking the railway trail and taking a/some beach breaks along the way. What would you suggest; how much or which section of the trail would be best if we want to do beach time as well? Looking for options for lunch  
Aug 2 - leave port at 3pm I think. Would like to do some beach time...suggestions? and maybe exploring the dockyard area.  
Looking forward to your ideas of how we might make this happen! 
Raj (bermuda-attractions.com) July 2019 
Hi, once you get into the trail at Somerset, you can plan to go all the way up to Paget. As you enter Southampton, take the Whale Bay road and visit West Whale Bay Beach and Park... the beach is small, but nice. You can also explore the ruins of a fort at the park. In Paget visit Elbow beach and here you can take your lunch at Mickey's Beach Bistro located right on the beach (it's usually open on cup match days). Note that there are metal barriers at several places along the trail, and there are rocky patches as well. So continuous cycling won't be possible... you need to lift your bike over the barriers and continue. On Aug-2, you can go down to Horseshoe bay beach in the morning (likely to be crowded) and walk down the South Shore Trail from here towards east. Along the trail (1.25 miles) you can explore several lovely beaches such as Chaplin Bay, Stonehole Bay, Jobson's cove and finally Warwick Long Bay beach. You can then get on to South Road and take a bus back to dockyard. Keep enough time because buses will operate at reduced frequency. 
Rene Notter (July 2018) 
Hello, Just want to know where the Match is played this Year. Somerset or St. George's? Thanks, 
Raj (bermuda-attractions.com) July 2018 
Hi, at Somerset Cricket Club (Sandys) 
Melissa (July 2015) 
Hello, I would like to know what the entrance rules are this year for Cup Match. Will I be able to bring in a bottle of ice water, ice coffee, or other beverage? Thanks 
Raj (bermuda-attractions.com) July 2015 
Hi, you can not usually bring in any beverages or alcoholic drinks into the cup match stadium. They were banned several years back due to security reasons. Iced water, soda etc are however available for purchase inside the ground. But check at the Visitors Information Center for any changes this year. 
Lauren Bennett (July 2013) 
First, your site is AMAZING!!!!!! My husband and I are going on our first cruise to Bermuda next week. Your site said that August 1 (Thursday) - August 2 (Friday) are the dates of the festival.............the exact dates we are docked there. We dock on Wednesday and leave Friday. Are we going to have anything to do off ship? Is EVERYTHING closed? I do have a reservation for the dolphin excursion on Friday. Will we be able to go to a beach? Will taxis be running? I am so very anxious now :( 
Raj (bermuda-attractions.com) July 2013 
Hi Lauren, on public holidays and specifically on Cup Match days, practically all stores, restaurants and other establishments remain closed in the island. The buses and ferries ply at a reduced frequency, and taxis won't be easy to get. But there will be some public transports to get around the island. Public beaches remain open although they get very crowded. Few of the only attractions that remain open on the cup match days include the Aquarium, Crystal caves etc. Check out the following link where I have discussed the options in details:
Getting around Bermuda on public holidays
Kathy Perricone (July 2013) 
What is the price for the Cup Match Cricket Festival? Is there a charge to see the festival or just to see a game? Where can I find a schedule of the games? Thanks so much! 
Raj (bermuda-attractions.com) July 2013 
You will only need to buy tickets to watch the cup match. You can buy tickets at the stadium gate (if available) or ask a local how else to get them. The cup match schedule is Aug 1 and 2 (Thu - Fri) this year. Starts in the morning (10am) and continues until late afternoon (6pm) both days. There is no fee for festivals. 
Andy (July 2012) 
I was interested in going to see cup match but could find no information on line,. No stadium address, no start time, no ticket cost, no nothing.... Either they expect you to know everything or they do not want non-Bermudians to attend. A big opportunity is being missed by somebody.. 
Raj (bermuda-attractions.com) July 2012 
I agree that the cup match information, particularly the schedule, ticketing, venue etc are published mostly in the Bermuda's local new papers. For some strange reasons the organizers assume that like locals, the visitors will also somehow get to know all about the up coming match. Even the cup match website which is supposed to be the main source of online info, is quite badly structured and caters mainly to the locals' interests. 
However, from my personal knowledge I can say that the tickets are usually available online at www.bdatix.bm (in 2012, a ticket costs $17 online). You can also buy them at the gate ($20 in 2012) subject to availability. This year the match is played at Somerset at the western end of the island. The venue shifts between east and west every year. So next year it will be held in St. George at the eastern end. Once you land up in the island, ask anybody and they will let you know the exact location of the venue where the match is being held. 
Peter (July 2012) 
I agree that the cup match web site is terrible. How do I get there? Where do I park? What else goes on? How do I get tickets? What time is the match? The page does not even say where the match is. If you did not know it was in Somerset, look at the web page and tell me where it is.