Bermuda Remembrance Day
Remembrance day is a public holiday in Bermuda and is always held on 11th November. This is the day when all the war veterans, dead or alive, who volunteered and fought the two World Wars as allies of the Royal British Army and Airforce are remembered and honored. While there are ever decreasing number of surviving war veterans today (none from world war-I and few from world war-II), many died overseas and locally while fighting for Bermuda during the wars. 
About 200 men from Bermuda Militia Artillery joined with the Royal Garrison Artillery to fight the World War-I and another about 200 men from Bermuda Volunteer Rifle Corps and other organizations allied with Royal Air Force. Some 80 men did not return and were buried in foreign land. 
So what happens on the Bermuda Remembrance Day? There is a parade held at the Front Street of Hamilton City. The surviving war veterans are invited to join this parade along with the descendants of those who are not alive. Bermuda regiment Band also participates in the parade. 
Bermuda Remembrance Day - War Veterans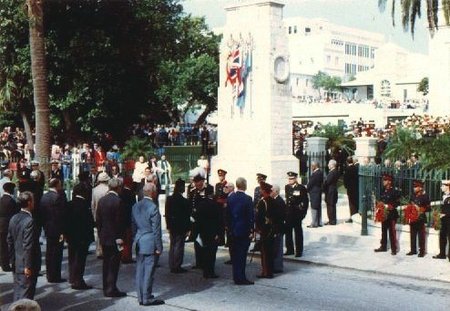 Photo: Aodhdubh, cc by sa 2.5  
They all walk down the Front Street and reach the
Cenotaph
, a monument where the wreaths are laid by the Governor of Bermuda, the Premier, the Mayor of Hamilton and other dignitaries. There are large number of people, both local and visitors who join the Remembrance Day Ceremony. There is also two-minute silence held to commemorate the end of World War. 
So why is Bermuda Remembrance Day held on 11th November? 
It is always held on the 11th Day of the 11th Month of the year. And precisely at 11 am, gun fire takes place at Fort Hamilton and Ordnance Island in St. George to signal the start of two-minute silence. This is the time when World War-I (fought between 1914 to 1918) was officially ended after signing of armistice, and hence such timing of the event. 
There is also a Remembrance Day Parade held in St. George to pay tribute to the war heroes. It is held at the Town Square and opposite the war memorial. It is attended by the Governor, Mayor and other dignitaries. Many units like the Bermuda Pipe Band, Fire Service, Boy Scouts join the parade. 
Update November 2020: Due to the Covid-19 pandemic, the usual parade was not held either at Hamilton or at St. George. However, the Governor of Bermuda, the Premier and other dignitaries like the US Consul General, Leader of opposition etc laid wreaths at the Cenotaph in Hamilton to honor the war veterans. Royal Bermuda Regiment and Somerset Brigade Band played music in the background. 
Update November 2019: The Remembrance Day was held on November 11. Hundreds of people lined up on Front Street near the Cenotaph located at the grounds of Cabinet Building to honor the war veterans. A small number of surviving war veterans marched along with Royal Bermuda Regiment, its Band and Corps of Drums, the Junior Leaders, the Bermuda Police Service and the Sea Cadets. 
Update November 13, 2017: November 11 (Saturday) being a holiday, Remembrance day was observed (as a holiday) on November 13 (Monday). 
Update November 11, 2016: Crowd lined up along Front Street (Hamilton) to watch the parade and pay respect to those who sacrificed in the two world wars. Wreath laying ceremony was held at St. George at Kings Square. This was followed by Remembrance service at St. Peter's Church. 
Update November 2015: Like previous years, veterans joined the Royal Bermuda Regiment on a parade at Cenotaph and Front Street of Hamilton. Present were Governor George Fergusson, Premier Michael Dunkley, Mayor of Hamilton several dignitaries, and hundreds of onlookers. 
Update November 2014: At 11am on 11th November gunfire shots took place followed by 2 minutes silence. Hundreds of people attended along with war veterans from second world war. Poppy wreaths were laid at Cenotaph on Front Street by Governor George Fergusson, Premier Michael Dunkley, Mayor of Hamilton and other dignitaries. The Remembrance Day honoring for war veterans was also done at Kings Square, St. Georges' and then the wreaths were laid by many dignitaries including Governor George Fergusson, Premier Michael Dunkley, St. George's Mayor Garth Rothwell etc. This was followed by Remembrance Ceremony at St Peter's Church in St Georges. 
Update November 2013: Governor George Fergusson, Premier Craig Cannonier, Mayor of Hamilton city Graeme Outerbridge, Leader of the opposition Marc Bean, Commanding Officer of the Bermuda Regiment, Commissioner of Police, and Chief Fire Officer laid wreaths at the Cenotaph as well as at the War Memorial on Cabinet Office grounds. 
Update November 2012: Bermuda Regiment, Bermuda Regiment Gun Troop, the Cadet Corps and the Sea Cadets participated in the remembrance day parade this year. Bermuda Islands Pipe played the bagpipes. Hundreds of islanders, both young and old, gathered to watch the parade and pay tribute to the war veterans. Governor George Fergusson inspected and met with the war veterans. 
Update November 2011: There is a new war memorial nearby that was completed in December 2010. Names of those who served Bermuda during the wars are inscribed on it with gold. After the Remembrance Day ceremony is completed, you will see war veterans and families gather at the memorial looking at the roster of names. Some find their own names, others look for those they know of. 
Related Articles
Visitors' Reviews and Comments
Review and share your experience.