Crime in Bermuda
Bermuda has been traditionally a safe and relatively crime free place particularly for the tourists. Visitors seldom face any serious crime related problems. Having said that, once figures published by Royal Gazette, the premier daily news paper of Bermuda, showed that per capita murder rate in Bermuda is higher than that of New York city or London. 
Surprised? But, there is a huge caveat here. In a tiny country like Bermuda with such small population of about 65,000, an increase of criminal activities by even one incidence can badly distort the percentage figures. Secondly all these reports are mostly related to local gang violence that are not visible to the tourists. In my view, a tiny island like Bermuda should not be compared with giant cities like New York and London. Below are some real figures for you. 
As you can see in the crime statistical chart below published by Bermuda Police Service, the over all crime rate in the island (i.e. all types of offences combined) has been decreasing over the past several years (data available up to Q4 2017). Total number of offences in 2017 is 3,202 which is the lowest since the year 2000 when a total of 6,120 offences were recorded. 
Bermuda Crime Statistics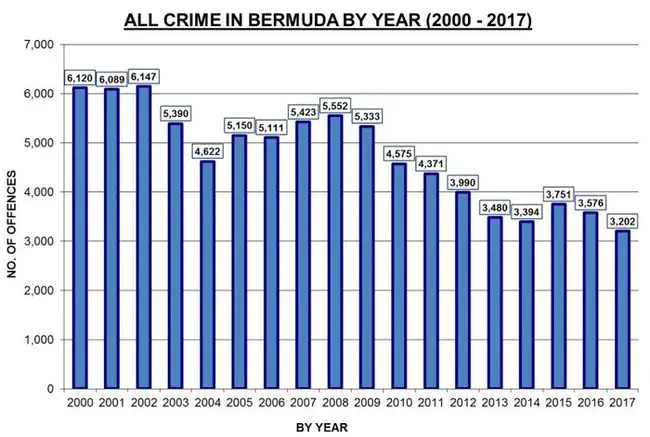 Compared to 2016, there is a decrease of 10% in total offences in 2017. 
Analysis by Crime Type
There are several categories of offences, and digging a little deeper would reveal the facts better. 
Crimes against the person 
This category includes offences like robbery, sexual assaults and other assaults on individuals. In this category, overall offences decreased from 740 in 2016 to 645 in 2017. Robbery decreased from 81 to 50, other assaults decreased from 515 to 458, however sexual assaults increased from 40 to 43. 
Firearm related incidents 
In 2017, there were a total of 47 cases of firearm incidents, however only 3 persons were killed and 6 were injured. In 2016, there were 82 such firearm related incidents. 
Crimes against the community 
Crimes in this category includes Disorder Offences, Anti-Social Behavior, Other Weapon Offences etc. There is a slight increase in this category in 2017... the number of cases have gone up to 413 compared to 408 in 2016. However, it was 586 in 2015. 
Crimes against property 
This category includes offences such as Burglary, Theft of Property, Theft of Motor Vehicles, Criminal Damages, Fraud and Deception etc. In 2017 there were 2,144 cases of offences recorded in this category. It was 2,428 in 2016. 
Road traffic collisions 
At total of 1,244 collisions have been recorded in 2017 compared to 1,400 in 2016. As per 'Bermuda Digest of Statistics 2019' issued by Department of Statistics (Government of Bermuda), in 2018 the total reported road accidents were 1,461 and road casualties: 759.  
Petty Theft 
There are some cases of petty theft that affect both tourists and residents. In order to know about such incidents that affected tourists and how they happened (cases like stealing unattended bags from a beach or snatching purses from scooter riders etc), visit
Theft and Robberies on Tourists
. 
Police Contacts
Below are the numbers for contacting Bermuda police and reporting any crime related activities in the island: 
Bermuda Police Service (Main Line): (441) 295-0011 
Emergency: 911 
Hamilton Police Station (52 Victoria Street): (441) 247-1704 
Airport Police Station (St. George's): (441) 293-1940 
Somerset Police Station (3 Somerset Road, Sandys): (441) 234-1010 
Southside Police Station (2 Stokes Point Road, St. David's): (441) 293-2222 

By Raj Bhattacharya 
Raj, a seasoned travel writer and Bermuda destination expert, has extensive global travel experience. This website reflects his profound insights, garnered over nearly two decades of dedicated findings and research on the island. Raj has assisted countless Bermuda-bound visitors by providing direct, personalized responses to their queries and imparting his wealth of knowledge through this platform. This site serves as an indispensable guide for those seeking informed and reliable insights into Bermuda's treasures. 
Related Articles
2) Check out
Bermuda News
for latest updates on what's happening in the island. 
Visitors' Reviews and Comments
Karen Hawkins (November 2015) 
Hi Raj--- I want to visit, first time, Bermuda in March 2016 and wonder if single women should take extra cautions (if walking through Parks alone or on less crowded beaches since it's not "peak" season? 
Raj (bermuda-attractions.com) November 2015 
Hi, Bermuda is quite safe and there has hardly been any incidents reported on tourists. Having said that, as a single woman, try to avoid lonely and secluded places. Beaches and parks are usually quite safe, but few have the problems of homeless occupying some parts of them and you won't be comfortable walking by alone. Another thing you should be careful about is theft. So don't keep your valuables unattended on a beach or carry them in your purse which is easily snatchable. Also avoid the back town of Hamilton, particularly after dark. 
Kara (June 2012) 
Hello! First of all I would love to say that you have one of the most informative travel websites ever! I enjoyed reading all your information on your country and I plan on traveling to Bermuda in August of this year. I am planning to just travel with me and my mom (I am 17 years old). I am prepared to respect the dress code of the island, but reading about the sexual assaults and robberies/murders scares me! I understand that the 
crime in my State is probably much worse than what you receive in Bermuda, but I am just concerned that since it is a small island I may accidentally run into something! I'm probably just over thinking, but I just want to be prepared! Are there any parts of Bermuda you would consider "unsafe" or just places a young girl like me should avoid? 
Raj (bermuda-attractions.com) June 2012 
Hi Kara, Bermuda is still a very safe place for the tourists. Yes, gang violence do take place in the island, but that hardly impacts the visitors and in fact are not visible to them in most situations. Over all the crime activities in Bermuda has been in the decline although incidents of Burglaries and cases of snatching remains a concern. In most such cases the victims are the locals although there are cases where tourists have also been the victims of snatching and burglary. This is unfortunately the reality in every place of the world and Bermuda is no exception. But don't worry. For a young woman like yourself, I would personally suggest that you follow certain simple guidelines: 
1. Do not wander about alone late at night or in secluded places, 
2. Try to avoid the 'back town' of Hamilton City, 
You should be fine :) 
Go ahead and pursue your trip to Bermuda. You will love the island!