Keep Bermuda Beautiful (KBB)
Keep Bermuda Beautiful or KBB is a charity organization established in Bermuda in early 1960s. As the name suggests, the mission of the organization has been to keep Bermuda beautiful by way of helping to remove litters. They eliminate litters in Bermuda with the help of volunteers by taking direct action of cleaning up on a periodical basis as well as through education to the community. 
They associate with other private organizations, government and community centers in various events and contributes by providing garbage cans for people to put their trash. They also participate with schools, sports and community centers to educate people of Bermuda how to stay clean and keep the island clean. 
KBB has a board of directors. An executive director is appointed to run the operations of the organization. KBB was founded by Mrs. West Harron. She was the president of KBB for the first seven years. This is the time when she firmly established the organization.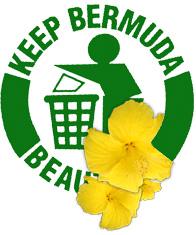 One of her most notable contributions was to fight against setting up any McDonalds in Bermuda to avoid further littering of the island with plastics. This is the main reason why you won't see such fast food establishments in Bermuda. 
In 2010, KBB invited over 450 volunteers. They were engaged in over 2000 hours of work and eliminated more than 16,000 pounds of litters from the island.  
Location and Contacts
Keep Bermuda Beautiful 
10 Princess Street, Hamilton, Bermuda 
Phone: (441) 295-5142, Mobile: (441) 799 5142