Calico Jack's
Pirate ship floating bar in Bermuda
Category: Bar, Budget 
UPDATE: Calico Jack's floating bar has closed down. Being heavily dependent on cruise ship passengers, they went out of business when the cruise lines stopped operating to Bermuda during Covid pandemic.
---
Calico Jack's floating bar that looks like a pirate ship was launched in June 2014 at the Royal Naval Dockyard. While there has been floating bars earlier, this is the first time a bar has been launched on a ship and that too with a look and feel of a true pirate ship with a black body and two decks. It's full with youthful vibe and fun.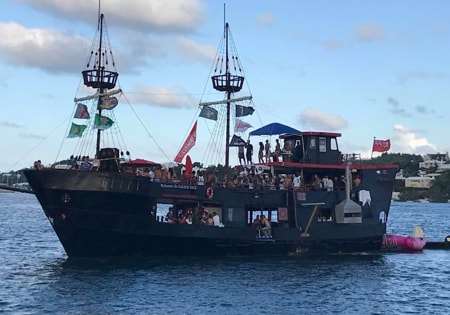 The bar has been appropriately named after Calico Jack who was one of the only pirates having set his foot in Bermuda. An old ferry that once operated in Bermuda waters as public transport has been converted into this 75-foot pirate ship. It is floating and anchored right next to the Heritage Wharf cruise berth. As seems obvious, it is targeted for the cruise ship passengers on certain days of the week and during the high season when the cruise ships dock at Royal Naval Dockyard. Being a new concept, it has started attracting locals as well. 
So what are the offerings and special attractions in this pirate themed floating bar? well firstly the drinks are cheap by Bermuda standards, and probably the cheapest in the island. The signature cocktail here is known as 'Grog' ... don't forget to order that ... it's made of Gosling's Rum (an original Bermuda rum) and fruit juices. There are some good seafood, sandwiches, appetisers and salads on the menu. Local dishes like the Jerk chicken and pan fried grouper are also worth their value. 
There are two bars on the ship, one at the lower deck and the other at the upper deck. The total capacity is about 200 persons. Another great attraction here is the wonderful view of the marina and that of the passing cruise ships and ferries. There are TVs and DJ area. They also play reggae and other music through on board music systems. So with nice music and views, cheap drinks and a pirate ship floating on the water, this is a fun place to be in. 
There is also a swimming platform behind the ship from where you can even swim. Written on the body in bold is "Swim at your own risk". However with spirits flowing in the bars, this is a risky thing to offer. 
Only pre-packaged snacks are available at present and no other food. Dress code is casual. 
Calico Jack's is open on all days from 11am to 1am, and beyond on peak season. Since it is actually a working ship, it is also available for private charters. 
Location, How To Reach, Contacts
Calico Jack's is located at one corner of the 'North Arm' in dockyard which is the pathway that leads to the cruise piers. If your cruise ship is docked at Kings Wharf or Heritage Wharf, you can simply walk across to Calico Jack's in less than 2 minutes. From other places you can come by bus #7 or 8 that operate between Hamilton City and Dockyard. From Hamilton City, you can also take the Blue Route direct ferry (takes 20 minutes to dockyard ferry dock). But watch the timings, you won't get a ferry back if it's too late. 
Related Articles
Visitors' Reviews and Comments
Review and share your experience.