The Birdcage Rooftop Bar, Bermuda
Category: $$ 
About Birdcage
This is a rooftop bar & lounge located on top of the Visitors' Center at Hamilton and overlooking the harbor. You can use the stairs or a small elevator to get to the bar and once there, the ambiance and the views are amazing. It has an open rooftop terrace where tables are laid out and you get wonderful view of the harbor and the sailing boats right from the tables... there is practically no other bar which can match this view in Hamilton.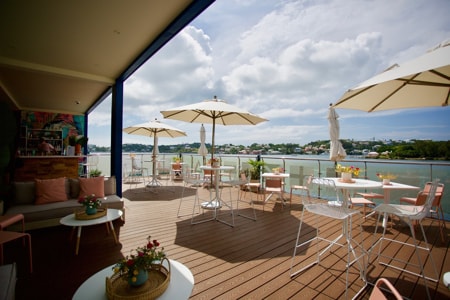 The bar has come up in 2019 and it is owned jointly by Stefan Gitschner who is an experienced mixologist and his sister Selange Gitschner who also owns an award winning event planning company. The rooftop bar has been named after the
metal structure called Birdcage
located at the junction of Front Street and Queen Street in Hamilton. This structure was once used by the policemen as a stand to control the passing traffic. 
The ambience is colorful and relaxing in a lounge-style setting. Stefan wanted to create an ambiance which is true to the spirit of Bermuda. His sister has helped him create a space which has a fresh and tropical vibe. Live music played by talented Bermudians further liven up the ambiance.  
The Drinks & Food
Cocktails are all Bermuda-inspired and are made using local and wild ingredients as much as possible. The menu includes craft and classic cocktails as well as some beer and wine. Other than local Gosling's Rum, the menu also features a dozen other international rums plus Tequila and Mezcal.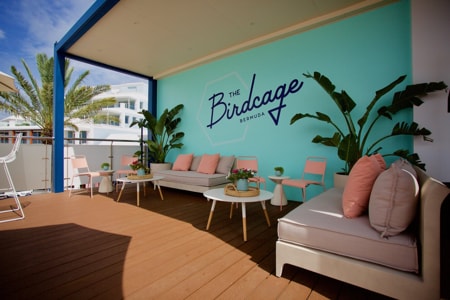 The craft cocktails are made using a range of fresh, locally foraged and homemade ingredients such as wild fennel, mint and cucumber. Instead of the typical fruit punch and sticky sweet concoctions, Stefan's creations have subtle flavors and complex infusions. Among other local ingredients, they also have Surinam cherries, allspice, hibiscus, prickly pear and passion fruit. 
There is a lot of focus on the consistency of the drinks. They take their time to create each order. And a lot of their ingredients are sourced ahead of time so that irrespective of who the bartender is, you get exactly the same taste and flavor in the drink. Here are some of the great cocktails you can savor at the Birdcage: 
ORANGE SUNKIST: Uses Dewars Caribbean Smooth, Malfy Blood Orange, Passionfruit Juice, Fresh Lemon Juice, Peach Bitters Topped with Ginger Beer. 
HEY BIRD: Their signature cocktail. The ingredients are not revealed, but it has rum in it. 
BIRDCAGE MOJITO: Uses Goslings Silver Rum, Lemongrass Syrup, Fresh Mint, Soda Water 
EL COPITA: A mix of El Jimador Reposado Tequila, Los Siete Misterios Mezcal, Fresh Cucumber Juice, Fresh Lime, Passionfields Honey Water. 
OAXACAN WILDFYRE: Uses VIDA Mezcal, Cachaça, Cointreau, Fresh Lime Juice, Agave Syrup, Fresh Cucumber, Angostura Bitters with Birdcage Scotch Bonnet & Habanero Tinctures 
DARK 'N STORMY: Goslings Black Seal Rum, Ginger Beer and Lime 
CLASSIC RUM SWIZZLE: Goslings Gold Rum, Goslings Black Seal Rum, Bermuda Gold Liqueur, Housemade Grenadine, Fresh Squeezed lime, Orange, Grapefruit and Angostura Bitters 
CUCUMBER PRESS: Beefeater London Dry Gin, Fresh Pressed Cucumber Juice, Fresh Squeezed Lime, Simple Syrup, Topped with Ginger Beer 
HIBISCUS ROYALE: Stolichnaya Vodka, Aperol, Pomegranate Hibiscus Syrup, Fresh Squeezed Lemon Juice and Orange Bitters with a Prosecco Top 
BIRDCAGE MARGARITA: El Jimador Reposado Tequila, Fresh Squeezed Lime Juice, Splash of Orange Juice and Agave Syrup with a half salted rim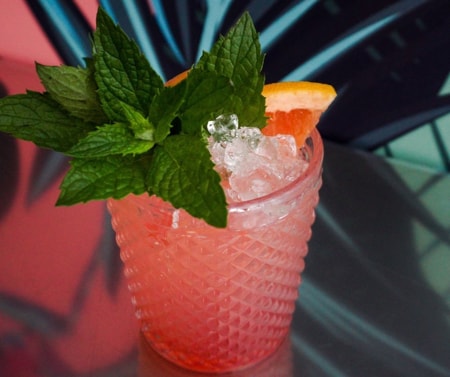 An they have a few non-alcoholic drinks as well (mocktails) such as: 
CUCUMBER SODA: Fresh Cucumber Juice, Fresh Lime Juice, House Made Lemongrass Syrup Topped with Soda Water 
MANGO PASSION PUNCH: Mango Nectar, Passionfruit Juice, Fresh Lemon Juice, Simple Syrup, Topped with Lemonade 
TROPICAL PUNCH: Pineapple Juice, Orange Juice, House Made Lemongrass & Hibiscus Syrup, Fresh Lemon Juice, Fresh Lime, Topped with Lemonade 
No food is served at the Birdcage Bar, only cocktails. However, Stefan has plans to eventually serve some snacks and occasional food using local produce. Barbecue on the open patio is also on the plan. 
Indicative Price
The cocktails range from $14 - $18 per serving. 
Apparently, the drinks may look a little expensive, but one thing to note that they pour doubles into their cocktails (instead of singles as most other bars do) and you get a minimum of 2-3oz alcohol in each drink depending on what you order. So, it's a great value for money particularly considering the innovative and superb cocktails. If you order house spirits, you can make it strong (double up) by paying an additional $5 only. 
Service
They employ only Bermudians as staff and the service is extremely friendly and efficient. All staff are required to go through Bermuda Tourism Authority's Ambassador program. 
Birdcage is environment friendly and has a 'No Plastic' policy. They don't even offer napkins on the tables in case those fly off to the water. Even wastes are recycled... the citrus fruit rinds are made into a syrup, oleo saccharum, and used in cocktails. 
Open Hours
They usually operate during the spring and summers and close down during the winters. 
Hours: Tuesday - Saturday: 4pm to 10pm. Closed on Sundays and Mondays. 
It gets quite busy even during the week nights, so book a table in advance. 
Location and Contacts
Address: 6 Front Street, Hamilton City, Bermuda. 
Birdcage is located very close to the Hamilton Ferry Terminal (1 minute walk) and on top of the Visitors' Center. It's a great place to take a break and enjoy a cocktail even while you are waiting for the ferry. 
Road Map 
Related Articles
Visitors' Reviews and Comments