Bermuda Restaurant Weeks
What is it?
'Bermuda Restaurant Weeks' is an annual event which has been ongoing for several years now. This is the period when many restaurants in the island participate in the event and offer special meals at fixed but attractive price. In fact majority of the participating restaurants offer Bermuda inspired cuisine and/or use local ingredients in the dishes. In fact many of such restaurants introduce Bermuda inspired menu offering exotic and authentic Bermuda dishes. You also get great deals. 
So if you are a tourist planning to visit Bermuda during Restaurant Weeks (which is usually held between January and February), then this is a great chance to savor authentic local cuisine of Bermuda in wide variations and at affordable prices. In fact the whole concept is to lure more tourists during this lean season. 
Duck Breast and Fillet Mignon at Beau Rivage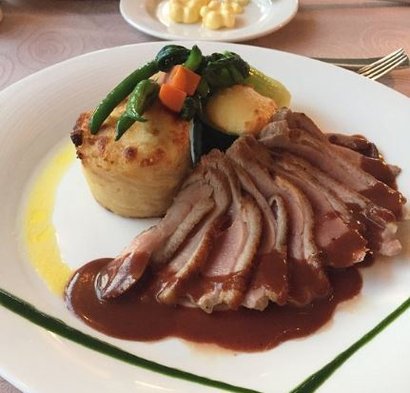 Earlier the Bermuda Restaurant Weeks used to be organized by Bermuda Tourism Department. But since 2015 (which is the 4th such annual event being held in the island), the Products and Experiences team of Bermuda Tourism Authority (an autonomous body supporting the tourism department) is organizing this event. 
Usually set two or three course special lunch or dinners are offered by the participating restaurants at fixed prices. And depending on the restaurant you choose, the pre-set dishes and price level would vary. You should make a table reservation. 
An online survey takes place where the diners vote and Restaurant Weeks People's Choice Award is given to the highest ranked restaurant. There are also prizes for local and tourist diners to encourage them to take the survey. Diners can take this survey through table.bm website. 
2020 Schedule and Price
January 16 - February 2, 2020. Daily lunch and dinner. 
Preset menus starting at $22 (lunch), $32, $42 and $52 (Dinner) per person in various restaurants island-wide. An additional 17% gratuity is usually added in the bill. 
2020 Participating Restaurants
Visit
this restaurants link
to see the list of restaurants participating in this event (for lunch and dinner separately) and the menu offered by each. 

By Raj Bhattacharya 
Raj, a seasoned travel writer and Bermuda destination expert, has extensive global travel experience. This website reflects his profound insights, garnered over nearly two decades of dedicated findings and research on the island. Raj has assisted countless Bermuda-bound visitors by providing direct, personalized responses to their queries and imparting his wealth of knowledge through this platform. This site serves as an indispensable guide for those seeking informed and reliable insights into Bermuda's treasures. 
Related Articles
Visitors' Reviews and Comments
Share your experience.