Bermuda Shorts & The Best Stores To Go
Bermuda shorts were actually created during the early 20th century by the British. The Royal Navy were the first to invent Bermuda shorts. They had their bases mainly in tropical and sub-tropical regions like in Bermuda and required comfort from the summer heat and humidity. Bermuda had been a British colony and once had a large base of Royal Navy (1809 - 1995 at the Royal Naval Dockyard). The British Military including the army and airforce also operated in Bermuda for a long time. 
A Bermudian Policeman wearing Bermuda Shorts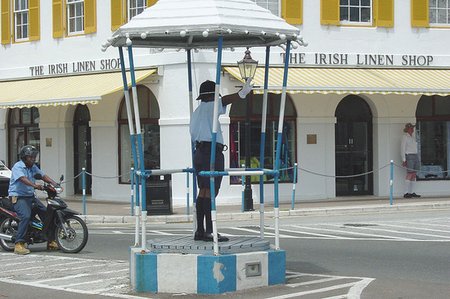 Source: Wikimedia Commons 
The officers of the British Navy and other forces started wearing such shorts when they founded the yacht clubs in Hamilton City (Royal Bermuda Yacht Club) and in the Town of St. George. They wore it at the clubs for comfort. These shorts were then made in London by office workers who had to ensure that the officers stationed in remote places like Bermuda followed a standard dress code. And therefore they were all made to specific lengths and style. 
It was during the World War-II when such shorts were first introduced in Bermuda's business circle. This need arose out of the acute shortage of male clothes during this period. The General Managers of The Bank of Bermuda and Butterfield Bank were quite concerned that their male employees may not have appropriate attire to wear. They appointed a tailor to make shorts similar to what the British Navy and Army were using. The shorts were made from gray flannel material and two pairs of such shorts were then given to each male employee. 
By 1950s, the look caught on and the style got readily accepted as business wear in Bermuda. Bermuda shorts eventually got so named because of the huge popularity it gained in Bermuda. British tourists helped to spread the style in the U.S.A and all over the world. However, it became more popular as casual wear instead of formal business attire in the other countries. 
But in Bermuda it remained more as a formal wear and it had to conform to a specific standard, for example it could not be shorter than a specific length. In fact in 1950s and 60s, the police used to measure skirts and shorts of women. If found to be inappropriately dressed, the police used to hand over something called a "Green Ticket" to the women. 
Do you know that Bermuda is the only place in the world where Bermuda Shorts is the national dress for men. The formal shorts are tailored as suit trousers and must be no more than 3 inches above the knee. They are worn with long socks (reaching just below the knee) and smart shoes. Topping the whole ensemble would be a shirt, tie, and a jacket or blazer.  
In the island, the formal Bermuda shorts are also worn in cocktail parties, weddings etc. The best quality Bermuda Shorts should have a three inch hem, hand sewn to hang correctly and to prevent ripples. They usually have one pocket on each side and one on each side of the bottom. 
Well, when it comes to its use as casuals, the shorts can be really versatile, and a symbol of a laid-back cool and typical Bermudian style. Local Bermudians (both men and women) wear the shorts mostly during the summer time (May to October). 
In Bermuda, the shorts can be of many types depending on what you want to wear it for. For example, a type of Bermuda shorts for walking is known as walking Bermuda shorts or dress shorts. For swimming, it's known as Bermuda swim shorts and you get it with fun prints. The shorts are also used heavily for fishing, golfing, and sailing. 
These days, Bermudian men generally wear two types of shorts: Business and Sporty. 
Business shorts are made of finer fabrics, traditionally linen or wool blends, usually in subtle shades such as gray, beige, navy blue. But you will find them in tropical colors including pink, green and yellow as well. This variety is usually pleated and has belt loops. 
Sporty Bermuda shorts are matched with T-shirts or sport shirts. They can be worn with anything from sneakers or sandals to golf shoes or boat shoes. You'll see these shorts everywhere. 
Price of Bermuda shorts vary widely depending on the quality and type. It can be anywhere between $20 to well over $100. 
English Sports Shop 
Established in 1918, they are well known for traditional Bermuda shorts. They also sell jackets and matching long socks including madras, capris, Hawaiian shirts and an array of other men's and women's clothing. Some fashions such as the cravat that have been lost to time are also available here. 
Open Hours: Monday to Saturday 9:30am to 5pm 
49 Front Street, Hamilton City. Phone: (441) 295-2672 
30 Water Street, St. George's. Phone: (441) 297-0142 
37 Mangrove Bay Road, Somerset, Sandys. Phone: (441) 234-0770 
TABS 
Standing for 'The Authentic Bermuda Shorts', this is as an original island brand. Although they initially started with stocking by partnering with outlets of other brands, they now have their own signature shop at Hamilton. All that you see at the store are designed by Bermudians. 
TABS Store, Hamilton 
Instead of wool and linen, they use pre-washed high quality cotton for comfort and easy walks. Unique linings, Hawaiian prints and fun stripes in the shorts are their specialty. The shorts are available in several colors. They have also have America's Cup collection. 
Store Location and Contact 
Walker Arcade, 12 Reid Street, Hamilton. 
Phone: (441) 704 TABS 
Store hours: Monday - Saturday 10am - 5pm. Closed for public holidays. 
There are several other shops around the island that also sell Bermuda shorts. Check out this link to know about all the good options:
Bermuda Clothing Shops
Well, when it comes to the formal wear as in case of business attire in Bermuda, the shorts would typically need to be accompanied by a pair of long socks, a pair of black or dark brown shoes, a buttoned down formal short sleeves shirt, a formal tie, a blazer or a linen jacket that contrasts with the shorts. The best socks are Bermuda Hose that are of knee length and imported. The best shoes are loafers with tassels that are imported from the USA. 
Related Articles
Visitors' Reviews and Comments
Ed Goodall (February 2009) 
When I was a police officer in Bermuda during the 1950's, we carried a tape measure so that we could measure the length of ladies shorts ensuring that they were not shorter than three inches above the knee