Harrington Sound Bermuda
Harrington Sound is a wonderful inland lake in Bermuda surrounded mainly by Hamilton parish and Smiths parish. There is a small narrow inlet that connects this lake to Atlantic ocean, known as the Flatts inlet. The water in this lake mostly flows in through the underwater caves and subterranean passages. The sound has been named after Lucy Harington, a lady from the Elizabethan days who was an original investor in Bermuda during the initial colonial period. 
Harrington sound has many small islands in it like the Trunk island and Rabbit Island. Some of them are inhabited throughout the year. The water area is excellent for activities like swimming, snorkeling, kayaking, windsurfing etc. Although there are many types of fish that you can find here, over the years the population of shell fish like the scallops have been steadily decreasing. 
Harrington Sound, Bermuda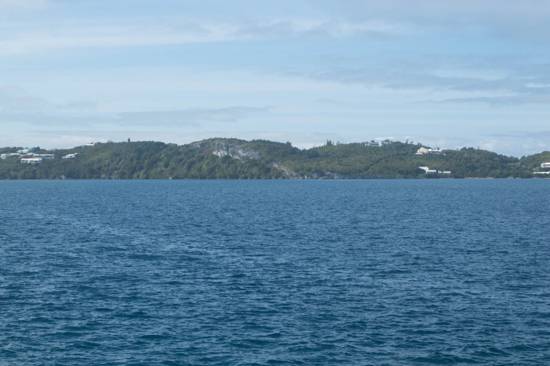 Bottom of the Harrington Sound is the lowest point in Bermuda. It's estimated to be some 70 feet deep near Devils Hole. Many once thought that the sound was part of a bottomless volcanic crater. 
How to reach Harrington Sound
One of the best ways to see the Sound is from the Harrington Sound Road in Hamilton parish. Take a moped or Bus #3 for a beautiful scenic ride. As you take the section of the road in Hamilton parish and go towards east from Smith's Parish, you will see some great scenery and attractions like
Leamington Caves
and
Tom Moore's Tavern
. NOTE: Leamington Cave is now part of a private property and access to public is closed. 
There are many caves and coves around the Harrington Sound. Harrington Sound Road in Hamilton Parish starts from the junction of Broken Hill road and goes all the way towards east up to the junction of Wilkinsons Avenue. 
Road Map Location 
Related Articles
1) Check out
Hamilton Parish
to find out other great attractions in the parish. 
Visitors' Reviews and Comments
Jacqueline White (December 2018) 
Small point about facts on this description of Lucy Harrington, Elizabethan days refers to the reign of Elizabeth I of England, who died in 1603, before Bermuda was discovered, so this small detail needs to be deleted. Otherwise I enjoy the care given to your descriptions of Bermuda Attractions. 
Raj (bermuda-attractions.com) December 2018 
Hi, thank you for getting my attention to the article on Harrington Sound. Lucy Harington lived between 1581-1627 and therefore belonged to Elizabethan period. However it is controversial if she actually did anything for the parish other than being an original investor on a land in Bermuda (being a shareholder in Somers Isle Company that administered Bermuda starting 1616).