Tom Moore's Tavern
French & Continental Cuisine
$$$, Fine Dining 
The Restaurant and Ambience
Tom Moore's Tavern was built in 1652 as a private home and is Bermuda's oldest restaurant serving classic French, Italian and continental cuisine along with Bermudian preparations. It was originally a property of Robert Walsingham who was in charge of the ship
Sea Venture
that wrecked in 1609. It was then known as the Walsingham House and later belonged to the Trott Family. 
In early 1804, the famed Irish poet Thomas (Tom) Moore visited the island when he was 23-years old and stayed nearby in St. George's for three months. He used to regularly visit this house and wrote some of his great verses under a calabash tree which still stands in the property about 180 meters away from the building. He became close with Nea Tucker - a local lady. Both of them often sat under the tree. Tom Moore had referred to the calabash tree and Nea Tucker in his several poems. 
Tom Moore's Tavern, Lit at Night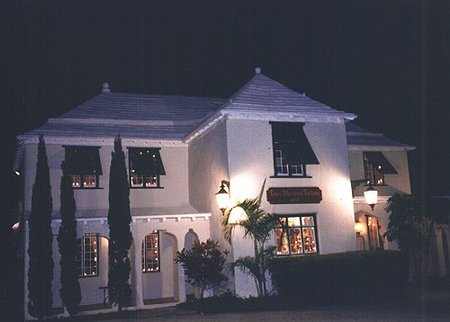 Source: Tom Moore's Tavern 
Located at Walsingham Bay near the
Crystal Caves
, this colonial architecture was so impressive that a replica of the house was created at 1925 Wembley (London) exhibition. The building looks especially beautiful when lit up at night. With its four fireplaces and darkened cedar walls, the place is now an elegant upscale restaurant. The original architecture of the building has been retained. 
Since it was a private home, there are several (actually five) independent dining rooms across two floors. You can dine alfresco on a roof-covered outdoor patio. The patio overlooks the Walsingham bay. The outdoor patio is mostly used for private functions. It can accommodate about 100 guests. The restaurant is a wonderful place for couples, business as well as small groups. 
Terrace (Patio)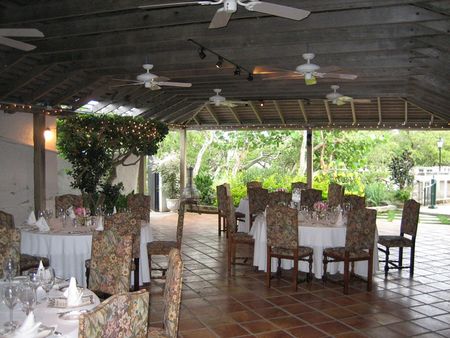 Source: Tom Moore's Tavern 
Fireplaces, casement windows, shipbuilders' cedar joinery, English silver, German crystal and Luxembourg china contribute to a great romantic ambience. Food at Tom Moore's Tavern is comparatively more expensive than other restaurants, but it's worth the price. You are after all dining at an upscale romantic restaurant full of classic touch. 
Food and Wine
The food here never disappoints with some of the best ingredients, preparation and presentation and generous portions. It is delicious with specials created from local offerings of the day and is done on a traditionally elegant style. Seafood is a specialty at Tom Moore's Tavern. During the summer, a tank outside the restaurant is kept full with live Bermuda Spiny Lobsters. Good local fish selections could be rockfish and yellowtail. The salmon and wahoo too make for especially good entrees. They come fresh and perfectly prepared with the accompaniments highlighting the dish. 
A dining room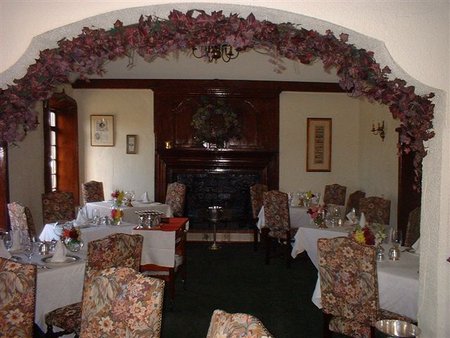 Source: Tom Moore's Tavern 
The dining menu is not extensive, but has something for everyone. You can start with the traditional Bermuda fish chowder (with a dash of sherry pepper and black rum to get the original flavor) along with a spinach salad or a soup of the day. In appetizers some of the nice selections are smoked salmon with eggs, roasted bread and salad, or lemon shrimp, caramelized scallops or even braised pork belly served with apple chutney. The mussels that come with a delicious broth along with pate also make for a great starter and so do the scallops encrusted in bacon and a wonderfully creamy sauce to enhance the flavor. The beef carpaccio too is excellent. 
In main courses some of the favorites are sou vide filet with asparagus salad, grilled beef tenderloin, rack of lamb, the ribeye, French chicken breast etc. The lamb and veal taste absolutely fresh from the farm. The pasta is very fresh and almost melts in the mouth. The ravioli with lobster and cream sauce too is just delicious. You can also try the hand-made chorizo sausage with pasta and an amazing soup- pea with coconut milk. They also have vegan as well as gluten free dishes. 
Rack of Lamb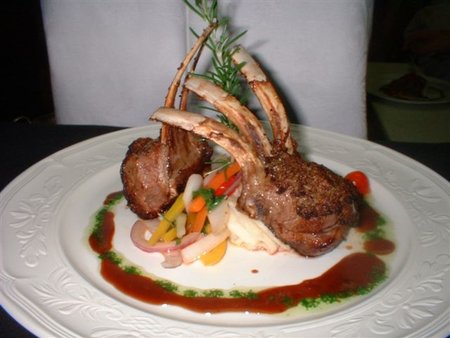 Source: Tom Moore's Tavern 
In dessert you will have a hard time selecting between the crepes suzette and the soufflés (which are one of the main attractions on the menu). But you cannot go wrong with whatever you decide. The Grand Mariner soufflé that comes with fresh strawberry sauce is indescribable! We would also highly recommend the chocolate soufflé. Besides the soufflés, you can also try out the banana mousse cake with chocolate pudding. Some of the desserts are also plated table side and are a treat to watch. Conclude the meal with one of their special coffees which too is made at your table. 
Sample of chocolate dessert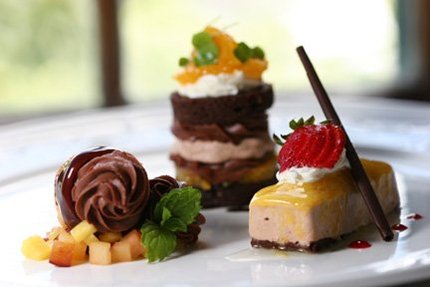 They have great selections of wine and cognac. There is also a moderate selection of cocktails and a few beer options. It is really relaxing to be sipping at a classic Rum Swizzle or a Dark n Stormy on the covered outdoor porch. They also make great Whiskey sour. 
They have everything from champagne and sparkling wines that includes vintage Dom Perignon and Veuve Clicquot Rose, to French Whites like Burgundy, Chablis, Loire, Provence Rose, Alsace and Bordeaux. There are Red Bordeaux like Pauillac, Saint Julien, Margaux, Graves, Saint Emilion and Pomerol. Besides these there are American, Italian, The New World, German and Spanish reds and whites and Red Burgundy too. 
The Service
The wait staff are very professional and personable here, the service quick and friendly. The entire staff exude charm and work very hard to ensure your experience is top notch. The place almost transports you back to another time as does the attention to detail with the food and service. You will also love the authentic Bermuda vibe of the staff in their collared shirts and Bermuda shorts with extremely attentive service without being intrusive. They never fail to welcome you with their infectiously joyous personality, then seat you and help you select some of the best foods and wines from the menu. 
Trivia
Dress Code is elegant casual. They accept credit cards. Reservations are required. The restaurant is expensive but at par with most of the nicer restaurants on the island. However the food, decor and service more than compensate for it. 
Conclusion
The classically beautiful setting of this historic house along with its impeccable staff adds to the allure of the restaurant. In fact, the quaint old place with its old world charm truly exudes the spirit of the island leaving you with a taste of Bermuda. Moreover dressing up well to go out for dinner to such an elegant place with first rate service, never fails to uplift your spirits. All in all, it is worth being on your Bermuda bucket list as you will have a truly sybaritic experience that will leave you want to come back for more. 
Update: A printed version of the historical portrait of Thomas Moore created by the Irish artist Robert Rothwell has been donated by
Masterworks Museum
to Tom Moore's Tavern in November 2016. This is to be hung above the fireplace in the main dining room. So you can now have another special experience at the tavern as you dine. Note: Tom Moore was the first to portray Bermuda romantically to the world. Before him, the world had no idea about the beauty of the island and its nature. 
Indicative Prices
Chef specials and pastas: $12-36, Appetizers: $19-22, Main Courses: $33-$49 , Desserts: $12-14, Vegetarian options: $19-$26. A 17% gratuity is added to your bill. 
Wines: Champagne and sparkling wines range between $45-$390 while white and red wines can cost anything between $65 to $2300 for a Red Bordeaux. A half bottle can cost you between $29-$576 while Wine by the glass comes for anything between $11-$32. 
Open Hours
Daily 6:30pm - 10pm 
The restaurant is generally closed from January to Mid February. It serves dinner and no lunch. 
Location and Contact
Tom Moore's Tavern 
Walsingham Lane, Bailey's Bay, Hamilton Parish. Phone: 441/293-8020 
From the main road (Harrington Sound Road), it's a short 250 meters walk. 
Buses #1 and #3 operating between Hamilton City and St. George stop on Harrington Sound Road. 
Road Map 

By Raj Bhattacharya 
Raj, a seasoned travel writer and Bermuda destination expert, has extensive global travel experience. This website reflects his profound insights, garnered over nearly two decades of dedicated findings and research on the island. Raj has assisted countless Bermuda-bound visitors by providing direct, personalized responses to their queries and imparting his wealth of knowledge through this platform. This site serves as an indispensable guide for those seeking informed and reliable insights into Bermuda's treasures. 
Related Articles
4) Check out
Hamilton Parish
to know all about the place including the attractions, hotels, activities, maps and more. 
Visitors' Reviews and Comments
Tom Black (June 2012) 
Tom Moore's Tavern was EXCELLENT. Best food ever. Gray Rockfish was unbelievable. For 2 of us, it was a $164 bill, but totally worth it.