Flight 441 Disappearance in
Bermuda Triangle
Flight 441 was a huge carrier that belonged to the US Navy. The civilian or the commercial model of the aircraft is known as the Super Constellation. In military version, it was called R7V-1. The aircraft was one of the greatest success of its time. It was touted that it could cross the Atlantic in 8 and half hours. On October 30, 1954, the flight 441 took off from the Patuxent River Naval Air Station bound for Lajes in Azores. There were 42 passengers and all of them were naval officers and their families who were transported overseas. 
Like in many other Bermuda Triangle incidences, initially there were regular communications received from the aircraft. And suddenly, it was all silent. The last transmission was received around 11:30p.m which was a regular report informing its location. That time the aircraft was about 400 miles off the coast. 
And after that, Flight 441 simply vanished. The disappearance of Flight 441 remains as one of the biggest mysteries of Bermuda Triangle. Not even a single clue till date has been gathered to throw any lights on the cause. The incidence was thoroughly investigated by the board, which focussed on the plane itself, the weather and the Pilot Leonard's capability. 
An R7V-1 (Similar to Flight 441)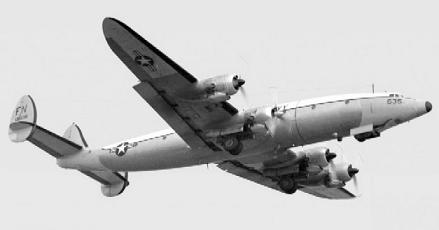 R7V-1 was similar to the civilian model Super Constellation by  
Lockheed. It was one of the most successful planes of her time 
and a super performer in the commercial airline industry 
The weather was somewhat typical of the North Atlantic at this time of the year - no snowing, sporadic thunderstorms and mild turbulence. But the flight 441, capable of attaining great altitudes, could have easily been above this weather. Plus the aircraft had a weather radar installed on it which was capable of giving forewarning if there was any adverse weather condition ahead. The experienced pilot certainly would have avoided the bad weather based on the indications from this weather radar. 
Here is what the board of investigation reported about the Pilot and the weather: 
". . .Lt. Leonard has been flying the North Atlantic routes for the past two years and it is thought that he was very familiar with this kind of weather. His choice of 17,000 feet altitude for this flight was a good one. According to the weather cross section 19,000 feet would have been an even better altitude. At any rate he should have been on top, for the most part, except for occasional buildup. It must be pointed out that the R7V-1 was equipped with ASP-42 Airborne Radar and is always used when flying this sort of weather." 
The Board also reported: "The possibility of structural failure during transit of frontal weather cannot be discounted in this accident, but the possibility appears remote." 
On Pilot's capability, the Board commented: 
"Lt. Leonard was well trained in thunderstorm penetration speed and technique. It is thought that if he did enter a thunderstorm he would have entered at the correct speed and would have flown the up and down drafts without fighting them. The weather that Lt. Leonard was thought to have been subjected to was not beyond the capabilities of R7V-1, nor was it thought to be beyond his own capabilities." 
So what could have happened to the Flight 441? 
Let's take a look at the list of cargo carried by the aircraft: 111 life vests, 46 exposure suits, 660 paper cups and 5 life rafts. All these can easily float on water. So, if the plane blew off in the air, all these would have got scattered on the ocean water and could have been traceable. If she simply nose dived into the water without breaking off, the pilot should have sent an SOS. But none of this apparently seemed to have happened. 
Here is what the board had to say finally: 
"It is the opinion of the Board that R7V-1 BuNo 128441 did meet with a sudden and violent force, that rendered the aircraft no longer airworthy, and was thereby beyond the scope of human endeavor to control. The force that rendered the aircraft uncontrollable is unknown."  
Well, I thought it was a classic statement and can probably explain all cases of Bermuda Triangle disappearances in just couple of lines like the above :-) 
Raj Bhattacharya
Raj is an avid traveler and a full-time travel blogger. He has traveled to numerous countries across the world and loves to keep travelling. His mission here is to help viewers like you visiting Bermuda or seeking insights into related matters with the most comprehensive content. Since years now he has been helping countless viewers by posting quality articles on this website, answering questions and sharing experiences. Launched in 2008, this website is Bermuda's leading source of online information since many years. 
Related Articles
Viewers' Reviews & Comments
Susan Curtin (October 2019) 
My father was on Flight 441 out of Pax River, just 4 days after my 1st birthday. He was 22 years old. Still so many questions and hopes that someday the wreckage will be found; maybe then there will be some feelings of closure. I can't imagine what he and his fellow passengers must have experienced. 
Melinda (September 2019) 
My grandfather was on that flight as a passenger. His name was John Edward Gregg and was a radioman for the US Navy.  We recently found some letters from him to my grandma and the last one was dated October 15, 1954 just 15 days before the plane's disappearance. 
Janice Thomas Dunleavy, Annapolis MD (August 2019) 
My brother Robert T. Thomas was aboard that flight that disappeared in October 1954 (Flight 441, Super Constellation). Two months later his son was born. Robert was assigned that flight in place of someone else. Our family living in Annapolis attended two ceremonies for the crew of that ill fated plane. The first was in the plane's hangar with the entire base and the second in the catholic chapel. With the Maritime Industry discoveries these days I and my family are still hopeful for an answer. In St Mary's  Cemetery here in Annapolis my parents had a headstone erected for him. He was 32 years of age  been in World War II flying over Japan and then assigned to MATS at Pax River in the early 50's. 
Peggy Pflager (June 2019) 
My father, James Pflager, was on that flight. The story I was told was that there was instrument trouble in one plane, they returned and obtained another plane. Soon after (early hours of October 31, 1954) they were never heard from again. My father was the radioman on the flight. Our house was packed up because he was finished with his service, however took the flight for a buddy whose wife was in labor. He has a grave site at Arlington National Cemetery. I tried to contact people who might have had family on this flight. It was done October 31, 2004, to commemorate the 50th anniversary of the flight. Hopefully before I die, there will be some kind of evidence of the plane from the Atlantic Ocean. 
Will Ruha (January 2019) 
My Aunt was on that flight.  She had flown the exact same route in a similar plane earlier, only to have it suffer trouble and return to base.  She and the rest of the crew were then placed on this flight, only to have the same thing happen at the same location. The largest air and sea search in world history ensued, and not a trace of the plane was found.   
Twenty years later, "Ghostbuster" Hans Holzer published a book of true ghost stories, one of which related the experience of a woman who woke up to the spectral figure of her brother at the foot of her bed, as though being viewed through a body of wavering water.  She screamed, rushed downstairs to where her husband sat, reading the evening paper, when suddenly, the phone rang with news of her brother's disappearance on a flight into what was to become known as the "Bermuda Triangle." 
Holzer's book listed his name, which, by strange synchronicity, matched that of the co-pilot listed on the airplane manifest indexed in a book I had just finished reading, Limbo of the Lost, which included my aunt's name. It was a psychic clue to the likelihood that the plane had gone down, for whatever mysterious reason. 
My aunt was only 21.  I was an infant of 5. That tragedy was a huge blow to our family.  My grandparents never recovered. It aged my grandfather overnight. And when my 92-year-old grandmother lay dying, her last words were, "Now, perhaps, I'll find out what happened to Marianne."  So sad. 
R. Thomas (August 2018) 
My Father (Robert Thomas) was not supposed to be on that flight but was assigned that flight at the last min. (according to my mother). 
Robert F. Byrnes (February 2015) 
I was a young LTJG scheduled to return to my ship in the Mediterranean after completing Naval Justice School in Newport RI. I was scheduled to fly flight 441 but requested 10 days leave before returning. One day before departure I received confirmation of my leave and was removed from the 441 passenger list. Several of the victims and their families had attended Justice School with me. I shall never forget watching the TV reports about the disaster. 
Carolyn 
I have heard about this airline disaster since I was a small girl. My mother was supposed to be on this flight but missed her connection and therefore missed this flight for which our entire family is grateful. We have been told that it was approx. 2 days later the family was informed of her safety. I was not aware until recently that this accident occurred near or above the Bermuda Triangle