Bermuda Gombey Festival
The annual Gombey Festival is held in Bermuda in the month of September to showcase the rich traditional folk art and expose the islanders and visitors with the skills that have been acquired by the local performers over the years. The
Gombey Dance
in Bermuda roots back to Afro-Caribbean style of dancing on drum beats that were introduced into the island during the 1600s. 
During the days of slavery, the slaves were allowed to dance only once and they did so under the cover of masks so that their masters could not recognize them. They had the fear that otherwise they would face the atrocities of their masters who never took this dance in the right spirit. Over the years the style of dancing went through several changes, grown in richness and today has become a popular traditional folk art of the island. 
Bermuda's style of Gombey is a mix of British, African and Native American dance traditions, and has a similarity of Gombeys in islands like Bahamas. There are some seven odd Gombey troupes that are resident in Bermuda and they have their own unique style of performance. Some of them often perform overseas and represent the island's culture. 
Bermuda Gombey Festival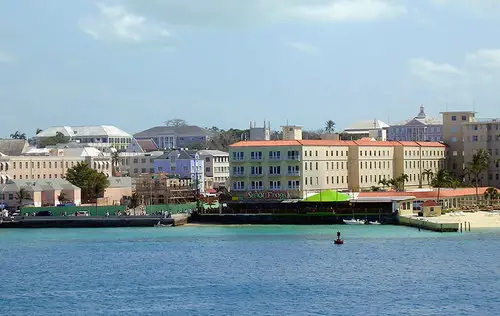 So where is the Annual Gombey Festival held? A usual and popular venue used to be the car park of the
City Hall
in Hamilton. However over the past few years, WER Joell Tennis Stadium in Pembroke has become the new venue There are several Gombey dancing troupes in Bermuda who would perform in groups. 
Apart form the Gombey dancers, there would be food stalls set up in the premises, face paintings for children that are inspired by the Gombey's colorful make ups, local Gombey crafts & souvenirs for the spectators. An additional bonus would be special performances by the stilt walkers on their high tall pair of stilts. The event is sponsored by the Department of Community and Cultural Affairs of Bermuda. 
During the event, each participating troupe is allowed to perform for about 15 to 20 minutes. In between the dances, there are narration of Gombey history tales. Every year the Department of Community and Cultural Affairs of Bermuda honors one of the tradition bearers during the event. 
2017 Gombey Festival 
Due to high demands, this year Bermuda International Gombey Festival has been expanded to be held over several days including the week end. Here is the schedule of events and venues: 
Thursday, October 5, 2017 
"MASKulinity: Traditions of the Bermuda Gombey" Art Showcase Mingle 
Location: Bermuda Society of Arts 
Time: 5:00 PM – 7:00 PM 
Cost: Complimentary, donations to Bermuda Society of Arts are accepted. 
Friday, October 6, 2017 
"The Persistence of Tradition: Masking in West Africa, Haiti and Bermuda" 
Location: Bermuda Underwater Exploration Institute 
Time: 7:00 PM 
Cost: Complimentary tickets are available on bdatix.bm 
Saturday, October 7, 2017 
Bermuda International Gombey Festival Showcase (this is the main Gombey performance). 
Location: Bermuda Botanical Gardens, Main Show Ring 
Time: 5:00 PM – 9:00 PM 
Cost: Complimentary 
Sunday, October 8, 2017 
Gombey Festival Weekend Sundowner (this is an opportunity to meet with the Gombey performers and other international guests at Tobacco bay beach. There will be loungers, bonfire and music). 
Location: Tobacco Bay 
Time: 4:00 PM – 9:00 PM 
Cost: Entry is free.  
Sunday, October 8, 2017 
Trust Talk - The Bermuda Gombey - Discussions on Origins and Evolutions of Gombey 
Location: 'Verdmont'. 6 Verdmont Lane, off Collectors Hill, Smith's Parish 
Time: 1:30pm 
Cost: $20 to members, $25 for non-members 
2016 Gombey Festival 
This year the Gombey festival was held on September 10, 2016 Saturday at WER Joell Tennis Stadium in Pembroke. It was organized by The Department of Community and Cultural Affairs, Bermuda. The doors were open at 5pm and the program started at 5:30pm. Hundreds of spectators watched the performances. Four Gombey troupes performed - Gombey Warriors, Gombey Evolution, H&H Gombeys and Places New Generation Gombeys. 
2015 Gombey Festival 
The festival was held in full fanfare at WER Joell Tennis Stadium in Pembroke on Saturday, September 12, 2015 hosted by Department of Community and Cultural Affairs. Every year a veteran in Gombey art is felicitated by the department. This year it was Allan Warner, who represented Bermuda in Gombeys in various islands and countries over the years and actively contributed to preserve and enrich the tradition of Gombeys in the island. 
2014 Gombey Festival 
This year the festival was held on Saturday night (September 13th 2014) at WER Joell Tennis Stadium in Pembroke (near Hamilton). The entire stadium was packed with spectators from all over the island. There were performances from various Gombeys troupes including H & H Gombeys, Gombey Warriors, Warner Gombey Troupe, Places Gombeys etc. There was also performances from stilt walkers who came from St. Kitts. 
2012 Bermuda Gombey Festival 
In 2012, the Gombey Festival was be held at the W. E. R Joell Tennis Stadium on September 22 from 5pm until 9pm. The tennis courts were cleared for the performances. The participating Gombey troupes were H&H Gombeys, Richardson Gombey Troupe, Places New Generation Gombeys, Warner Gombeys, Warwick Gombeys, Roots Gombeys and Gombey Warriors. Additionally the Stilt Walkers from St. Kitts island were invited to perform along with the local troupes. 
2011 Bermuda Gombey Festival 
It was held on September 11. All the Gombey troupes of the island performed during the festival that took place between 2pm - 6pm at the City Hall Car Park. The troupes that participated included H&H Gombeys, Place New Generation Gombeys, Warner's Gombeys, Richardson's Gombeys and Warwick Gombeys. The troupes had set up their own stalls where they had put up pictures and were answering questions to the members of audience regarding their groups and performances. The troupes came one by one to the barricade area and performed. Later they gathered together at the performance area and received certificates from the Minister of Community Affairs. There were arrangements of tents and seating for the senior citizens and VIPs. Others had to stand and watch. Of course there were food stalls, face paintings, crafts and the ancient art performances by the stilt walkers. 
Related Articles 
2)
Bermuda Events
: Know about all the main events and festivals in Bermuda 
Visitors' Reviews & Comments 
Share your experience.