Cabbage Beach, Paradise Island
This beach has been consistently named as one of the top 10 beaches in the world. Almost a 2-mile stretch of white soft sand fringed by swaying coconut trees and palms make it a picture perfect beach. 
Several large resorts are on the beach including Atlantis, Riu Palace and One & Only Ocean Club. All these resorts are located towards the western side of the beach which remains crowded with the resort guests. If you want to be free of crowd, walk towards east. 
As you walk along, look through the greens beyond the sand and you can see homes of several elite personalities of Paradise Island including that of Oprah Winfrey which is located in the beach front property of Ocean Club Estates. 
Cabbage Beach (looking west towards the resorts)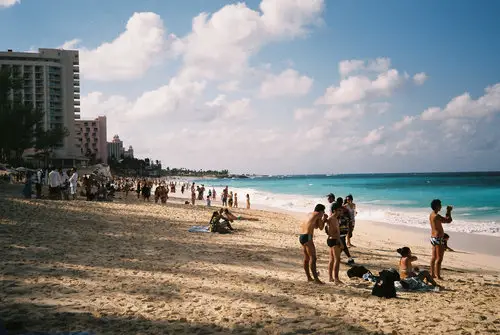 Photo: Mettacitta, flickr, cc by-sa 2.0 
Lounging chairs and umbrellas are available on rent (however note that the resort-front rentals are meant only for the resort guests). Watersports like jetski, banana boating and parasailing are available at several places along the sandy stretch. 
For food and beverages, you can walk into the upscale and elegant bar and restaurant 'Dune' which belongs to One & Only Ocean Club. This is of course if you like to replicate the dining style of celebrities. 
For a more affordable option, walk towards east where you get the wooden stairway. Walk up to the top to find a convenience store offering snacks and beverages (it's run by Paradise Island Beach Club). For more dining options, you can always walk down to the Marina Village of Atlantis (about 10 minute walk) where there are several restaurants and bars of all types. 
Cabbage Beach (looking east)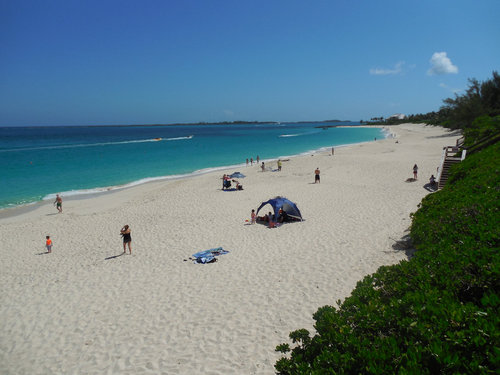 Photo: Tryandig, flickr, cc by-sa 2.0 
Note that there are no washrooms or changing rooms on Cabbage beach. There are restrooms in Marina Village (10 minute walk). You can also access the washrooms at the lobby of Beach Tower hotel of Atlantis which is about 5 minute walk from the beach (on top of the farthest stairway). But note in general, Atlantis does not allow non-guests to access any part of their property. Beach Tower lobby seems to be an exception for now. 
Getting to Cabbage Beach
If you are staying at one of the resorts on the beach, Cabbage beach is a short walk through your resort complex, ask any staff and they will show you the way. 
The public access to this beach is through Casino Drive and next to Riu Palace. In order to get to Casino Drive, take Paradise Island Drive and take a lake into Lakeview Drive which leads to Casino Drive. 
From downtown Nassau, you can take the small ferry (water taxi) across to Paradise Island. It takes a 15-minute walk from the Paradise Island ferry dock and 10-minute walk from Atlantis to get to the point where there is a public access to the beach. If you are coming from Nassau by a cab, simply ask the cab driver to drop you at the right point... all local drivers know this place.  
From Ocean Drive (little further to the east of the main Cabbage beach area), there are wooden stairways leading down to the beach from road level and providing direct access to the eastern section of the beach. You can see the hotels to the west as you get down the stairs. 
Being a public beach, entry to Cabbage beach is free. 
Road Map - Cabbage Beach 
Related Articles
Visitors' Reviews and Comments