Top Beaches in Nassau & Paradise Island
Most tourists land up in Nassau of New Providence Island by cruise or air, many of course move on to the adjacent Paradise Island which is connected to New Providence Island by bridges. The beautiful beaches and attractions of both these islands are easily accessible to all irrespective of which one of the two islands you are staying at. You can take a taxi, rental scooter or a car to get to all these beaches easily and few beaches within New Providence Island are accessible even by public bus (jitneys). 
Note that all public beaches have free entry. Some beaches like the Cable Beach in Nassau, Cabbage beach in Paradise Island etc are fringed by resorts, but being public beaches, they all have public access as well. You might have to go in between two resorts or find out the access way. 
If you are keen to undertake beach or water activities while in Nassau or Paradise Island, you can go through this
Viator Website Page
where you can check the details of several beach/water activities, user reviews, prices and book the activities of your choice. 
Below are the best beaches in Nassau and Paradise Island combined... you can find beaches that are great for water sports, ones that are secluded paradise or those that are excellent for families with kids. 
Cabbage Beach
Most heading for a vacation in Paradise Island would be looking for a resort on Cabbage beach. Why not, after all Cabbage beach has been named as one of the top ten beaches in the world. There are several grand resorts fringing the beach including the Atlantis, Riu Palace and One & Only Ocean Club.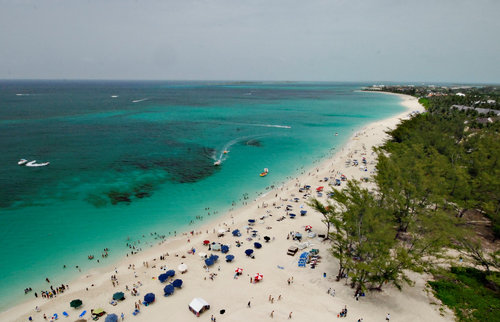 Photo: Aaron Headly, flickr, cc by 2.0 
It's a long strip of white powdery sand with crystal clear turquoise water ideal for swimming. However being the best beach in the island, it is also often quite crowded and mostly by resort guests. If you want to find empty stretches, walk towards the eastern end. Being a public beach, anybody can visit the beach from other parts of the island and there is public access to the beach. 
Cable Beach
Cable beach in Nassau is what Cabbage beach is to Paradise Island. Most tourists who prefer to stay in Nassau head towards a beach-front resort on Cable beach. And the beach is fringed with plenty of large resorts including Sandals, Sheraton, Wyndham etc and recently the new grand Bahamar. Apart from hotels, there are numerous restaurants and bars along the beach and even a large casino.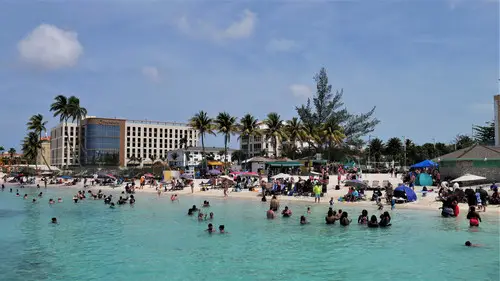 Photo: NivCube, Shutterstock 
The beach is located about 8kms to the west of Nassau downtown. Like Cabbage beach, Cable beach too remains quite crowded by the resort guests as well as tourists coming in from other parts of the island. It is after all a public beach and has free public access. 
All standard water sport facilities are available. Vendors sell local food, beverages and souvenir items. Beach rentals are provided by resorts to their own hotel guests. There are no public washrooms or changing rooms on the beach. 
Saunders Beach
Another excellent beach in Nassau on the northern shoreline of New Providence island only about 4kms west of downtown and easily reachable by bus and taxi. This is a much quieter beach mostly frequented by local families. The beach is complete with washroom and shower facilities, parking and even a children's playground. There are no vendors or food stalls on the beach though. The soft white sand is ideal for lounging and the calm waters great for swimming. 
Saunders Beach, Nassau, Bahamas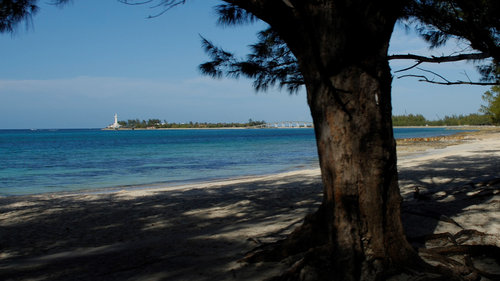 Photo: Oscar Flowers, cc by-sa 3.0 
Junkanoo Beach
(Western Esplanade) 
This is a downtown beach overlooking the Nassau harbor and within walking distance from the cruise terminal. This is a lively and often crowded beach. It has several beach bars, food stalls, public washrooms, vendors selling almost everything including beach rentals. Loud music is often heard coming out of the beach bars and shops. Good place to enjoy and party on the beach. 
Junkanoo Beach, Nassau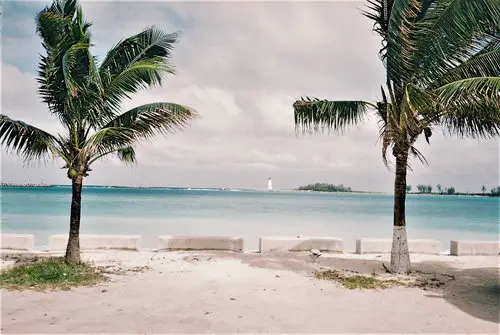 Photo: Mettacitta, flickr cc by-sa 2.0 
Goodman's Bay Beach
Goodman's Bay Beach is actually an extension of Cable beach towards east on the northern shoreline of New Providence (Nassau). So just before you get into the resort area of Cable beach, you can access Goodman's Bay. You can also walk eastward from cable beach and reach Goodman's bay. 
It's a long sandy strip, often not very clean, but it's a public beach and free to all. There are no facilities here like restrooms or beach rentals. But it is certainly much quieter and emptier than the touristy Cable beach next to it. This beach is mostly used by locals. So it works as a good option when you are tired of beach crowd and trying to find a nearby beach which is much quieter. 
Goodman's Beach, Nassau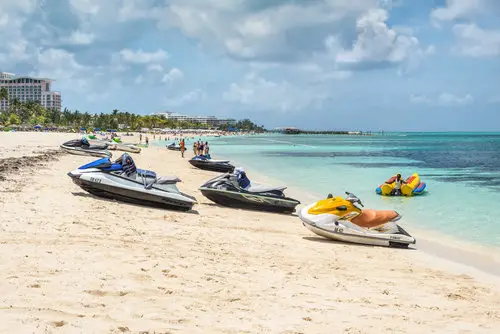 Photo: byvalet, Shutterstock 
Although swimming can be done, and many locals do so, it is not recommended on Goodman's bay. There are sometimes rip currents which can be dangerous. Enough casuarina trees fringing the beach provide shades. There is also a children's playground making the beach popular with families. The beach although remains quiet, is visited by many local families over the weekends or school holidays. When the beach gets busy, some vendors also gather here selling local food, fruits and drinks. 
From downtown Nassau you can take Jitney bus #10 to get to Goodman's bay. It's located on West Bay Street and at about 6kms from Downtown (takes 15 minutes by taxi). 
Road Map - Goodman's Bay 
Montagu Beach
This is a nice and popular beach located about 2 miles east of downtown Nassau on East Bay Street. On weekends and in the evenings you can find many local families hanging around on the beach. Vendors also sell all kinds of local food as well as drinks. Look for Conchie Joes' food truck and try out a conch burger or conch fritters... delicious. If you are in mood, try out Sky Juice ... a local drink made of gin and coconut water and sweetened appropriately to enhance the taste. 
The beach which runs along the East Bay Street is fringed with palms and tropical trees. The beach overlooks the Nassau harbor and you can see Paradise Island at a distance with rows of hotels and residential buildings. Lots of boats pass through this water area... a pleasant sight to watch.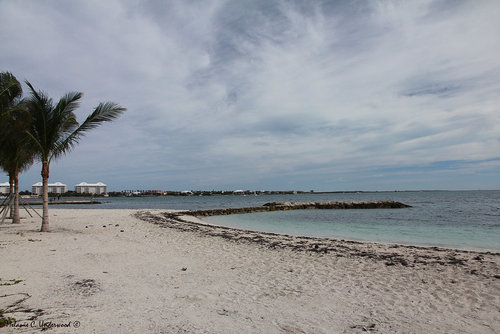 Photo: WarblerLady, cc by-nd 2.0 
Although the swimming area is clearly marked and protected with boulders and markers, due to heavy boat traffic on the nearby water, the beach is actually not great for swimming. 
If you walk towards the west end, you will shortly reach Montagu Fort .... the oldest fortification in New Providence which was built by the British in 1741 to protect against Spanish invasion through the eastern entry of the harbor. If you walk towards east, you will get to a fishing ramp. This is where the local fishermen gather with all their day's catch including lobsters and sell them to local residents. 
The nearby Montagu Park has swings and slides and attract families with kids. There is ample parking at the beach area. Nicely maintained restrooms are also available. The beach is a great vantage point for watching the annual Sailing Regatta held on Valentine's Day. 
From downtown Nassau you can take a taxi or rental scooter to easily get to the beach. The beach is about 2 miles from downtown area and on East Bay Street. 
Road Map - Montagu Beach 
Love Beach
The name perhaps was so given because you will fall in love with the beach the moment you are there. It's a fairly long stretch of powdery sands with crystal clear water located at the west end of New Providence Island and quite close to the Lynden Pindling International Airport where all international flights land in Nassau. In fact while landing, you can clearly see the love beach below. 
When you get to Love beach and if you have seen some of the out islands of Bahamas already, it would certainly remind you of a beach in one of those out islands. The beach gives you a feel of a laid back relaxing charm which is so common in the out islands. 
Love Beach Imagery (Rotate for 360° view) 
There is a nice beach bar on the site - Nirvana Beach Bar offering great cocktails and lovely views. Here you can get Kayaks and snorkel gears on rent. Note that Love beach has a water area where you can find amazing reefs in close distance from the shore (40 acre of coral reef area only about a mile offshore) and full of colorful fish and corals. You can also snorkel just off the beach and see lots of fish. 
The Compass Point Beach Resort is located at the eastern end of Love beach. Many prefer to stay here and enjoy the quiet and beautiful Love beach instead of going to other resorts with crowded beaches. 
Love beach is located at the west end of New Providence, on north shore and off West Bay street. Downtown Nassau is about 18kms from Love beach. Taxi takes over $50 for a one way ride. If you are coming from downtown, then it's better to rent a scooter or a car. Luckily Jitney bus #10 from downtown Nassau also comes near Love beach (to the east of Compass Point beach Resort). 
Road Map - Love Beach 
Jaws Beach
If you are looking for a completely secluded (almost deserted) beach in New Providence in an off the beaten path, then this beach has to be on top of your agenda. The name comes from the film 'Jaws' whose last part was filmed at this location. 
The beach is located at the western edge of New Providence at one corner of Clifton Heritage Park and far away from downtown Nassau. The white sandy beach is fringed with trees like casuarina, palms and other tropical trees. There are many rocky protrusions on the beach as well as on waters. 
Photo: Laila Goubran, flickr, cc by 2.0 
There are benches under shady trees where you can relax, take in the fresh breeze and keep gazing at the crystal clear blue waters. The water here is very calm and good for swimming as well as snorkeling. 
But there are no rentals or any facilities like food or restrooms available on or near the beach. So come prepared with drinks, snacks, towels and snorkel gears. You can expect to see lots of fish in the water including sting rays, eagle rays etc. 
Being part of Clifton Heritage Park, the back side of the beach is full of plantations. A nature trail goes deep into the park. So if you like to take a nature walk, this is an ideal place. 
From downtown Nassau, the beach is about 16.5 miles (26.7kms). You need to hire a taxi or take a scooter/car rental to get to the beach. At the end of West Bay Street, you need to turn into Western Road and then into South West Road to get to the beach. 
Road Map - Jaw's Beach 
Cove Beach
If you are a guest in
The Cove Atlantis
in Paradise Island, then you can simply step into the Cove beach. In fact the hotel often claims to its guests that it's a private beach for Atlantis guests ... it is not, it's a public beach and anybody can get there. The beach is quieter and more secluded than Cabbage beach. 
If you are not a guest at The Cove Atlantis and trying to reach the cove beach, first get to the popular
Cabbage Beach
and walk towards west (i.e. left when you face the water). It's basically an extension of Cabbage beach. As the name suggests, the beach is nestled in a beautiful semi circular cove full of soft white sand, crystal clear blue water and is great for swimming. 
The Cove Beach 
Photo: Güldem Üstün, flickr, cc by 2.0 
Note that the chairs and umbrellas here all belong to the resort and as outsider you do not have the privilege of using them. You do however have access to several great restaurants like 77 West (one of the newly opened restaurants specializing in South American - Caribbean cuisine). For a budget friendly option, try out Murray's Deli for nice sandwiches, steaks, soups, salads etc. 
If you walk further west of Cove beach, you will reach another long stretch of beautiful sand - Paradise Beach. A little further away and tucked in the greens is Sivananda Ashram Yoga Retreat, a well known yoga and meditation center with accommodations. 
In order to reach Cove beach from downtown Nassau, take a taxi to the Cabbage beach. Once you get onto the sand, keep walking towards west and you will reach Cove beach. 
Caves Beach
Located west of Cable Beach, this beautiful beach is a quiet secluded paradise with white soft sands. Often you will have the beach to your own. 
An additional attraction here are the caves after which the beach is so named. These natural limestone caverns have been exiting since centuries and it is believed that the original Lucayans who once lived in the island since 10th century, took shelter under these caves. 
Explore the caves... they are deeper and have more room than what you may initially imagine. Take the lower entrance to the right. You can often see lots of bats hanging from the ceiling. 
The beach does not have any facility like restrooms or beach rentals. So go prepared if you want to swim or snorkel. Sometimes there are vendors who would follow you watching you getting to the beach. They sell fresh fruits and drinks. There is a bar nearby to try out a cocktail. 
Caves Beach is on West Bay Street and to the west of Cable Beach. 
Adelaide Beach
This beach is located at the southern shore of New Providence Island and quite far from downtown Nassau. Most times the beach is empty and you can enjoy this naturally beautiful long beach with white sands in exclusivity. The beach is named after the village Adelaide where it is located. 
The environment here is rustic and you can feel it as you stroll through the village pathways. You feel like you are in an out island of Bahamas. This village was set up in 1831 by the Governor of Bahamas for the settlement of the African slaves who were freed from a Portuguese ship. Many residents of the village today are the descendents of the freed slaves who settled here. 
The beach is absolutely quiet and secluded during the week days. It's fringed by trees offering lots of shades. During the week ends and public holidays, you can find several locals hanging around and enjoying themselves. The beach is also good for swimming. 
There are no facilities here like restrooms, changing rooms or beach rentals. 
The Adelaide beach is located on southern shore of New Providence and west of Coral Harbor beach. It can be accessed from Adelaide Road. 
Road Map - Adelaide Beach 
Yamacraw Beach
This beach is located at the eastern end of New Providence away from the downtown crowded areas of Nassau and in a residential area. The beach is used mostly by locals, very few tourists come this way because very few know about it. 
But once there you can enjoy the lovely vista of the clear blue water and even enjoy a swim at the shallow waters here. There are no facilities though (like public washrooms or food stalls). If you come early in the morning you can watch the spectacular sunrise from here. 
Yamacraw Beach Imagery (Rotate for 360° view) 
There are benches and enough shady casuarina trees to relax and enjoy the beach and its views. Look around and you can see the upscale houses with bay windows opening out to the views of the sea. During the week days, the beach remains mostly empty. In low tide, you can walk for hundreds of yards into the shallows and even collect shells. 
In order to get to Yamacraw beach, take the East Bay street from downtown Nassau and soon after passing Harbor Bay Plaza continue on Eastern Road... all along it's a scenic coastal drive. You will then turn into Yamacraw Hill Road and see the beach. Best is to take a scooter or car rental. However you can also easily come here by taxi. The drive and the locality gives you a true island feel. 
Road Map - Yamacraw Beach 

By Raj Bhattacharya 
Raj, a seasoned travel writer and Bermuda destination expert, has extensive global travel experience. This website reflects his profound insights, garnered over nearly two decades of dedicated findings and research on the island. Raj has assisted countless Bermuda-bound visitors by providing direct, personalized responses to their queries and imparting his wealth of knowledge through this platform. This site serves as an indispensable guide for those seeking informed and reliable insights into Bermuda's treasures. 
Related Articles
Visitors' Reviews and Comments