Cable Beach, New Providence
This 2.5miles white sandy stretch is perhaps the most popular beach in Nassau (New Providence Island). Most tourists planning to stay at New Providence, would prefer to stay on Cable Beach. No wonder so many large beachfront resorts have come up right on Cable Beach. 
Cable Beach, Nassau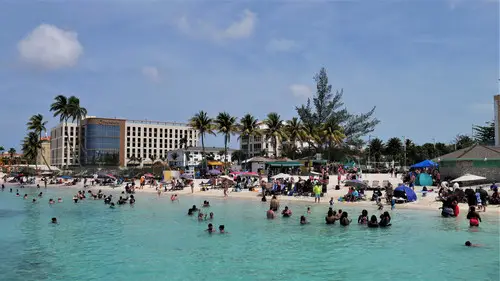 Photo: NivCube, Shutterstock 
However Cable beach is a public beach (free entry to all) although unfortunately the row of resorts have taken up much part of the beach. So the beach remains crowded mostly with resort guests lounging and swimming on the sandy stretches that are mostly maintained by the resorts. 
The super large resort complex Bahamar has opened in April 2017 and grossly redefined the beach area with its own water park, 11 pools, casino and golf course. Other hotels along the beach include Sandals, Radisson, Nassau Beach Hotel, Breezes etc. 
Cable Beach Imagery (Rotate for 360░ view) 
Other than resorts, the beach is fringed with restaurants andábars and even the largest casino of the Bahamas. So if you choose to stay on a beach-resort here, you get great dining and nightlife opportunities other than the convenience of getting around with number of transport options. 
All the standard water sport facilities are available on the beach. Operators offer Jet Ski, water ski, banana boating etc. There are also many vendors who sell trinkets like seashell jewelry and even T-shirts, wraps and even liquor on the beach... be watchful as some of them look quite dubious. 
A souvenir vendor stall at Cable Beach, Nassau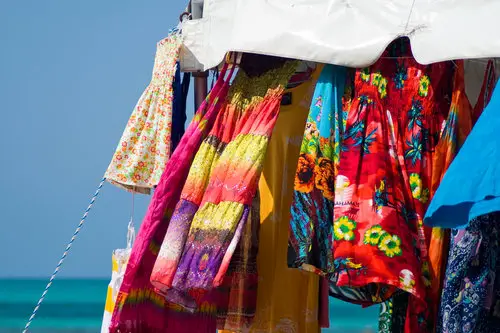 Photo: Mark Bonica, flickr, cc by 2.0 
Note that Cable beach does not have any public washrooms, toilets or changing facilities. Since most part of the beach is occupied by hotel guests, they can use their hotel facilities. If you are not a resort guest here, your only option would be to avail a restroom in a nearby restaurant. One such option would be to go to Sbarro located in a plaza across the street, buy a pizza and use their washroom. 
Road Map - Cable Beach 
Cable beach is about 8km west of downtown Nassau and on the north shore of New Providence. You can take bus #10 (fare $1.50) from George Street in Nassau Downtown or a taxi to easily get to Cable beach. By car it takes about 20 minutes from downtown along West Bay Street. 
Once you get to the resort area of Cable beach, there are public access ways to the beach - one past Sandals resort (no shades in this area), another one next to Sheraton Hotel. 

By Raj Bhattacharya 
Raj, a seasoned travel writer and Bermuda destination expert, has extensive global travel experience. This website reflects his profound insights, garnered over nearly two decades of dedicated findings and research on the island. Raj has assisted countless Bermuda-bound visitors by providing direct, personalized responses to their queries and imparting his wealth of knowledge through this platform. This site serves as an indispensable guide for those seeking informed and reliable insights into Bermuda's treasures. 
Related Articles
Visitors' Reviews andáComments