Junkanoo Beach
This is a small city beach at the west end of downtown Nassau. The western end of Junkanoo beach meets with the beach at
Arawak Cay
. For tourists staying in downtown or docked at the Price George Wharf cruise terminal, it's an easy few minutes walk. So expectedly, the beach is often crowded by cruise tourists, more so during the spring break when you find loud music and parties on the sand. 
Junkanoo Beach is named after the famous annual Bahamian cultural music and dance parade... Junkanoo. The beach is also known as Western Esplanade beach. 
Junkanoo Beach, Nassau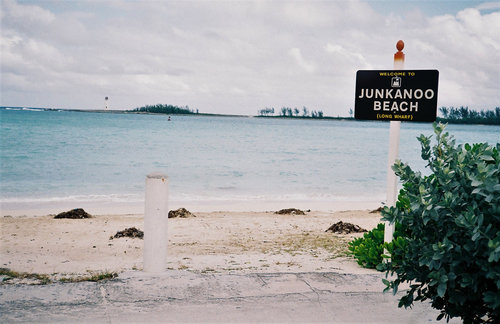 Photo: Mettacitta, flickr cc by-sa 2.0 
Although the beach is small, it's usually clean (unless party makers have left behind trash and the beach has not been cleaned). And the water is clean and clear too and good for swimming. On Saturdays, you will often find Bahamian families enjoying picnics at the beach. 
There are benches along the beach. The beach overlooks Nassau harbor and the cruise ship berths at Prince George Wharf cruise port. You can see cruise ships coming in and going out. A good place to enjoy the breeze and soak in the views of the harbor. 
Junkanoo Beach, Nassau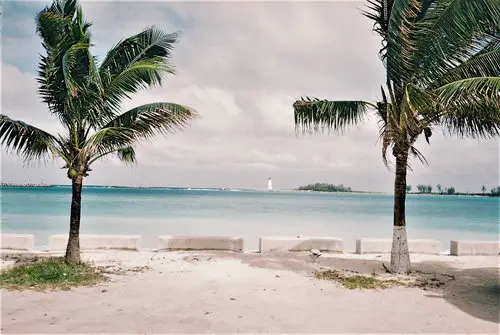 Photo: Mettacitta, flickr cc by-sa 2.0 
There are several beach bars and food stalls on the beach. The one which is quite popular with the cruise passengers is 'Tiki Bikini Hut' located right on the beach. Other than nice cocktails and spirits, it offers burgers, fritters, barbecue items, jerk chicken and Bahamian style lunch with rice. Try to take a table in a shaded area, listen to the music and enjoy your drink and food. They also offer free wifi. You can find more information about Tiki Bikini Hut under
Top Cheap Eateries in Nassau
. 
Tiki Bikini Hut on Junkanoo Beach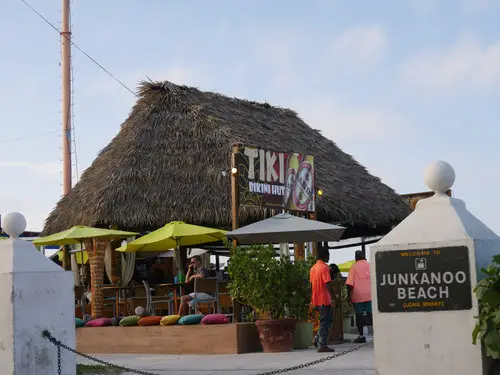 Photo: RaksyBH, Shutterstock 
Loud music often keeps coming out of the food and drink stalls on the beach. Vendors selling almost everything here would keep asking you to buy... can be quite annoying at times. You can get chairs and umbrellas on rent, hair braiding done, get a massage or buy trinkets from these vendors. 
Overall, it's a lively beach and often full with tourists enjoying drinks and partying. If you are looking for a quieter beach or a longer sandy stretch then this one is not for you. 
Food huts at Junkanoo Beach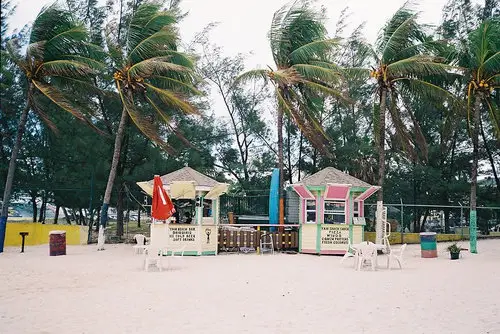 Photo: Mettacitta, flickr cc by-sa 2.0 
Junkanoo beach is one of the few beaches that has public washrooms and changing facilities. Being a public beach, there is no entry fee to Junkanoo beach. 
The beach is located on West Bay street in downtown Nassau area. From the cruise terminal it's about 1km away and will take about 15-minute walk past many shops and restaurants. As you come out of the cruise terminal, turn right (i.e. towards west) and keep walking... you will also walk past the British Colonial Hilton Hotel and the beach is located shortly after that. 
Road Map/Location - Junkanoo Beach 
If you want a quieter beach option and at the same time like to remain close to the cruise terminal, then you can avail the All Inclusive Day Pass from British Colonial Hilton Hotel which has a private beach adjacent to Junkanoo beach. The day pass costs $100 for an adult and includes $40 food and beverage credit. You can also use the beach chairs and umbrellas at the beach. 

By Raj Bhattacharya 
Raj, a seasoned travel writer and Bermuda destination expert, has extensive global travel experience. This website reflects his profound insights, garnered over nearly two decades of dedicated findings and research on the island. Raj has assisted countless Bermuda-bound visitors by providing direct, personalized responses to their queries and imparting his wealth of knowledge through this platform. This site serves as an indispensable guide for those seeking informed and reliable insights into Bermuda's treasures. 
Related Articles
Visitors' Reviews and Comments