Arawak Cay - The Fish Fry, Nassau
Arawak Cay is a large sand based area located on West Bay Street along the shoreline and was built in 1969 when the Nassau harbor had to be dredged and that resulted in large extracted sand. It was named after the original West Indian inhabitants (Arawak Lucayans) who once lived in various parts of Bahamas including New Providence Island. The place was quickly occupied initially by few Bahamian eateries who started selling authentic Bahamian seafood. 
Arawak Cay (Fish Fry), Nassau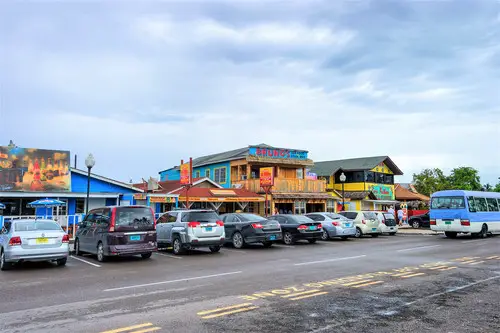 Photo: Dee Browning, Shutterstock 
Over time numerous restaurants have come up here making it a favorite place for local families and tourists to visit, have local food and enjoy picnic at the beach located right across. 
Due to its popularity of local seafood, Arawak Cay is also popularly known as 'The Fish Fry'. You get all sorts of Bahamian seafood here at reasonable prices including conch fritters, conch salad, snapper fries, grilled shrimps or lobsters served with cornbread and cheese and other local dishes like jerk chicken etc. 
Conch fritters served with cocktail sauce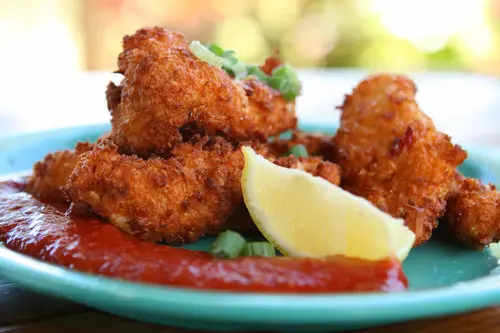 In drinks try out the local Kalik or Sands beer that are hugely popular here. Or try out the local cocktails Bahama Mama (blend of rum and coconut flavors, orange and pineapple juice, crushed ice) or Sky Juice (gin with coconut water, grated nutmeg, cinnamon, sweet milk etc.). 
Oh Andros... one of the best eateries at Fish Fry, Nassau 
Photo: r0sss, cc by-nd 2.0 
Arawak Cay is a great place to meet with locals. Feel free to chat with them and know about their life. Once you are done with your food, take a plunge into the water. There is a porch here where story telling takes place at times, also an open stage and an open seating area for concerts. If you are lucky you can see the Junkanoo troupes practicing for Boxing Day or New Year Junkanoo parade. 
Location: Western Esplanade, West Bay Street (opposite Fort Charlotte), Nassau (about one mile west of downtown Nassau)... you can walk from cruise terminal or downtown. 
Road Map Location of Arawak Cay - The Fish Fry 
Related Articles
Visitors' Reviews and Comments