Best Budget Restaurants
Nassau & Paradise Island, Bahamas
Nassau and Paradise Island are not inexpensive places for a vacation and food is also predictably priced on the higher side in most eateries. For those looking for budget control however, some local eateries do offer reasonably priced food. If you walk along Bay Street or go to Junkanoo beach near downtown Nassau, you can see vendors selling all kinds of local food from stalls and tents including locally popular conch fritters, conch salads, jerk chicken, rice n peas and lot more to fill you for a paltry $10 to $15. 
Two of the most popular places for locals favorites are
Arawak Cay
(also popularly known as Fish Fry) located less than a mile from Downtown Nassau and
Potter's Cay
located below the bridge to Paradise Island where the Bahamas Ferries leave from. Both these places are full of local eateries and shacks selling locally prepared seafood and other dishes. 
Arawak Cay (Fish Fry), Nassau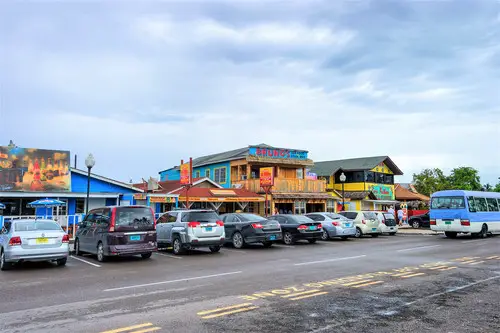 Photo: Dee Browning, Shutterstock 
In terms of cuisine what you should realistically expect is mostly local Bahamian food (including popular conch fritters served with cocktail sauce and conch salads) with Jamaican and American comfort food variants too… only a few of these restaurants will serve Mediterranean and Chinese food. 
Conch fritters served with cocktail sauce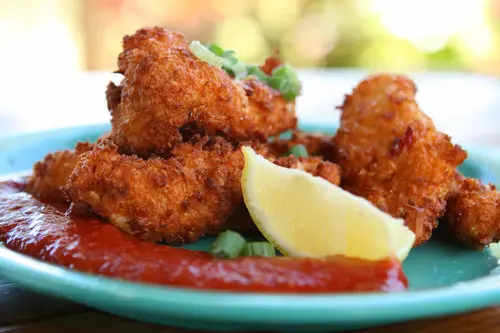 Most of these restaurants accept only cash though some do accept credit cards. These are all budget eateries that are known for their delicious affordable food and not their ambience and frills. 
Conch Salad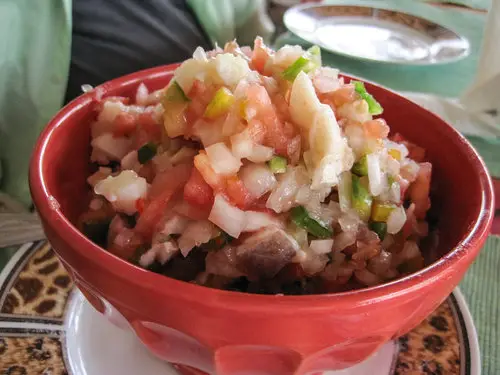 Photo: sailn1, flickr cc by 2.0 
Below are the best restaurants in Nassau and Paradise island by popularity. 
Bearded Clam Sports Bar
The Bearded Clam Nassau edition is not very old... it started on 25th may 2015 though the original branch in Belize started in the late 90's. This is a smartly managed place though it doesn't look posh... the business has its own catchy website, Facebook and integral accounts and all of them remain updated with latest offers. The drinks here are pretty popular... especially shocker (white rum, gin vodka, pineapple, cranberry) and Wet Lizard (coconut rum with pineapple and curacao) and clam rummer (banana, mango, pineapple, white and gold rum).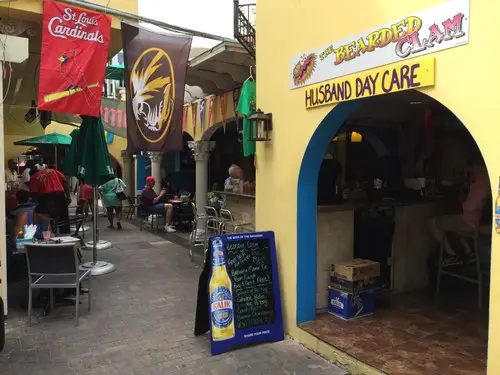 Photo: Bearded Clam, Nassau 
There is also a range of frozen drinks, beers and signature shots. Every day there is a special dish and a signature drink on which you can avail discounts. 
Food is mostly Bahamian and seafood with a healthy dose of comfort fare like fish n chips and Mac n Cheese. Dishes are consistently tasty though the staff tends to mix up the orders sometimes. The top draws here are conch balls, jerk wings, nachos and tacos. 
There is free Wi-fi and a wall plastered with signatures and comments from happy customers. This restaurant accepts cards and is child friendly. There are two entrances in this restaurant... you will find the Bay Street entrance across from Red Bull and the wharf entrance across from the cruise ship terminal. Bearded Clam flaunts a lot of signage and colorful SEC flags so spotting it shouldn't be an issue. 
Address: 
International bazaar Bay Street, Tucked in the arcade, Nassau 
Hours: 9.00 a.m. to 5.pm (Sunday to Thursday) 
9.00 a.m. to 8.00 p.m. (Friday and Saturday) 
Phone: 242-323-4455 
Daiquiri Shack
As the name suggests, this place is best known for its range of daiquiris. Locals say that this is the best place in Nassau to grab a daiquiri and tourists mostly agree. The daiquiri shack is affordable and uses mostly copious quantities of fresh fruit in their daiquiris giving them an extra edge. The staff is always smiling and service is brisk even if they falter on accuracy sometimes. 
The best thing is that this restaurant sits amongst the overpriced hotels and touristy strip of Cable beach and offers drinks and food at unbeatable prices…this also means that the Daiquiri shack is crowded at all hours so it becomes difficult to grab a seat. The staff are really nice and they will sometimes top off your drinks with more pureed fruit and drinks for free. 
You can choose your own combination for a customized daiquiri and they will make it for you. The Miami vice and mango daiquiri are the top sellers. The food is mostly comfort food…you can have sandwiches, wraps, cheese burgers and fries. Most customers who come here choose to have two or more daiquiris and these are kind of filling.  
The storefront has unique décor with foreign vehicle number plates and the ambience is quirky and cute... you will mostly have a great time here. Try sitting in the outdoor seating area, it has a nice vibe. This place is also wheelchair accessible. They take cards but their machines are unreliable so better bring cash. 
Address: 
14995 Gulf Boulevard 
Nassau New Providence Island 
Hours: 9.00 a.m. to 11pm (everyday) 
Phone: +1 727 393 2706 
McKenzie's Fresh Fish and Conch
This is one of the Go to destinations for Atlantis guests who are looking for a way to escape the hefty Atlantis food price tag.  As the name suggests McKenzie's Fresh Fish and Conch deals basically in ….fresh fish and conch!! It's a 15 to 20 minute walk over the bridge from Atlantis. 
The conch salad here is a must have if you like sweet and spicy flavors…it has mango, lime and pineapple chunks added with diced conch, peppers, cilantro and onion. The mixed fried seafood platter is also nice and so are the conch fritters. Not a fancy place…don't expect table linen and fine wine...but you do get several varieties of ice cold beer. 
On the downside their kitchen closes at 10.00 p.m. so to ensure that you get your choice of food at dinner you have to arrive early around 7 p.m. and place your order. The fish dishes tend to run out fast. If you are a health freak you might not like this place... all the fish options are fried... conch, snapper, hog fish, lobster. These dishes come with rice, macaroni and cheese sides which are all delicious. 
This place is frequented by locals and if you are not a mixer then this shack is not for you…it's not probably recommended to come here after dusk with your family. 
Out of all the fish shacks in this area the McKenzie has the best lighting scheme, best seating area and probably the best quality of food. 
Address: 
Potters Cay Dock Road 
East Bay Street, Stall number 2 
Nassau New Providence Island 
Hours: 10.00 a.m. to 10pm (everyday) 
Tiki Bikini Hut
Interestingly named the Tiki Bikini Hut is a top draw for both tourists and locals. Due to its location, it's a hot favorite amongst cruise ship passengers too. The clientele is a mix of tourists and locals and the ambience as well as staff is friendly. If you pay extra you get comfortable chairs and umbrellas on the Junkanoo beach and unlimited drinks to go with them…this is interestingly titled "The VIP Package". 
Tiki Bikini Hut on Junkanoo Beach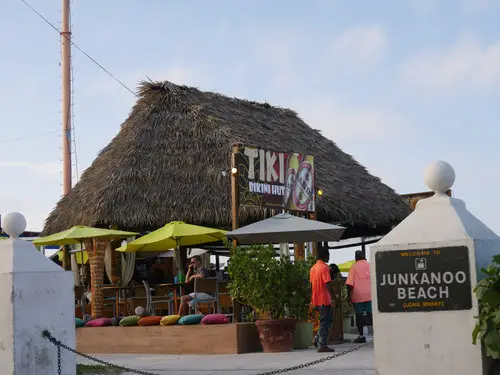 Photo: RaksyBH, Shutterstock 
There is also free Wi fi but it's not very reliable. Sometimes there are nice offers like free coke for kids and free samples of their famous drink Bahama Mama. The menu is mostly Bahamian plus comfort food…you will get jerk chicken, jerk pork, fried conch and hamburgers, cheeseburgers, hot dogs, grilled cheese sandwiches etc. this is overall a good place to go to if you are looking for tasty affordable food and drinks. Also, if you are going with teens or your kids they will like the vibrant atmosphere of beach games and music. 
On the downside it's very crowded almost all the time and the staff are slow to come up with stuff like chairs and umbrellas. Bryon the owner however is unfailingly humble and well mannered. It's recommended that you bring sunscreen, sunglasses, hats and a bottle of water if you want to chill out here for a longish period. 
Very near the Sparta Restaurant 
Phone: 1 242-557-0225 
Hours: open every day from 8 a.m. to 6 p.m. 
Nirvana Beach Bar
If you are fond of snorkeling, sunbathing and relaxing on the beach then it's natural to want to choose a beach bar….a place that sits on the beach and offers refreshments after fun filled beach activities. The Nirvana is on Love beach that's less crowded than the Junkanoo and the Cable beach so you will get a nice peaceful ambience and an abundance of conch shells till noon….most tour cruises roll in after 12 pm and that's when the crowd collects. 
This is a family friendly place and you will see virgin versions of all cocktails. Food is overall good and the specialties here are fried chicken strips, fish fries and conch salad. The daiquiris and beer are good too but everything is a little highly priced in comparison to similar shacks on
Junkanoo Beach
(this one doesn't really have much competition around). 
They provide lounge chairs on your preferred beach location and drinks service at an extra nominal cost. Sometimes they have a local DJ here playing music. Most people who come here opt to snorkeling…there are many coral reefs in close vicinity. 
On the downside if you are from a city then you will mostly expect quicker service and these people operate on island time. They take a long while to get your orders prepared but most of the items are prepared freshly from scratch so that's actually an advantage to some. Be prepared to come with cash as they do not accept cards 
Address: 
West Bay St, on Love Beach, Nassau, the Bahamas 
Hours: open every day from 9 a.m. to 9 p.m. 
Phone: +1 242-327-3617 
Gregory's Mediterranean Delights
If Island food is not really your favorite thing then a simple Mediterranean meal at Gregory's might appeal to you. Though the menu is not very extensive it's different from the usual jerk chicken, conch salad and fresh served at shacks which are comparatively priced. 
Instead what you get here is a decent selection of sandwiches, baguettes, pastries and a coffee bar…a rather healthy menu. The spinach and feta pastry there is quite good…supposedly they are imported here from Greece. The pasta, croissants and the praline cookies are also quite good. 
There are only a couple of tables in here so they get filled very fast and this means that you need to arrive really early to grab a seat. The location is close to downtown area and it's easy to come here for a bite when you are done with your shopping and sightseeing. Incidentally there is a decent selection of vegetarian food here…takeaway is also available. 
The service is a little slow and you will have to wait for some time before your order is served. If you have been to the original Gregory's in Greece then you won't like the standard of service, decry or food here. However if you don't expect authentic Mediterranean and are coming with Bahamian downsized expectations then Gregory's will endear itself to you. The location is very near the pirates of Nassau. 
Address: 4 George Street/ Bay street, Downtown Nassau 
Phone: +1 242 356 7175 
Hours: 7 a.m. to 7 p.m. (Monday to Friday) 
8.00 a.m. to 6 p.m. (Saturday)         
Dino's Gourmet Conch Salad
Conch Salad is one of the most popular meals in the Bahamas and Dino's is one of the most popular places to get it in the West Bay area. Such is the popularity of this small place (they call themselves originators of the tropical conch salad) that there is usually a long queue here by afternoon. 
The salad is freshly prepared right in front of your eyes and it's an enjoyable experience to see all the colorful tropical fruits, pepper, conch pieces etc. being tossed together. 
The coconut based cocktails there are hot sellers too…people usually grab a drink first and then sit sipping that as their order is rustled up. On most days Reggae music plays inside the shack and if you can find a place to sit then you won't regret the experience of waiting. 
On the flip side the ambience isn't all that great and the place is filled mostly with locals. They don't take cards so you have to come armed with cash         
Address: Gambier Village (near Aquafire restaurant) 
West Bay street, Nassau 
Phone: +1 242 677 7798 
Hours: 12 noon to 10 p.m. (Monday to Sunday) 
Pepper Pot
This is a small side street café in Nassau and it serves Jamaican cuisine too in addition to typical Caribbean food. There are filling dishes here like rice with assorted vegetables (cabbage, peas and plantains) along with chicken. The jerk chicken and the oxtail stew are both quite popular and so is the sour sop (a dish made with milk and seasonal fruit juice). The mutton curry is a popular item too and it gets sold out pretty fast. 
The fruit punch range is also quite good. Best thing about this place is that they have a range of non-fried non Bahamian food on offer that's a welcome break for many. The portions are plentiful and the staff will happily pack up your leftovers. 
On the flip side though this place looks a little run down…they charge competitive prices. Don't expect dishes to be dirt cheap and they don't take cards either. The restaurant closes at 5 p.m. and the seating isn't that comfortable. Food is rather on the spicy side and you need to specially inform the staff if you have a problem with that. 
Address: King Street 
Downtown Freeport Nassau 
Near the Towne Hotel and Balcony House 
Phone: +1 242 323 8177 
Hours: 9 a.m. to 5 p.m. (Monday to Saturday), (Sunday closed) 
Potter's Cay Fish Shacks
(Blue Hole and Twin Brothers) 
This shacks sit directly under the bridge that goes up to Atlantis resort. You need to understand that this is not a tourist area so visiting the Potters Cay Fish Shack after dusk is not such a great idea. Even during the day, it's much better to take a cab till this point than walk until the shacks. The shacks sell local fare like conch fritters, conch salad and fries... there are a number of shacks in this area and most of them are good and of comparable quality. 
Potter's Cay, Nassau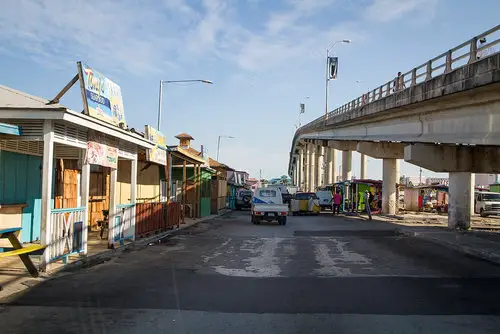 Photo: BID Ciudades Sostenibles, flickr 
The shacks in Potter's Cay have meager seating arrangements and locals throng about them most of the time. Cold beer is also available and mixed meals of seafood with rice, beans and salad are quite popular. Apart from the fritters and the salad you can also try the cracked conch and the grilled snapper. As for the shacks... Mc Kinzie is the most popular one (reviewed earlier) while the Twin brothers and Blue Hole come a close second. You need to be interested in local culture and not be a food snob to enjoy the cuisine at Potters Cay. 
the roads here go up to a fishing area ad a wharf….you can get a good view of many fishing boats and local fishermen sizing up their catches. Sometimes you will see tourists with cameras hanging around…this definitely is a good spot for photography. A good tip for guests staying in Paradise Island would be to ask the cab driver to drop them to Potter's Cay (instead of the hotel) after a day in downtown. Make sure that you walk back to your hotel before dusk though... a couple of hours is good enough to explore potters cay. 
Address: 
Potters Cay dock road, Line of shacks 
Under bridge leading to Atlantis 
Near the connector between Nassau and Paradise Island 
Hours: open from 9 a.m. everyday 
Check for timings of individual shacks 
Sonia's Jerk
Sonia's Jerk is actually a big white food trailer that's run and owned by a friend local lady named Sonia. Hostelling items here include fish fry, jerk chicken, bbq ribs along with her signature hot pepper sauce which she is quite generous with. The lady will talk with guests and even sit down to eat and drink with them which definitely makes for an interesting local experience. You will also get local dessert dough balls, noodle Kugel and ice cold beer here and the friendly owner is happily forthcoming with free extra portions….and all the food is freshly prepared. 
On the flip side even though this is a roadside eatery the prices are comparable to a small downtown restaurant. The ambience is not much and the seating isn't comfortable….its only a few lawn chairs and some picnic tables. If you like your food mild then Sonia's fare is probably not for you. As must have guessed….she takes only cash. Locals come here often and that may or may not be a disadvantage for you. 
Address: 
Chippingham, Long Wharf Beach, Right next to Fish Fry 
Nassau New Providence Island 
Phone: +1 242 448 1914 
Hours: 2 pm to 9 pm (everyday) 
Bruno's
The specialties here are Field Salad (pepper, cherry tomato, onion with lemon zest and local garnishing's), Snapper and Jerk chicken. The fish dish here comes with sides of rice, macaroni, coleslaw and free drinks. You can also have comfort food like Mac and Cheese, Bahama Mama and Sky Juice. 
There are a range of localized cocktails too like Bahama Mama and Sky Juice apart from a generous supply of Kaliik beer. If you like local music then the ambience will suit you…its either Bahamian guitar or country music here. 
The food here is mostly made to order and everything is prepared from scratch so you need to wait for some time before your order arrives. You will have the option of sitting outside or in the rather cramped indoors which makes the former a better choice. Bruno's has stiff competition from the other Fish Fry restaurants around so sometimes you might find it empty which is really a blessing. Make sure to carry cash when you visit Bruno or any other Fish Fry restaurant. 
Address: Fish Fry (Arawak Cay) 
Downtown west Nassau 
10 minutes from the Palm Hotel 
Hours: 9 a.m. to 9 p.m. (Monday to Saturday) 
Linda's
X CLOSED 

Another rather popular standalone local food restaurant in Nassau is Linda's and the lady is hugely popular amongst both locals and tourists for her friendly demeanor. The conch fritters here are the star of the show followed by the conch salad and the curries. Other popular items are predictably the jerk chicken and jerk turkey along with steamed ribs and peas. Linda's is very affordable and is easily one of the cheapest places in Nassau to get good local food. 

 

Address: Woodes Rogers Walk 

Festival place, Downtown Nassau 

Phone: +1 242 429 1566 

Hours: 8 a.m. to 10 p.m. everyday 

 
Imperial Cafeteria
Though named Cafeteria, the Imperial Cafeteria is a local style Bahamian restaurant that's based in downtown and runs till pretty late night. The chicken in da bag, rice and peas, fried and baked chicken are the top sellers here along with delicious sides like coleslaw, chicken Caesar salad. The rice is tasty, hot and flavored and there are vegetarian as well as non-vegetarian versions. This is a family friendly restaurant which has good views of the colonial Hilton hotel. 
On the flip side the Imperial lacks the warmth and personalized service that marks so many of the small Nassau eateries. Eating here will not be a culturally educative experience but if you are roaming here in downtown Nassau and want to grab a dinner late at night then this is one of the most affordable and convenient places to do so. This is again a cash only place…don't come with high expectations about ambience. 
Address: 
Bay Street, Festival place 
Very near Pompey Square, Downtown Nassau 
Phone: +1 242 322 4522 
Hours: 7 am to 5 am everyday 
Andros Grill and Native Dishes
Finally, Andros represents an eatery in a very in demand location... the Lynden International airport. If you are flying in and around Bahamas then an airport meal must be something that's on your agenda by default. Andros is one of the best places to have that meal. 
Some dishes here are truly exceptional and they are pork chops, snapper, fish fingers, grouper and the curried chicken. They serve good light dishes too like the breakfast sandwich and the salad platters... these are convenient when you need a light morning meal. The main meals come with sides of Cole slaw, beans, rice and potato spicy salad. 
True to its name... the dishes are all native and even the sauces like BBQ sauce is homemade. All the sauces are pretty spicy so be careful. They take cards but it's the Bahamas and systems often fail. Look for the domestic section of the airport... Andros is not far from Wendy's which is another popular and more expensive eatery. This is one of the best places to kill those long waiting hours for a flight. 
Address: Domestic Terminal 
Lynden pindling international airport, Nassau 
Phone: +1 242 468 1008 
Hours: 8 a.m. to 2a.m everyday 
Related Articles
Visitors' Reviews and Comments