The Cove Atlantis, Autograph Collection
Paradise Island, Bahamas
Category: Luxury 
This is arguably the best Atlantis hotel out of all in Paradise island when you consider the amenities, the elegance and ambience, and having one of the loveliest beaches right across the hotel ... the Cove beach. In fact another great beach to the west - the Paradise beach is also at a short walking distance. Both these beaches are relatively free of crowd compared to the popular Cabbage beach. 
As you walk into the property you come to open walk ways and open air lobby which boast of sheer elegance. While the hotel is perfect for family stay offering all Atlantis facilities, activities and entertainment to its guests, it has also carefully designed features that allow adults to enjoy in privacy away from kids... for example the adult-only pool with DJ and two bars. 
The Cove Atlantis, Paradise Island, Bahamas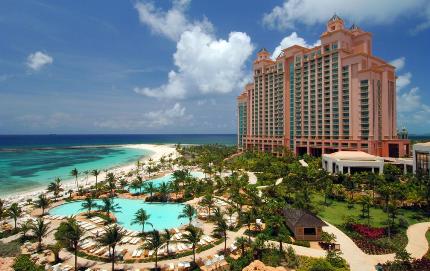 Rooms
The property has a large number of suite-style rooms and of several types. Free wi-fi is available in all rooms as well as in the lobby area. 
Ocean Suites (size 670 sq ft, floors 1 - 3) can have either one king size bed or two queen size beds, a step down living area with sofa and offers full view or partial view of the ocean. The beds are raised so that you get ocean view right from your bed. There is walk-in closet, working desk with chair, a large bathroom with twin vanity basins, separate shower and bathtub. Other in-room amenities include minibar, safety deposit box, phone, air conditioning, hairdryer, iron, toiletries, DVD Player, slippers, flat-screen TV with cable channels, iPod dock, towels, linen etc. 
Deluxe Ocean Suites are similar to Ocean Suites, however they are located in higher floors and have French balconies with spectacular full view of the ocean. 
Indigo Suites are even larger (size 924 sq ft, floors 8 - 15) and have two balconies each. You get wonderful view of the ocean from the French balcony and view of Nassau Harbor or the Atlantis waterscape from the other. Other in-room amenities are similar to that of Deluxe Ocean Suites. 
Deluxe Ocean Suite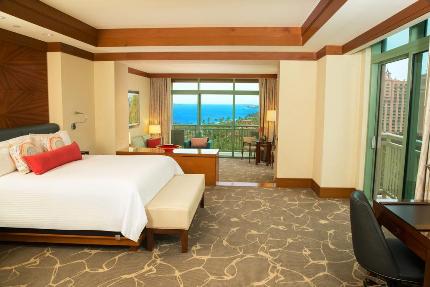 Azure Suites are of two types: two-bedroom (1958 sq ft) or one-bedroom (1998 sq ft) suites. You get floor to ceiling water views almost from all corners of the suites. 
There are two large separate balconies. These suites are located on the top five floors of the hotel and have marble foyers. The bathrooms are fitted with rainfall showerheads. And of course all other amenities of previous suites are also available here.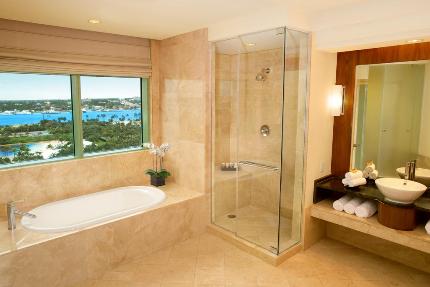 Sapphire Suites are also of two types - one-bedroom (1700 sq. ft.) or two-bedroom suites (2460 sq. ft.). Other than all the standard amenities, the main features of these luxuriously large suites are the floor-to-ceiling glass walls offering sweeping views of the sea and the beaches, exclusively designed glass lights, balcony, hand-painted original artwork, extra luxurious master bathroom etc. 
And then for those aiming ultra-luxurious stay, there are two Presidential Suites with two master bedrooms and bathrooms, executive office area, separate living room, terrace balconies, personal butler service etc, and Penthouse Suites with two master bedrooms and bathrooms, wraparound views, full service kitchen, executive office and more along with Limousine transfer services. 
With any of the above options of suites, you can further upgrade to The Club level to get many personalized services and amenities such as use of the Club Lounge which has sweeping views of the ocean, golf, spa and cabana bookings, dedicated concierge for restaurant, free breakfast, snacks during the day and cocktails in the evenings etc. 
Dining
While being an Atlantis guest you have access to any of the 21 restaurants and 19 bars and lounges in the Atlantis resort complex which you can walk across to, the Cove itself has two nice in-house restaurants that are conveniently located. The Mosaic is a buffet style restaurant serving Mediterranean cuisine and has cooking stations for you to order for something special. It serves breakfast, lunch and dinner, and changes its ambiance through the day and evening through change in lighting colors. 
77 West is more suitable for intimate romantic dining and serves a fusion of South American and Caribbean cuisine. You can try out soft-shell crab in starters and follow it with Bahamian lobster or Chilean roasted bass, and finish it with a Bahamian favorite dessert like the guava tart. 
Other facilities
Most suites also come with free guest access to the facilities within the Atlantis resort complex such as the Aquarium spread across 14 lagoons with over 50,000 fish and marine life, waterscape of Atlantis with slides, many pools, river rides with rolling waves and rapids, access to Dolphin Cay for dolphin and sea lion interactions as well as swimming with them etc. 
The guests also get free access to the following: 
Three wonderful beaches (the Cove beach is right across the hotel), 
Casino of Atlantis which is one of the largest in Caribbean (you get free Casino lessons as well), 
The Atlantis Fitness Center (two guests per room per day), 
Movie theater, 
Availing the shuttle buses offered by Atlantis to all its guests. 
The hotel has an in-house boutique shop - Escape. You can however visit the Marina Village (at walking distance) which has all kinds of retail stores. 
There are three outdoor pools in the Cove property one being an adult only pool with bars and cabanas. The 9,000 square-foot Cove Pool has two raised infinity pools at its two ends, free floating daybeds, outdoor gaming pavilion, pool cafe offering snacks and cocktails, and poolside service that completes the experience. And there are baths, sauna, whirlpool etc. You also get access to Ocean Club Golf Course and Mandara Spa at Atlantis (need an appointment for spa though). 
Overall Opinion
The Cove Atlantis property is clean and beautifully manicured. It is one of the most sophisticated hotels of Atlantis. Rooms and the bathrooms are really large and spacious. However some rooms require refurbishing as the mattress, window shields etc are showing signs of age. 
You pay $70 for full hot breakfast which I think is quite pricey. You can however opt for $40 continental breakfast which hardly has anything to satisfy your appetite (only fruits, cakes, muffins, cold cereals etc). The in-house restaurants offer nice food though in lunch and dinner. 
Service level is somewhat mixed... at times you will find extremely courteous and smiling service, while other times you may encounter a waiter who can be a bit indifferent. But overall the service is good. 
A great bonus is that three beaches are close by and one (the lovely Cove beach) is steps away from the hotel and where you can get all beach amenities like lounge chairs, umbrellas etc. Another advantage is while the hotel is great for families with kids, the adult only pool with bar also offers for privacy for adults to stay away from kids interference. 
Overall a very good hotel for its class although it may appear to be a little pricey. Sometime great deals are available online when the property becomes a real value for money. 
Rates provided by booking.com 
How to reach
The Cove Atlantis is located in Paradise Island which is connected to Nassau by bridges. From the Nassau airport the resort is about 21kms by road and takes about 35 minutes to reach. You can easily take a taxi from the airport and get to Cove Atlantis. Alternatively you can also book hotel's transfer services while booking your room at the hotel. 
Road Map
Contact Info
The Cove Atlantis, Autograph Collection 
1 Casino Drive, Paradise Island N-3728 , Bahamas 
Phone: +1 242 363 3000 
Related Articles
Visitors' Reviews and Comments