Snorkeling in Nassau
Best Sites, Tours & Operators
There are several offshore shallow reefs areas in an around Nassau and Paradise Island that are teeming with colorful fish and corals. They are excellent for snorkeling. Common sightings include brain corals, sponges, sting rays, groupers, sea turtles, and angelfish etc. 
Snorkeling at Athol Island site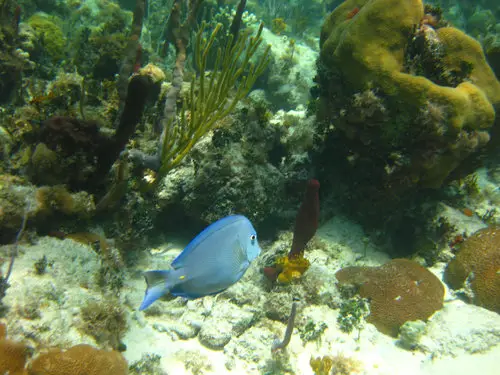 Photo: Paulo O, flickr, cc by 2.0 
Below are some of the best snorkel sites in and around Nassau: 
Rose Island Reefs 
Snorkel cruises operate to Rose Island which is located 3 miles east of Paradise Island. The island was owned by Claude Turner for 36 years until 2005. This is where the scene of a Vulcan Bomber plane's crash landing in the James Bond film 'Thunderball' was shot in 1965. 
The island has several shallow reefs full of tropical fish. The wreck of Alcora - a 130ft freighter which once used to smuggle drugs and drowned in 1983, is also a great dive site here. 
Athol Island 
This 2-mile long island lies only 0.75 miles to the east of Paradise Island. There are snorkel cruises that take tourists to the nearby water areas of Athol Island that are excellent for snorkeling... you can see varieties of fish and corals here. The island itself is uninhabited and part of the National Marine Park. 
Corals at Athol Island snorkel site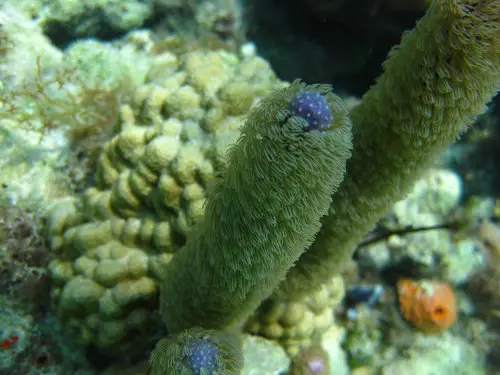 Photo: Paulo O, flickr, cc by 2.0 
Gambier Deep Reef 
The reef is located off north western coast of New Providence Island and near Gambier village which is about 10 miles from downtown Nassau. The deeper reaches are suitable for divers but the shallow reefs are are excellent snorkeling as you can spot myriad of colorful fish. 
Love Beach Reef 
Located west of Gamiber Village in north-west New Providence, the offshore water areas of this picturesque beach has 40 acres of protected reef area teeming with marine life. You can see parrot fish, spiny sea urchins, fan and brain corals, angelfish, damselfish, snappers, butterfly fish etc. 
Goulding Cay Reefs 
Located off the west-end coastline of New Providence and close to Jaws beach, this cay is ringed with coral reefs that are home to all kinds of colorful tropical fish. During low tide the reef is only 9ft below the water surface and extends to 30ft depth. 
Little Elvis 
This reef is located off the north western coast of New Providence. Other than plant and fire corals, the reef is full of eels. 
School House Reef 
This reef is located off the south western coast is abundant with yellowtail snappers, blennies etc. 
Nari Nari 
This reef is located near the western tip of New Providence and a great place to see sting rays. This is also the site for the aircraft wreck of Cessna which was sunk for the movie Jaws IV. 
Below are some of the top snorkel operators in Nassau and the tours they offer. You can also go through this
Viator Website Page
where you can get more options, check out the tour offerings, user reviews, rates and directly book the tours of your choice. 
On a boat for offshore snorkeling, Nassau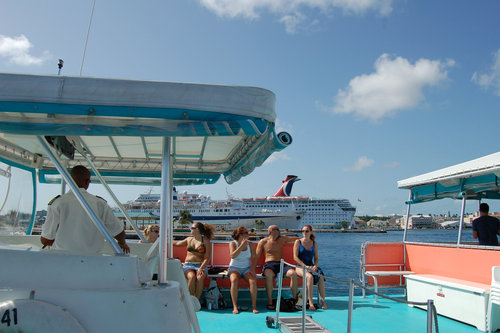 Photo: Dave Herholz, flickr, cc by-sa 2.0 
Stuart Cove's Snorkel Bahamas 
One of the best operators in Nassau, they offer complimentary pick up and drop from/to your hotel or cruise ship. They are located at the South Western end of New Providence. While you reach their base, you can pick up sun tan lotion, snacks, candy etc for your trip. The boat has ice cooler and drinking water. They usually cover three snorkel locations in each trip. 
Stuart Cove's Bus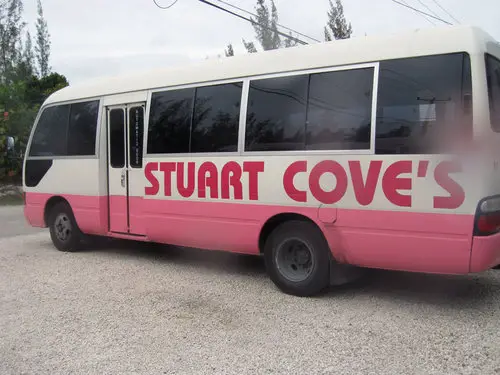 Photo: r0sss, cc by-nd 2.0 
The first location is a shallow reef area like Goulding Cay, Nari Nari, School House or Little Elvis. The second is a wreck snorkeling site. And third and most exciting is snorkeling to see feeding of reef sharks. 
Indicative price: $79 Adults, $39 Children under 12. They make two trips daily. Snorkel gears and instructions are included in price. 
Website: www.stuartcove.com 
Blue Hole Watersports Snorkeling 
Run by a local Basil Taylor and his crew since 2001, the center is located at British Colonial Hilton Hotel and about 15 minutes walk from the cruise terminal at Nassau. Three snorkel cruises are operated daily and for a duration of 2 hours each including travel time. 
They will take you to some of the great reef sites in their small boat which has a capacity of up to 10 persons. All are required to wear life vests so even first timers should have no problems. You can expect to see a lot of groupers, Yellow Tail Snapper, Queen Angel Fish, Sergeant Major, Parrot Fish, Grunts, Trumpet Fish etc. 
Indicative Price: $55 per person (include snorkel gears, soft drinks and water). 
Phone: (242) 325 5338 
Website: www.blueholewatersports.com 
Black Beard's Cay Stingray Adventure 
This is a unique experience where you can swim with the sting rays and even feed them right of your palm. The boat will take you through Nassau harbor to north east and in about 25 minutes you will reach the Blackbeard's cay - a private island where you will commence your snorkeling in the crystal clear water around. There are lots of gentle stingrays in the waters here. 
The tour takes place daily and duration is 4 hours. 
Indicative price: $59 per person 
Phone: +1 242-328-7666 
Seahorse Snorkeling and Sailing 
This is a 3.5 hours tour operated twice daily (morning and afternoon). You will sail on a catamaran to reef sites and experience wonderful reef snorkeling. Snorkel equipment and instructions are included and so is a rum punch while returning. There is also a cash bar on board. They also offer charter snorkeling. 
Price: $65 for Adults, $30 Children Under 12 
Flying Cloud Sailing and Snorkeling Cruise 
You will be taken from Paradise Island ferry terminal to Rose Island beach by a 57ft catamaran in about 20 minutes where you can swim and snorkel on the reef. Snorkel gears and instructions are provided. Tour can be of 3.5 hours or 5.5 hours duration depending on how much snorkeling time you want. The 5.5. hours package also includes lunch. 
Indicative Price: 3.5 hours tour - $70 per person, 5.5 hours tour - $95 per person. 
Website: www.flyingcloud.info 
Pearl Island Beach Day and Snorkeling 
The boat leaves from Nassau downtown port and takes you to Pearl Island in about 30 minutes. Although this is mainly a beach day package comprising of relaxing on a beach, enjoying barbecue, cocktails from the beach bar, traditional Bahamian lunch etc, there is also provision for snorkeling at extra cost. Their trained guide will take you too reef area excellent for snorkeling. Additional package for snorkeling includes all gears. 
Indicative Price: Adult $65, Child (4-12) $35 ... snorkeling tour extra. 
Website: www.pearlislandbahamas.com 
Related Articles
Visitors' Reviews and Comments