Marine Habitat in Atlantis, Bahamas
This is one of the largest aquariums in the world and of course one of the best. If you are in Nassau or Paradise Island, it would be a shame if you missed it. But being so vast and spread out encompassing 14 lagoons and caves, it is almost impossible to cover the whole of it in a day. 
Atlantis Aquarium, Paradise Island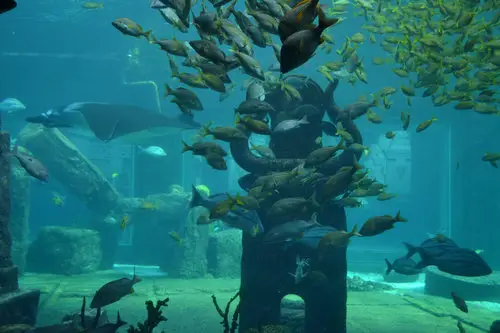 Photo: bobbsled, flickr, cc by-sa 2.0 
Marine Habitat is located within Atlantis Resort complex in Paradise Island and is owned and managed by Atlantis. The aquariums here together have over 50,000 marine creatures from more than 250 species showcased in more than 8 million gallons of ocean water. Marine life here includes sharks of different types, eels, lionfish, barracuda, sting and eagle rays, piranhas, endangered alligator gars etc. 
Each area or lagoon has its own theme, ambience and set of aquatic animals. As you walk through, you will be amazed by the architecture, rock structures, simulated ruins and of course the awesome marine life. For example in a section named 'The Dig' you get to visualize the Lost City of Atlantis - a continent that was lost 11,000 years ago. This section houses Lionfish, piranhas, jellyfish, six-foot Moray Eels, groupers of various types and different tropical fish. 
At The Dig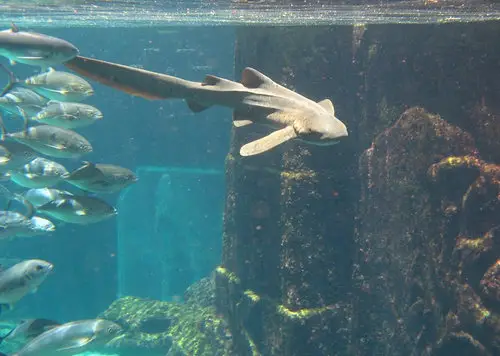 Photo: Philip Nelson, flickr, cc by-sa 2.0 
In 'Mayan Temple Shark Lagoon' you can slide right through the lagoon in a glass enclosed tube and watch the sharks pass by within handshaking distance. In 'Ruins Lagoon' you go back in time and get reminded of ancient Greece and Rome as you see the underwater ruins. Here you can see thousands of pelagic fish including jacks, snappers, and spiny lobsters. 
Manta Ray 
Photo: Jon Worth, flickr, cc by-sa 2.0 
The 'Predator Lagoon' houses Great Hammerhead sharks, Caribbean Reef sharks, Barracuda, giant groupers and Smalltooth Sawfish. There is a 100-foot transparent underwater tunnel here. You can walk through it and see the large predators face to face from inside the tunnel. 
Underwater Tunnel in Predator Lagoon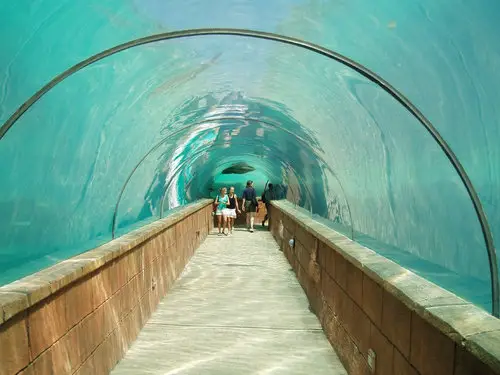 Photo: Nugget04, flickr, cc by 2.0 
There is  also a 'Rope Bridge' in the middle of the Predator Lagoon and you can walk through that as well and see Hammerhead Sharks and Red Mangroves. 
Rope Bridge at Predator Lagoon 
Photo: Nugget04, flickr, cc by 2.0 
You can see the strange Nurse Sharks in 'Reef Lagoon' while the 'Stingray Lagoon' as the name suggests, showcases many sting rays. 
How to visit
If you are staying at one of the Atlantis Resorts, the Marine Habitat is included in your stay. Others would need to buy a day pass which is available at Discover Atlantis Desk in Coral Towers - a Resort within the Atlantis resort complex. Note... limited day passes are issued depending on the total number of in-house guests the Atlantis has on the day. 
Road Map Location of Marine Habitat 
Marine Habitat is open daily 24 hours. 
For more info, visit the website: www.atlantisbahamas.com/thingstodo/marinehabitat 
Related Articles
Visitors' Reviews and Comments