Aquaventure Waterpark at Atlantis
Atlantis has created an amazing waterscape in its resort complex in Paradise Island which is one of the top 25 such waterparks in the world. It can be experienced by hotel guests as well as general public. The waterscape spreads through lush tropical foliage across 141 acres of water area. 
It has high speed water slides, towers, a mile-long thrilling river ride on tubes through high rapids, waves and surges, 20 swimming areas, 11 swimming pools, great water-play fort for kids and more. And of course there are lovely beaches. 
The water park has 18 water slides of different types. The 200ft body slide takes you down by 50ft to plunge into a lagoon while another one simulates a roller coaster slide through twists and turns. The 'Leap of Faith' slide starts from the top of Mayan Temple and slides almost vertically down at a breakneck speed through a clear acrylic tunnel into a lagoon full with exotic marine life. 
Mayan Temple Water Slide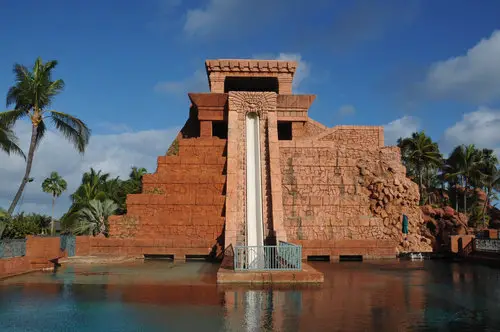 Photo: JERRYE AND ROY KLOTZ MD, cc by-sa 3.0 
There are two river rides... 'Lazy River' - a quarter mile loop, and 'The Current' - a mile long river ride. At 'The Current' river ride, you will be automatically taken back up to the water slide at the end of the ride with water conveyors so that you never have to leave the water to get back to the starting point. 
The Lazy River Rapids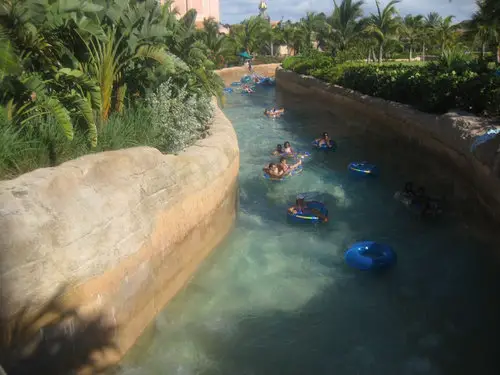 Photo: Philip Nelson, flickr, cc by-sa 2.0 
All these rides and waterpark facilities including the beaches are included in the stay for guests of Atlantis Resort. However the outsiders would need to purchase a day pass which are available at Atlantis Adventures Tour center located outside Coral Towers and overlooking the marina. Aquaventure day pass can also be booked online through the Atlantis Website. 
Note that the day passes are limited and during the peak season, Atlantis stops issuing day passes to general public in order to ensure that experience of hotel guests are not adversely affected. However they continue to issue the passes to cruise partners and hotel partners and affiliates. 
Road Map Location of Aquaventure, Atlantis 
Aquaventure is open daily during the day time. Pools open at 9am and slides at 10am. They close before it's dark (usually by 7pm in summer and 5pm in winter). 
Aquaventure day pass (including beach access) costs $145 (price can vary depending on season). 
For more info, visit the website: www.atlantisbahamas.com/thingstodo/waterpark 
Related Articles
Visitors' Reviews and Comments