Clifton Heritage National Park, New Providence
This is a 208 acre national heritage park located at the western end of New Providence Island. The park was opened in April 2009 under the management of Clifton Heritage Authority to showcase the cultural, ecological and historical heritage of Bahamas. 
As you walk along the trail through this beautiful park full of lush vegetation you will come across many remnants and replicas of the past that played important role in the life of Bahamians - you can find the traces of the Lucayans, the Loyalists and the Africans that reflect the original inhabitants, the original settlers and the slavery period respectively. 
Clifton National Heritage Park, Nassau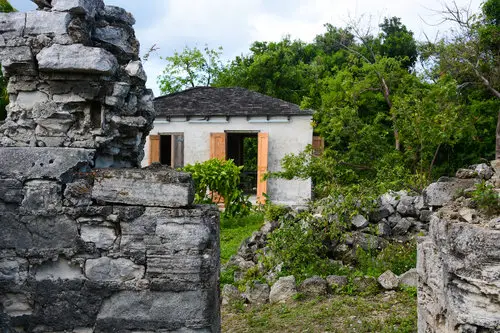 Photo: photravel_ru, Shutterstock 
Among various exhibits you can see replica of the log huts with palm thatched roofs used by the Lucayans (original inhabitants who lived in Bahamas since 1000 century long before Christopher Columbus arrived in 1492). 
You will reach rocky shoreline, beautiful beaches, dunes, coastal wetlands and be able to enjoy wonderful views from the cliffs. Turtle Pen is an rocky coastline in the park which once used to be the place where many turtles would be spotted. Now there is an open deck to soak in the views. 
Beach at Clifton National Heritage Park, Nassau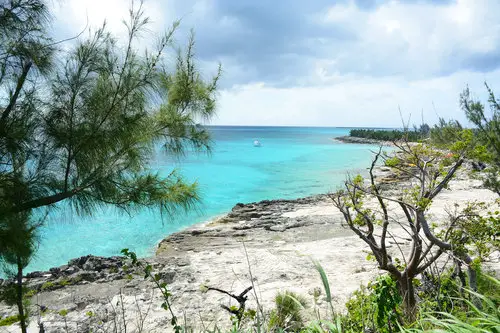 Photo: photravel_ru, Shutterstock 
Nearby Snorkel Beach is a great place to snorkel offshore and see Sir Harry Nuttal's wonderful Underwater Sculpture Garden which has the biggest sculpture (The Atlas) in the whole of western hemisphere. Jaw's beach at the park is famous for the movie wrecks of the film 'Jaws' that lies offshore. 
The park is great for family picnics, bird watching (you can see songbirds, wading birds, seabirds etc), swimming, snorkeling, fishing and of course enjoying the nature. 
The park is closed after sunset (usually by 5pm). There is an entry fee of $10. Separate fee is charged for snorkeling at Snorkel Beach ($20 per person without snorkel gears). They also offer tours of the park... the premium guided tour (Known as Heritage and Snorkel Tour) includes hotel pickup/drop, guided tour of the park, swim and lounging at private beach, snorkeling at Snorkel Beach, lunch etc. 
Getting There
You can either take a taxi or a rented scooter or car to get to Clifton Heritage Park. There is no bus service all the way to the park entrance. The premium guided tour includes transportation. Ask your hotel for the package tour to the park. 
If you are driving on your own, get to West Bay street from Cable Beach or Downtown, then to Blake Road and onward to JFK highway. Then take Windsor Field road and get to Lyford Cay roundabout. Keep going west to South West Road and to the main entrance (west parking lot). 
Road Map Location 
Phone: 242-362-4368 | 242-362-5360 
Wesbite: www.cliftonheritage.org 

By Raj Bhattacharya 
Raj, a seasoned travel writer and Bermuda destination expert, has extensive global travel experience. This website reflects his profound insights, garnered over nearly two decades of dedicated findings and research on the island. Raj has assisted countless Bermuda-bound visitors by providing direct, personalized responses to their queries and imparting his wealth of knowledge through this platform. This site serves as an indispensable guide for those seeking informed and reliable insights into Bermuda's treasures. 
Related Articles
Visitors' Reviews and Comments